Become a Shrewsbury Darwin Rotary Club Dementia Friend?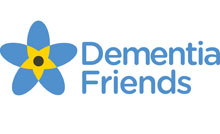 Shrewsbury Darwin Rotary Club Dementia Friends come from all communities, organisations and businesses that are likely to come into contact with people living with dementia. To achieve this, the initiative involves many partners. Any organisation can get involved by encouraging staff or volunteers to sign up for Dementia Friends Champions training, so they have one or more Dementia Friends Champions to engage Dementia Friends.
Alzheimer's Society is working with larger companies and organisations to set up training and information sessions across their staff groups. Other larger volunteering organisations will be equipped to run their own Dementia Friends programme for their volunteers.
A Dementia Friend learns a little bit more about what it's like to live with dementia and then turns that understanding into action - anyone of any age can be a Dementia Friend. From helping someone to find the right bus, to spreading the word about dementia on social media, every action counts.
If you are interested in becoming a Dementia Friend and joining a national initiative that will help people living with dementia feel included in their communities, then you need to register as a Dementia Friend and go to one of our Friends' information sessions
Information sessions
Friends' information sessions are run by Dementia Friends Champions, who are volunteers who have taken the Dementia Friends Champions' training. Each Friends' information session lasts around one hour. You will learn more about dementia and how you can help to create dementia friendly communities. There are information sessions running across England.