Wadebridge Club Rotarians enjoy a cider farm visit.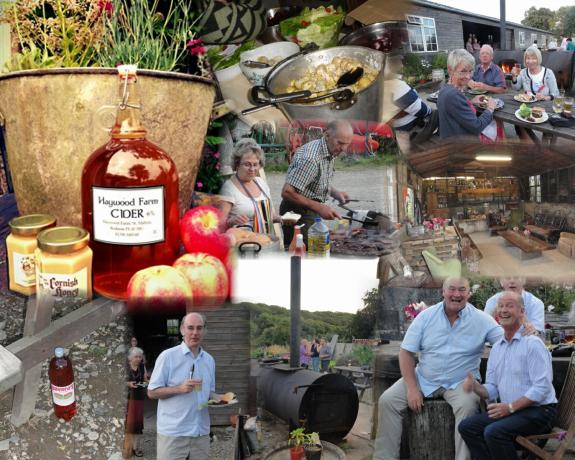 Show related pages
Collage courtesy of Graham Renwick
Members, partners and friends recently paid a visit to Haywoods Cider Farm in St. Mabyn. After a welcoming glass (or two) of three strengths of cider (or soft drinks), Tom Bray, who makes the cider, took us on a short tour of part of his orchard of some 4000 young trees and explained the different types of trees and yields, as well as how he propogates new trees. We then returned for an enjoyable BBQ, washed down with copious draughts of cider, sitting in the open air next to an immense boiler throwing out heat.
Later, Tom gave an amusing talk with anecdotes, of how he started the cider operation on his grandfather's and father's farm, how the cider is made and his hopes for further expansion. All the time, our glasses were topped up! Mick G's son-in-law, who also makes cider, brought along a bottle of his own for comparison, which was enjoyed by those present.
It was a long but entertaining evening and good value for 14, which included the tour, talk, BBQ and free cider.