Wadebridge Rotary Club supports the local National Coastwatch Institution.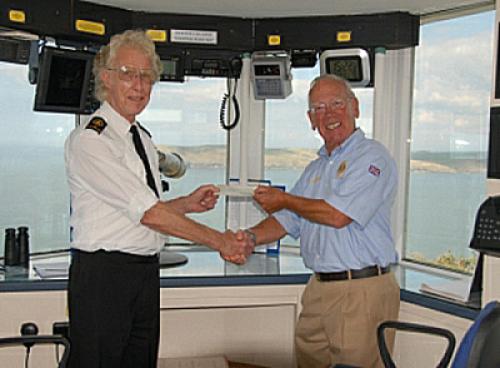 Show related pages
Graham Bradshaw, Volunteer NCI and club president, Brian Budden
Recently a cheque for £100 was presented to The National Coastwatch Institution (NCI) at Stepper Point, at the mouth of the Camel estuary, from funds raised at Wadebridge Rotary Club's 2014 Wheels event at the Royal Cornwall Showground.
The NCI is an entirely voluntary organisation keeping a visual watch along UK shores after many small coastguard stations were closed. A registered charity, started in 1994, NCI is managed by a board of Trustees with a constitution agreed by the Charity Commission. High technology and sophisticated systems such as radar and telecommunications have vastly improved safety at sea but there is no substitute for a watchful pair of eyes and ears.
Each station is manned by a team of fully trained and dedicated volunteers who keep a daylight watch up to 365 days a year. Stations are equipped with telescopes, radar, telephone and weather instrumentation as well as up to date charts. Full training ensures the volunteers reach the high standard required. Surveillance work is mainly routine but watch keepers are trained to act in an emergency and if required coordinate search and rescue. A very valuable service, which relies heavily on local support.