About us/ Mearns Academy - RYLA talk
Mearns Academy Pupils talk about their RYLA experience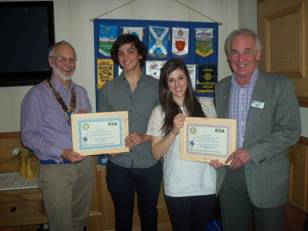 Show related pages
On Monday the 22nd of september two pupils from Mearns Academy came to the Laurencekirk and District Rotary Club to talk about their experience of their week at the RYLA held in Nethy bridge, thanks to the help of the Rotary Club.
They had previously been selected by the club and were very keen to come and share their experience with members of the Laurencekirk and District Rotary in the comfort of the Crown Hotel.
At the beginning of the year, Kane and Megan were selected by the Rotary Club following a successful interview to represent them at the RYLA camp(Rotary Youth Leadership Awards). When being selected they were very excited with this opportunity.
They said the the chance of meeting new people and partaking in a wide variety of fantastic activities was an amazing opportunity and being involved with such a prestigious programme was a huge attraction and a positive life experience.
During their time at RYLA, the majority of their skills were challenged by what was requested of the candidates to do during the week. The activities they participated in was kayaking; Rock Wall Climbing, a series of