Our support for the Community is very carefully considered in each case. The people of Lymm and Thelwall trust our Club and always give generously to our collections. We ensure that all the money is given to worthy causes, frequently asking them to visit us at one of our meetings and give a presentation about their organisation and what the money will be used for. We have given in recent years.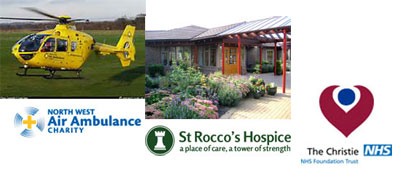 2,000 to the North West Air Ambulance,
3,000 to St Roccos Hospice
10,000 to The Christie
All of these vital services serve our area and any of us could need to call upon them at some time, or know someone who already has. We visited The Christie and were shown how and where charitable donations were spent on items that would not be provided through any other avenues. We also ensure that anyone who requests funding has already done something themselves, or is prepared to help us raise the funds they need.
Christmas Float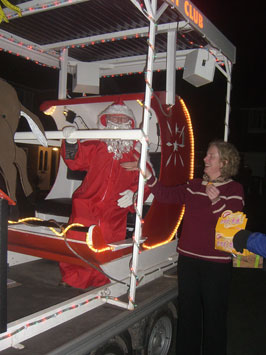 This has been our main fundraiser for over sixty years. We tour Lymm and Thelwall with our famous Float playing carols and collecting door to door with Santa waving and giving out sweets. It is enjoyed by young and old alike. We also have static collections on Lymm Cross and Sainsburys in Warrington. The generosity of the general public is greatly appreciated and all the money we raise goes to local charities.
Swimathon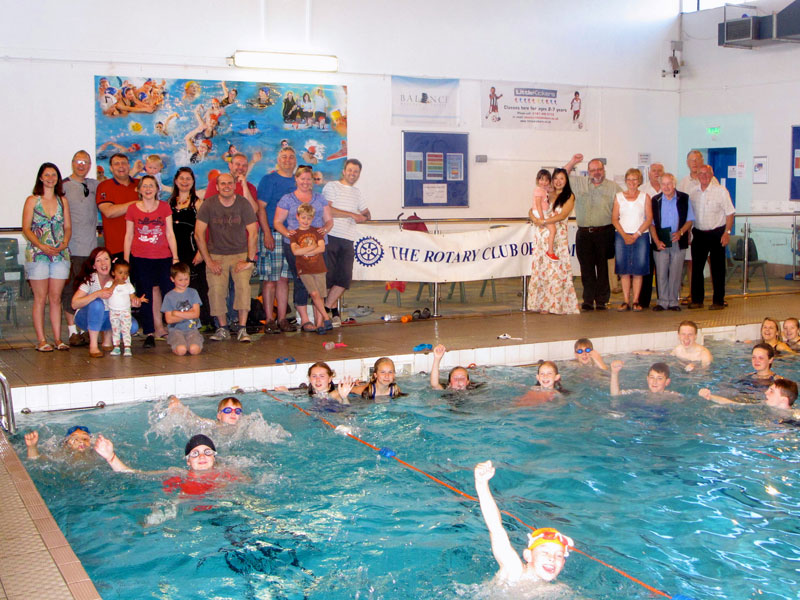 This was an annual event held at Lymm Leisure Centre on a Sunday afternoon. We asked for teams of four people who wanted to raise money for their own charities to take part. It was for all age groups, but under eight year olds must have one adult per two children maximum. Generally the teams of four swim in relays, some doing one length each and then resting whilst the other three swim, but it is up to each team. Many teams exceed 100 lengths in the allotted hour they are given. This is a good fun day, but more importantly, it encourages young people to swim.
Car Boot Sales
We work with Lymm Rugby Club to organise three car boot sales each year. We have around forty stalls on the Rugby Club Car Park and the Club House is open for bacon and sausage rolls, teas, coffees, etc and of course, the toilets are available. We usually have our own stall where we sell items we have collected from our supporters to boost our charity fundraising.
Concerts
We did run several concerts, three at the Bridgewater Hall and one at the Parr Hall. Unfortunately, high costs made these unviable ( 18,000 to put on at the Bridgewater Hall Concert). This had to be underwritten by our members to ensure we did not risk our Charity money if the concert did not make a profit. We did make nominal profits, but more importantly, we gave young talented musicians the opportunity to play at such a prestigious venue alongside professional performers. Many who took part still refer to this and look back with affection plus having a very good point on their CV.
Children In Need Day
We collect outside Sainsburys in Lymm Village each November and of course, for this event, we are merely volunteers and all we collect goes directly to the Children in Need Charity.