2015 Tarporley Carnival
Sat 11th July 2015 at 12.30 pm -
The Annual Tarporley Carnival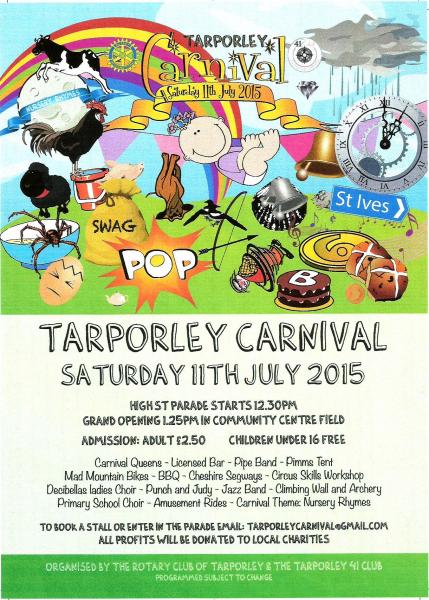 The Parade beings in the High Street at 12.30pm and proceeds to the Community Centre and onto the Showground.
Organised by Tarporley Rotary Club & the Tarporley 41 Club

---
Tarporley Carnival 2015
Welcome to Tarporley and to our 2015 Summer Carnival! We have chosen a Nursery Rhyme theme this year to give everybody the opportunity to dress up!
This is our 23rd Carnival and there is a lot on offer to entertain you. The High St Parade starts at 12.30pm and the grand opening in the field behind the Community Centre is scheduled for 1.25pm.
In the arena we have the Pipe Band, two fantastic displays by Mad Mountain Bikes and the opportunity to try out four Segways provided by Cheshire Segways based at Blakemere. Mad Mountain Bikes will also be holding stunt riding workshops during the course of the afternoon. Roll up, roll up!
In the marquee we have the Jazz Band, the very popular Decibellas Ladies Choir and the Tarporley Primary School Choir.
The side shows include a Climbing Wall, a Punch and Judy, a Stilt Walker and a Circus Skills workshop - all of which are free of charge. There will also be the usual amusement rides.
To keep you well fed and watered we have the Beer Tent, Pimms Tent, Tea and Cakes Tent, Barbecue stall, and Ice Cream stall.
All the above amounts to an exciting and enjoyable afternoon, so get stuck in and enjoy yourselves!
Tarporley Guide 2015
This Brochure contains an eight page guide to the 60 or so clubs, organisations, associations, schools, churches etc., active in the village. It's worth keeping the Brochure in case there is some activity in the village you would like to know more about or get involved in. Newcomers are always welcome!
About the Carnival Committee
The Carnival is organised by the Rotary Club of Tarporley and Tarporley 41 Club (of ex Round Tablers). All the profits are donated to charities and voluntary organisations in and around Tarporley. You can contact us at: tarporleycarnival@gmail.com The Committee members this year are:
Chairman and Licensee: David Seeney (Rotary)
Secretary, Field and Manpower: Jim Webb (Rotary)
Treasurer Ron White (Rotary)
Arena, Side Shows Andrew Wallace (Rotary)
Master of Ceremonies Tom Kenny (Village volunteer)
Programme, Publicity and H&S: Tony Yeates (Rotary)
Parade and Queens: Richard May (41 Club)
Stalls: John Smith (Rotary)
BBQ Peter Elvin (41 Club)
Equipment & facilities: Stuart Shaw (Rotary)
---
Programme
(Timings subject to change)
12.30pm High St Parade to Eaton Road field
1.10pm Parade Judging and band playing in marquee
1.25pm Carnival Queens and Grand Opening
1.40pm Pipe Band in the arena
2.00pm Mad Mountain Bikes in the arena
2.15pm Jazz Band in marquee
2.30pm Cheshire Segways in the arena
2.45pm Decibellas Choir in the marquee
3.10pm Primary School choir in the marquee
3.30pm Mad Mountain bikers in the arena
4.00pm Jazz Band in marquee
4.30pm Close
Thanks to our helpers:
Our heartfelt thanks go out to all those whose hard work has helped to make the 2015 Tarporley Carnival happen. In particular we would like to thank the following:
All those who have prepared floats and taken part in the Parade

The Carnival Queens and their helpers

The stall holders

Those who provided entries for the Guide section of the Brochure

The brochure advertisers, who provided much of the funding

Neuromuscular Centre Design & Print for publishing and printing the Brochure

The Rotary and 41 Club members who take part

The village volunteers and friends of Rotary who helped

Inner Wheel Club for staffing the Tea and Cakes tent

National Women's Register members for staffing the Pimms Tent

Tarporley Scouts for lending two large tents

The Community Centre for use of the field and the rest room facilities

Nick Brookes Group for providing a large rubbish skip free of charge

BAM Nuttall for arranging the street closure signage and managing traffic

Cheshire Farm Ice Cream for the ice cream stall and lending a chiller van

AB Construction for erecting and dismantling the High St bunting

Jigsaw Medical for providing First Aid cover