06/02/2015
Good Morning. Bush Telegraph has just informed us that Hadyn Beer has reached the summit of Mount Kilimanjaro. Well Done Hadyn. Another lunchtime speaker slot in the making!
09/02/2015
Report from Hadyn - Lee Breakspeare, Paul King and I reached Uhuru Peak largely intact and enjoyed the early morning sun and -15 degree Celsius temperature at 5,895m on Thursday 5th February.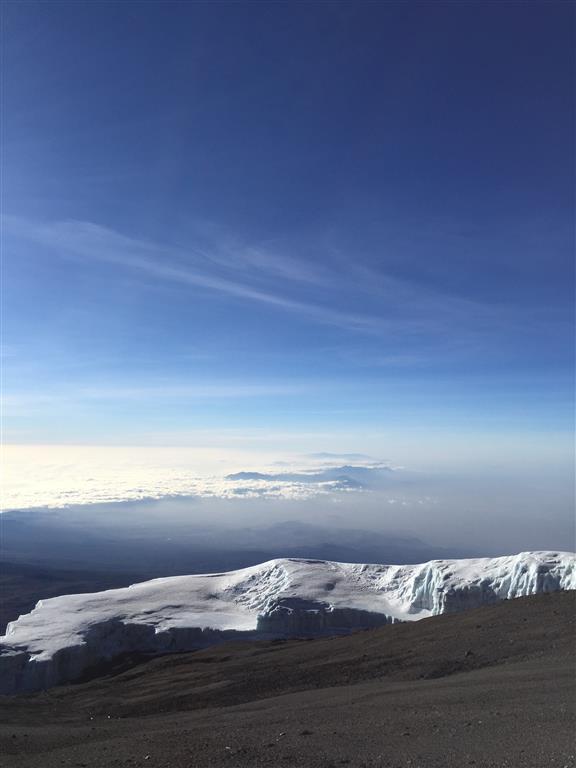 I will keep this report short, mainly because I have been trying all day to download the hundreds of photographs from my phone a few of which I have attached, but I look forward to seeing everyone on Thursday and will be very happy to fill a lunchtime slot with the story of our trek. We have made what I am sure will be some lifelong friends over the past two weeks and enjoyed the kind of fellowship that Rotary promotes and thrives upon.
Finally, and most importantly I can report that at this moment we have raised in excess of 6,200 for TWIGS and that (as shown in the photograph) the TWIGS banner has reached the summit three times - who will take it to the top for the fourth time?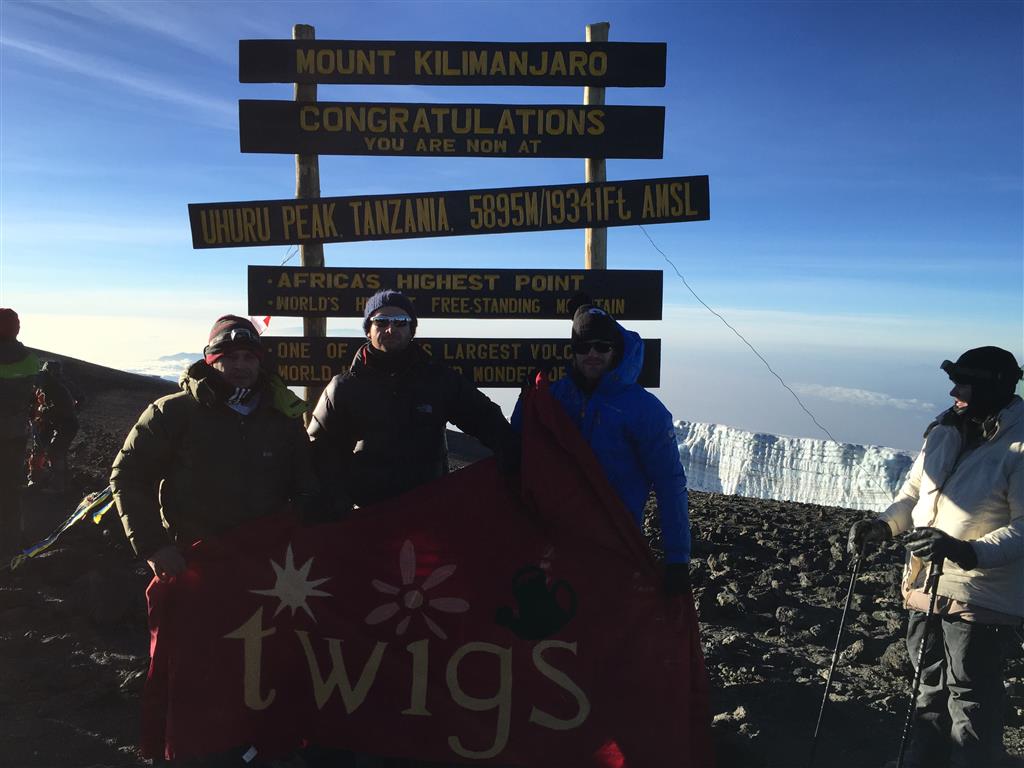 Kind regards and thank you for your wonderful support.
Hadyn
Dear All
On 28th January 2015 a plucky group of athletes (and I) are trekking to Kilimanjaro, which at 5,895m is not only Africa's highest point, but also the world's tallest free-standing mountain. The trek is in aid of 'TWIGS' a registered charity in Swindon which does so much good work to support people with mental health problems, including drug and alcohol related issues. TWIGS works with affected people to regain their confidence and self-esteem and learn new skills.
Yes, Kilimanjaro has been done before and clearly it takes a supreme athlete to achieve such a feat. But if such esteemed mountaineers as Cheryl Cole and Chris Moyles can do it, then so can I!
I am sure it will be very hard work but I am looking forward to the challenge and to raising as much money as possible for a wonderful charity in Swindon that does so much good for the community. I do so hope you feel able to give, as your support will undoubtedly help us to the summit. Whilst of course any amount will be gratefully received could I ask company owners or those with positions that can secure corporate sponsorship to please dig deep and help boost our fund raising as much as possible.
Through Virgin Money Giving, you can sponsor us and donations will be quickly processed and passed to TWIGS. Virgin Money Giving is a not for profit organisation and will claim gift aid on a charity's behalf where the donor is eligible for this. We really appreciate all your support and thank you for any donations.
Alternatively, you can complete and return a sponsor form which can be passed around your organisation!
Thank you and please give generously!
Best regards
Hadyn