A Swedish Sojourn
Starting with Beausoleil 50 years ago, the Rotary Clubs of Billericay and Basildon have been very keen to foment fellowship and maintain international links with other European Rotary Clubs, including Italy (Alba) and Sweden (Karlshamn) in more recent years. Following the very successful 2014 visit to Beausoleil in France, it was Alba's (Italy) turn to host Billericay, Basildon, Beausoleil (France), Ovada (Italy), and Karlshamn (Sweden) in 2015. But plans changed, Karlshamn asked if they could host all the clubs this year, allowing Alba to delay until 2016 when we would be visiting at the time of its 60th anniversary.
This year's visit took place from the 3rd to the 6th September. Please see the invitation by clicking on the image below: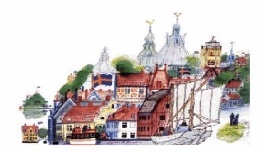 For the full text of the Schedule and details of the costs involved, please click on the image below:

Payment for the Program will need ot be made in advance, but hotels costs will be paid at the hotel.