Youth Challenge 2015
Sun 26th April 2015
The "Challenge" is aimed to encourage competition and friendly rivalry between local community youth groups for prizes up to £500. The Youth Challenge is hosted by both Rotary Clubs of Royal Wootton Bassett.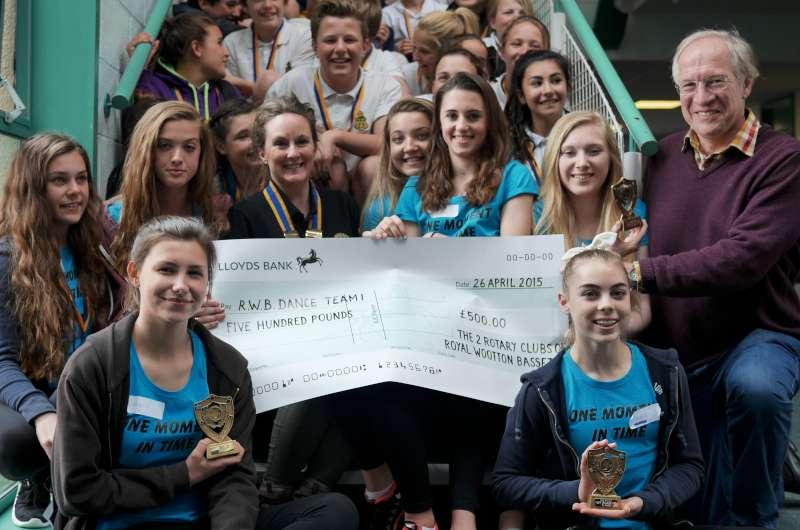 Youth Challenge - Sunday 26th April 2015
The Rotary Clubs of Royal Wootton Bassett co-hosted the third annual Rotary Youth Challenge Competition.
Located at the excellent facilities of RWB Academy, ten teams of six competitors went head-to-head in a variety of challenges to take the coveted 1st Prize of £500.
The top prize was once again awarded to reigning champions RWB School of Dance.
Joint 2nd Prize was awarded to both teams from RWB Academy who collectively won £300.
Other participating groups included:
a second team from RWB School of Dance,
Lyneham Air Scouts,
RWB Hockey Club,
RWB Otters swimming Club,
Broad Town Colts,
RWB Guides and
RWB Sea Scouts.
Each of these teams was awarded participation prizes of £50.
The event saw a rotation of multiple challenges with midday scores extremely close.
Following a complimentary lunch, all teams faced the final challenge with the firm favourite of spaghetti and marshmallow construction for a nail biting finish which saw two winning teams build towers which were exactly the same height.
We would like to thank RWB Academy and G4S for permitting the event to be hosted at the school and also RWB Town Council for assistance with equipment and setup.
We would like to acknowledge the commitment of the Youth leaders not only for their dedication to their Youth groups but in co-ordinating the entry of their teams.
Most of all we would like to thank the participants themselves who all embraced the challenges set before them and showed us the very best of sportsmanship and were a pleasure to host.