Saddleworth Rotary Club Fathers Day Sportive
Cycle ride in Aid of Prostate Cancer
2018 Report
The joint event that is run by Saddleworth Rotary club and Saddleworth Clarion Cycle Club has been a great success. The event run in aid of Prostate Cancer UK raised over £600 on the day.
Jon Stocker of Saddleworth Rotary said:
Though, due to the uncertainty of the weather, the number of riders this year were less than last year's record levels, I think that this years ride was exceptional. The generosity and support we get from all involved makes this a such a worthwhile event to organise. I would first like to once again thank Jo Castle, the Diggle Band Club steward and her husband John for giving up their time to host the ride at the club. Jo also provides the hot pie and peas and drinks for the riders on their return. In fact I am convinced some of the riders do the ride just for the pies. I would also like to thank fellow Rotarians who act as marshalls along the cycle route. Special thanks go to Richard Bartlett, Tony Beswick, Stan Bowes, David Howes, Norman Hibbert, Rob Knotts and Clint Elliot, who all made sure the cyclists followed the correct route and cheer them on their way.
I must also mention the Clarion cycle club members who came along on the day to support the event especially Phil Bradbury and Ian Eccleshall who both acted as the Tail End Charlies to ensure everyone got back safely.
I must give a big thank you to Chris Moreman who is my Clarion Contact. Without his stout effort and support the event would just not happen. Finally I would like to thank all the riders who support our event each year. Heres looking forward to the 2019 Turnpike Challenge.
Ride Details for 2018
· Start and finish at Diggle Band Club, Saddleworth, OL3 5PJ
· 25 mile ride on A and B roads, which includes two moderate climbs onto the Pennine Moors
· Half way refreshments/aid point
· Roaming van and for mechanicals and returns to base
· Start time is between 8:30 and 9:30 AM on Sunday the 17th of June
· End of ride hot food, tea and cakes
Requirements
· Road or Hybrid bike in full working order
· Riders must wear helmets to validate insurance cover
Cost for 2018
· On line application £12:50
· On the day £15:00
On-Line Application via the British Cycling Website:
A GREAT FAMILY DAY OUT
It is designed to be a challenge for beginners and intermediate riders who want to get stuck in to this beautiful and worthwhile event.
THE ROUTE: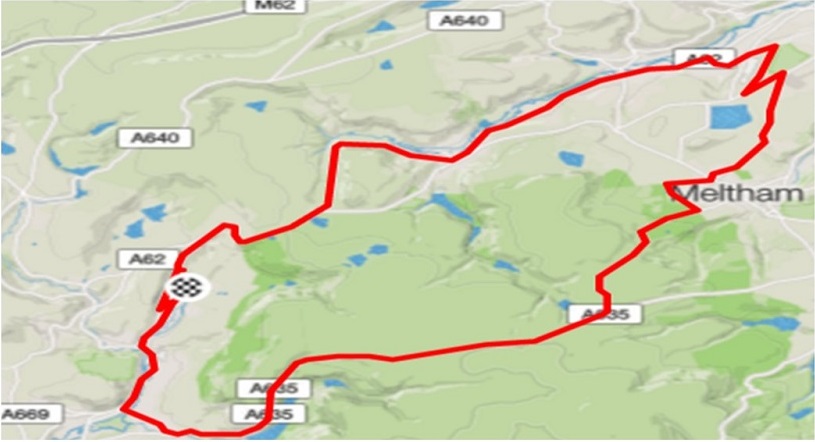 We are delighted to welcome The Cycle Centre Oldham as our partner for The Saddleworth Turnpike Challenge. CycleTech will provide free mechanical support on the day to help you get around the course. They will ONLY charge for parts and will be happy to give advice on bike fit and set up if you need it.
The Cycle Centre Oldham are dedicated to delivering the very best advice and guidance to their customers and are currently offering some great pre-ride discounts. See their web site for more details.