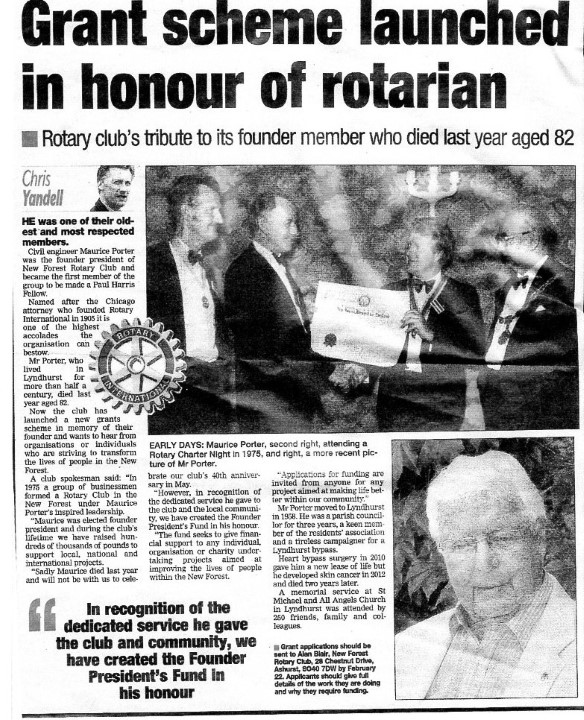 THE FIRST GRANT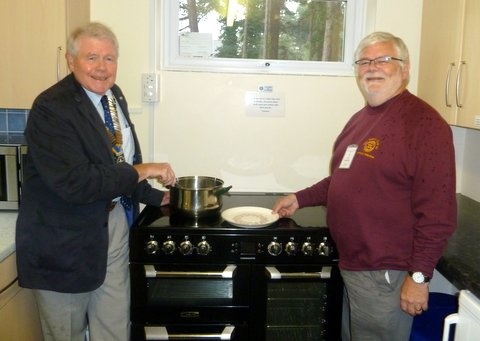 August 2015. President Lawrie and Fred Helyer, Chair of Community Service Committee visited the Oasis Luncheon Club at Hardley Green to formally hand over their new range cooker. Also present was Les Sharpe, Chair of Hythe and Waterside Community Service Committee, which provided half the cost.
Lynn Walker, the Oasis Club's Coordinator commented, "The new cooker is amazing! We have so much oven space, and everything works so well and quickly. It has transformed life for those of us who cook. We cannot thank you all enough."
The new range cooker will now make life a great deal easier all the volunteers, as they continue to provide a most valuable service and a social centre for older and sometimes very lonely people.
TESTWOOD LAKES SAILABILITY
1 September 2016 marked the opening of Sailability on the Testwood Lakes. The Founder Presidents Fund, with assistance from Hythe Rotary Club and a Rotary District Grant enabled us to pay for a special pontoon with a bridge from the shore and a hoist. This will allow disabled sailors to learn and take part in the active sport of sailing. The hoist is vital to assist wheelchair users. To see the progress toward the opening day and the official opening just click here
LYMINGTON JOB CLUB
In January 2017 we donated computers and a printer to the Lymington Job Club. CLICK HERE

MARTIN BRADLEY. THE BIRDMAN PROJECT IN SCHOOLS.
The Founder President's Fund and the Rotary Club are supporting the project in local schools. Please CLICK HERE for more information on the project and our involvement.
APPEAL FOR CHARITIES NEEDING ASSISTANCE FROM THE FOUNDER PRESIDENT'S FUND. 2018
Southern Daily Echo. 28 February 2018
NEW FOREST ROTARY CLUB RUNS A FUND IN MEMORY OF FOUNDER PRESIDENT MAURICE PORTER
A Hampshire charity has launched its annual search for local good causes that need a cash boost.
The New Forest Rotary Club is on the look-out for potential recipients following the creation of a grants scheme launched in memory of its founder president, Maurice Porter.
The retired civil engineer, who died in 2014 aged 82, was the first member of the club to be made a Paul Harris Fellow. Named after the Chicago attorney who founded Rotary International in 1905, it is one of the highest accolades the organisation can bestow.
In 2016 Totton-based Testwood Lakes Sailability received a total of £8,000 from New Forest Rotary Club and Hythe Rotary Club - enough money to buy a new boat and a hoist that enables users to get in and out of craft.
A separate grant funded a new cooker for Oasis Luncheon Club to help it provide lunch for dozens of pensioners in the Holbury area.
Now Rotarians are hoping to hear from other groups or individuals who are doing good work and would benefit from financial help.
Mr Porter moved to Lyndhurst in 1958. He was a parish councillor for three years, a keen member of the residents' association and a tireless campaigner for a Lyndhurst bypass. Heart bypass surgery in 2010 gave him a new lease of life but he developed skin cancer in 2012 and died two years later.
A Rotary spokesman said: "In recognition of the dedicated service he gave to the club and the local community, we created the Founder President's Fund in his honour.
"The fund seeks to give financial support to any individual, organisation or charity undertaking projects aimed at improving the lives of people within the New Forest.
"Applications for funding are invited from anyone for any project aimed at making life better within our community."
Rotarian Alan Blair, of Ashurst, added: "Maurice was a great champion of local good causes."
Anyone wishing to apply for a grant from the Founder President's Fund should e-mail alanblair0@icloud.com by the end of March
Similar articles appeared in the New Forest Post and the Lymington Times.
---
---