Rotary club acts quickly for cyclone disaster relief
St Asaph Rotary Club has wasted no time to contribute to the the relief effort for the disaster hit islands of Vanuatu in the south Pacific, following the devastating effects of Cyclone Pam.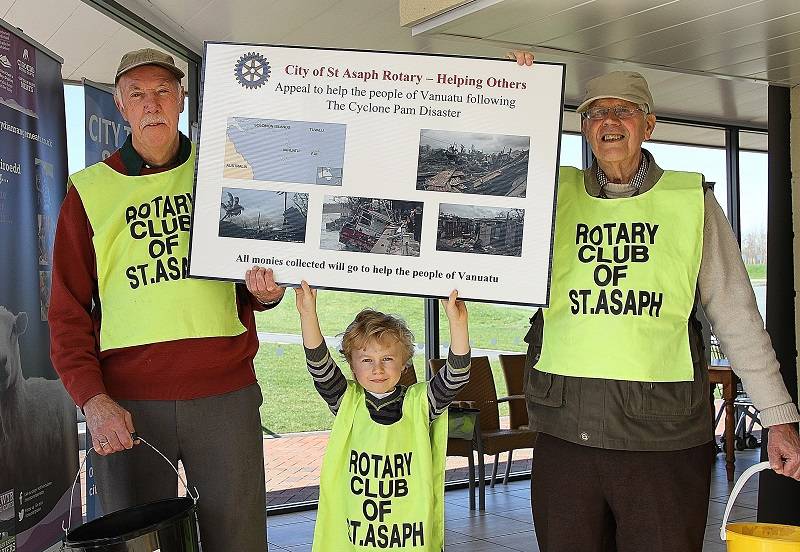 Following a public collection throughout Saturday, outside Tweedmill, the Club raised £250 and is also donating a life-saving shelterbox and an aquabox, both of which will be despatched immediately to the now devastated region. Costing 600 the shelter box provides a family with basic survival habitation and contains a robust shelter, ground sheets, tools, a wood-burning stove and activity packs for children, while the aquabox, costing £250, provides various humanitarian aid items and water purification equipment.
David Knights, the Vice-President of the Club commented:
"We were very anxious to act quickly as help is needed right now. The images filling our T.V. screens of dispossessed families are heartbreaking and we want to do everything we can to help; that is what Rotary is all about. Although help is arriving from Rotary and various aid agencies, there does not seem to be a nationally advertised UK relief effort. I am very grateful to everybody who supported us on Saturday and to Tweedmill for allowing us to collect at their premises".
To donate to the Rotary relief effort contact David Knights .
tel: 01352 720216