On the Heritage Trail
Club Members supported the Rotary Club of Ongar's heritage event in aid of the Motor Neurone Disease Association and the local St Clare Hospice.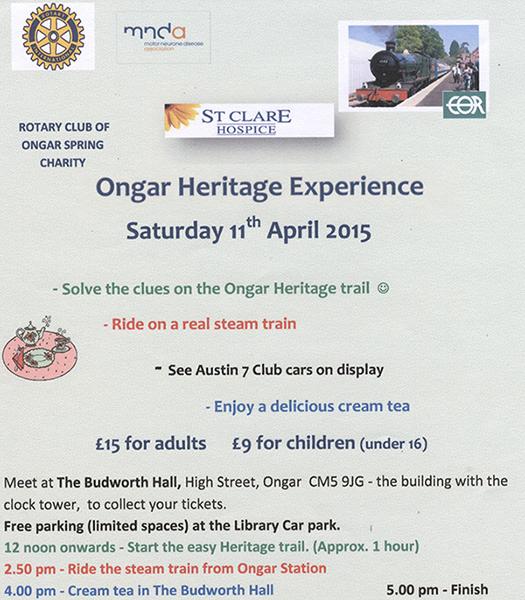 It was a good cause
Club Secretary Ed Harrison, his wife Margaret and son Laurence, along with Youth Charman James Ilesley and wife Deborah, all went along to support the Rotary Club of Ongar's Spring Event in aid of the Motor Neurone Disease Association and the local hospice, St Clare.
Steady rain before they left Billericay did not augur well, and when they arrived at The Budworth Hall to collect their programmes and tickets, they found that, although the pavements were dry, there had been hailstones earlier in the morning. However, the sun was out and stayed out for the rest of our time there.
The programmes gave details of sites of interest in the town which could be visited before the train trip. Before making our way to Ongar Station, they managed to visit St Helen's church which has part of a stained glass window dedicated to Father Byles - a Catholic priest who had lost his life on the Titanic and his parishioners had paid for the window. (Unfortunately, Margaret, Laurence and Ed had made the mistake of going into a coffee shop and ordering a sandwich. Service seemed to be an alien concept and it took so long to produce this simple food order that we were precluded from visiting most of the sites.)
On arrival at Ongar Station there were a number of Austin 7 Club cars on display with some of the owners in period costume. The train to North Weald was hauled by a tank engine and we returned to Ongar on a diesel unit (Class 205) known to railway enthusiasts as a "Thumper". finally, a walk back to The Budworth Hall rounded off with a cream tea.
Ongar Club's President Bill Tillott thanked by name those of his colleagues who had organised the day, and all in the hall, for supporting the event.
By Ed Harrison