Sun 26th April 2015 at 12.00 am - Sat 30th May 2015 - 12.00 am
Primary Schools Quiz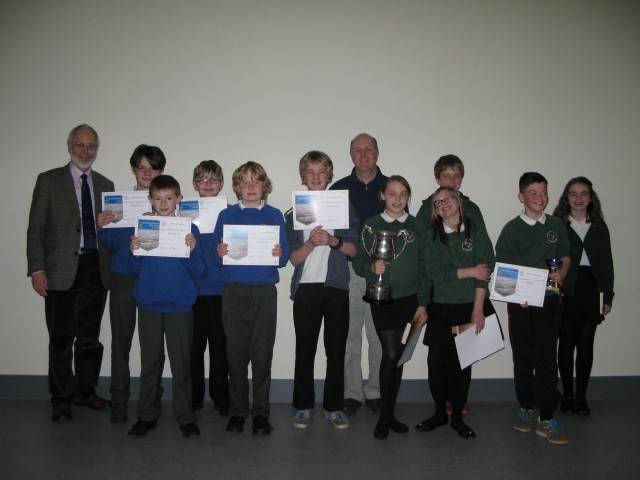 The quiz was held on Wed April 1st in the Academy Theatre .
It proved an excellent venue for the competition with again great cooperation from Brian Clark , the janitor. The sloping seats were pushed back to allow us to put the team tables just off the stage and still accommodate some 50 teachers, parents and other supporters. The projection system is excellent and Alan Smith had arranged for Ross and Bruce Cowie to assist Peter Myles in setting up his slides and films so that he got them on the right wall ,at the right time, in the right order and on the right night
Jim Brown was chairman and welcomed six teams – Auchenblae , Fettercairn ,Luthermuir , St Cyrus , Redmyre and Laurencekirk and we made up a team of the reserves . St Cyrus won the competition and now go forward as our representatives at the Area Final at Burnside School , Carnoustie on Sat 25th April at 10am. Laurencekirk were a very close second
We have had many emails from the Schools thanking us for an enjoyable evening . Jim Cargill presented the Cargill Trophy on behalf of his Family and President Mike assisted in the presentations . Our particular thanks to Peter Myles for compiling and asking the questions – they were pitched just right-- not overly difficult with some more challenging .. Also a big thank you to Isobel Smith for all her advice and support in setting up the competition and for being the Carol Voderman on the night.
And also our thanks to all the Rotarians who acted as markers – Mike Robson ,David Nelson, Grace Black , Ed Murray , Douglas Lamb ,Sandra Bartram and Kathleen Murray who also stepped in to help .Also our thanks to Marion Robson who donated her beautiful handwriting skills to inscribe the Book Prizes . Onwards to Carnoustie for the Area Final on 25th April