Wadebridge Rotary Club holds street collections to send aid to Nepal.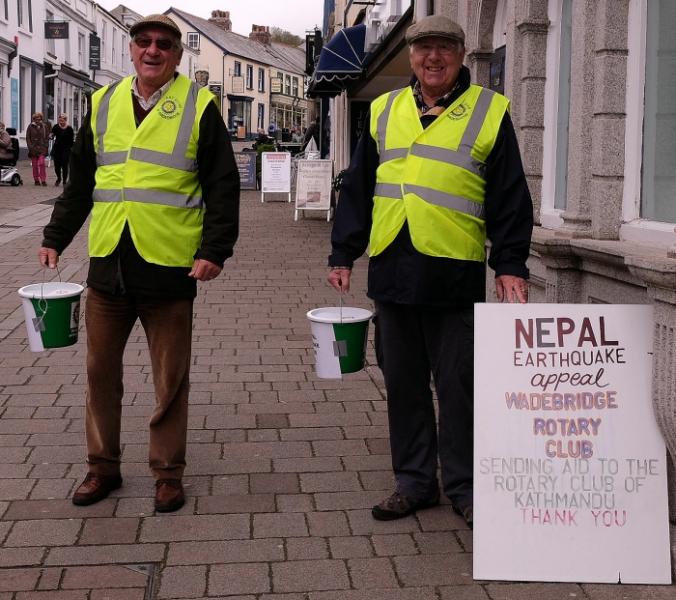 Show related pages
Members of Wadebridge Rotary Club held street collections in Wadebridge on 1st and 2nd May to raise funds for the Nepal Earthquake Appeal. News reports have suggested that money donated so far is being sent to the goverment in Nepal and is not being distributed to those in need of food, water and shelter. A few years ago, Rotary Clubs in West Devon & Cornwall, hosted a group of four, sponsored by a Rotary Club in Kathmandu, who spent about a month with us on a Group Study Exchange and a similar group was sent from Cornwall to Nepal. Since the earthquake, the Kathmandu Rotary Club has been contacted to establish what Rotary could do to help. As a result, Rotary Clubs in our District have been asked to donate money to be sent direct to the Rotary District in Nepal. With the Rotary network we know that all of the money will be used to help those in urgent need as a result of local knowledge. In fact, there are 85 Rotary Clubs in Nepal, with some 2700 members. Kathmandu has 8 Rotary Clubs.
As a result of this link with Nepal, Wadebridge Club members decided to hold the street collections to enable local residents to donate towards the emergency, safe in the knowledge that it will be properly used on those in need. Thanks to the generosity of local residents a magnificent sum of £2816.28 was collected over the two days. Many favourable comments were received about Rotary's reputation for honesty and service, with people being certain that all of their money would be used in Nepal.
Prior to the collections, members of the club agreed to donate £200 towards the appeal. This means that £3016.28 is being sent from Wadebridge town.
This money has been banked and will soon be sent by bank transfer direct to the Nepalese Rotary District together with other moneys raised by Cornish & Devon Rotary Clubs. THANK YOU TO ALL WHO SUPPORTED US.
Update (7 May)
As a result of further donations, £3236 has been raised locally. In addition, other Rotary Clubs in Cornwall have been making collections and, so far, a grand total of £17,143 will be sent to the Rotary District Governor of Nepal by a bank transfer. The money will be used for blankets, tent material, dry food, water, medical supplies and body bags.