Alexander Triumphs again 06-05-15
Once again 15 year old violinist Alexander Croft of Greenfield, Holywell, sponsored by the Rotary Club of St Asaph, has triumphed in the closing stages of a major prestigious music competition.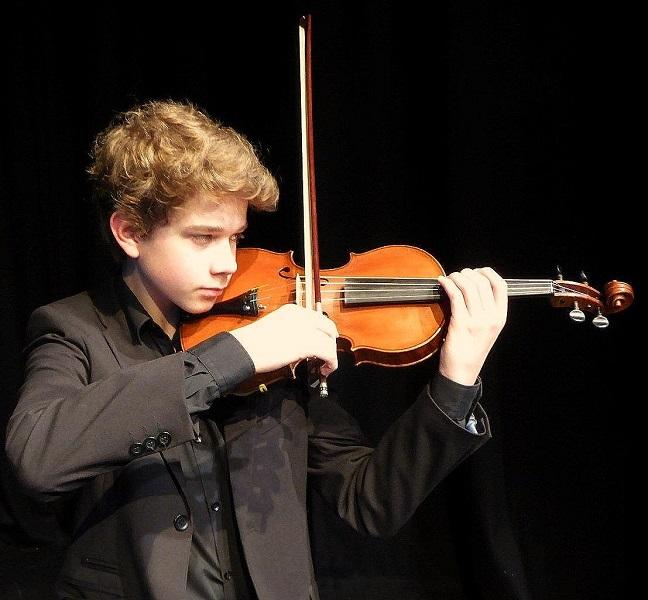 After winning the District element of the 'Young Musician of the Year' Rotary competition in February, Alexander competed last week in the Regional finals against talented musicians from the Lake District, Manchester and the whole of North Wales. Playing 'Allemande Partita No 2' by Bach and 'Nigun' by composer Bloch, with accompanist Emily Jeffcott, Xander (as he prefers to be know) swept all before him, securing first prize and a coveted place in the Rotary national final which will be held in Darwen, Blackburn, on 16th May.
Xander commented :"Before the performance I felt fairly nervous; I had heard some of the other competitors and the standard was extremely high, but I never doubted my ability and just focussed on my own performance. When the professional adjudicators announced me as the winner I was delighted. Knowing I now have the chance to go for a national title made me feel like all my hard work is coming together. I look forward to the final with great excitement"
David Knights, Vice-President of the St Asaph Rotary Club added." Quite simply I am running out of superlatives to describe this remarkable young man. He is so talented and so cool under pressure; our Club and his family are very proud of him. We cannot wait for the UK finals and wish him every success."
Xander already holds the title of Caerwys 'Young Musician of the Year' and to reach the standard required practises for up to four hours each day, in addition to his studies at ColegCambria, Wrexham.He hope one day to become a professional concert musician.
To learn more about St Asaph Rotary Club, contact secretary John Dicks tel: 01745 583824. e-mail: john.w.dicks@hotmail.co.uk