2015 Charity Walk : Sunday10 May
A walk organised and managed by Newbury Rotary to enable you to raise funds for YOUR chosen Charity or Community Group.
Rotary provides the route, the signs, the marshalls.
Your Organisation provides the walkers, the sponsors and the enthusiasm.
On Sunday 10th May 2015,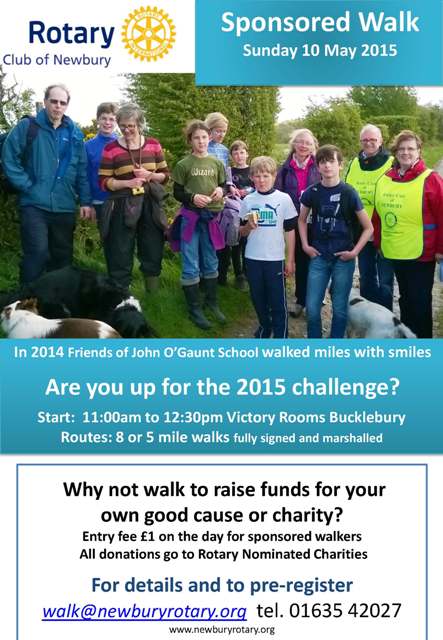 this year's walking route was based around Bucklebury village, starting at the Victory Rooms. Over £2000 was raised on the day for various charities including the Indian Red Cross, Motor Neurone Disease UK and even Toilet Twinning.
The route of either 5 or 8 miles was fully signed and marshalled by Newbury Rotarians.
Entry Fee: £1 per walker on the day.
All donations to Rotary nominated charities.
Download the Sponsored Walk Leaflet.
Contact us for details and to pre-register for the 2016 Charity Walk.
Here is a preview of the 8 mile Bucklebury route: