Aquaboxes take water filters and emergency supplies around the world, giving the gift of life to families and communities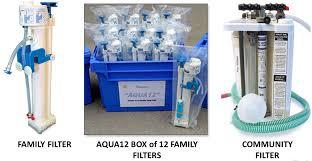 AquaBox
Our AQUABOX Gold boxes have two functions:
Each is filled with a selection of useful humanitarian aid (shelter, cooking, construction, hygiene and children's items).
It also contains an AquaFilter Family unit. An AquaFilter Family is based on well proven micropore technology to provide sufficient drinking and general washing water for a family of five for well over a year by providing a minimum of 18,000 litres of potable water.
The AquaFilter system has been exhaustively tested by an independent UK body showing it to be exceptionally effective in providing safe, clean water and meeting all WHO standards.
We also provide AquaFilter Community units. Each of these consists of a filtration unit that is based on the use of the same well proven micropore technology of the AquaFilter Family. It is shipped in the same robust ridged plastic container as those used for our Aquabox Gold boxes. Every AquaFilter Community is capable of generating up to 500,000 litres of drinking water from the local contaminated water sources. This is enough basic drinking water for 100 family groups of 5 (600 people) for well over a year and half; over 500 tonnes of drinking water.
AquaFilter Community units are ideal for location in schools, clinics, or any other community amenity serving a larger group of people effected by disaster or having some other emergency need.