Witchert Wanderers Walking Group
Witchert Wanderers is a social walking group of Rotarians, partners and friends, who meet on the second Tuesday of each month for a 3-4 mile circular walk in the local area, followed by a pub lunch
Each friendly walk is lead by a club member and planned not to be too arduous, where possible avoiding steep hills and difficult styles, but winter walks can be a bit muddy!
Volunteers interested in helping with our events and social walkers, are all very welcome to join on an occasional or regular basis
For further information, please our 'CONTACT US' Page
Witchert Wanderers Annual Walk
For several years now, we have spent a very pleasant, convivial and invigorating couple of days walking in the Cotswold in May, from a hotel base in Moreton in Marsh.
The pictures below are from our 11th anniversary weekend walk in the Cotswolds. Our walk leader reports:

"We walked from Great Tew on the first morning and had a good pub lunch at the Falkland Arms in Great Tew. We made our way then to the Redesdale Arms in Moreton in Marsh for an overnight stay, some of us stopping off on the way for a cream tea
We all enjoyed a good sociable evening meal and next morning after a hearty English breakfast, set off for another walk from Bourton on the Water, finishing again with a pub lunch at the Mousetrap Inn
As far as calories was concerned, we lost a few and gained a few more!"
The puzzling thing is, that after all that exercise, these 'Before' and 'After' photos don't seem to show much of a change in our 17 intrepid walkers!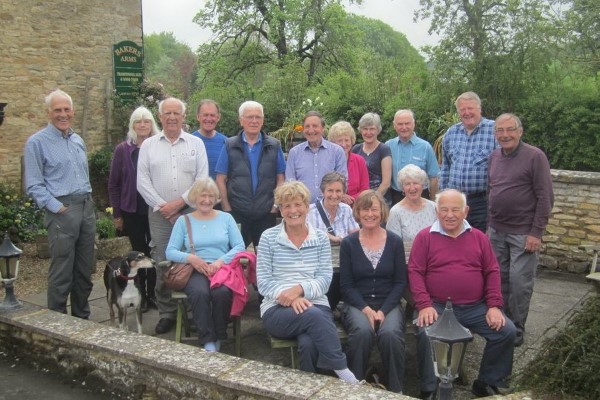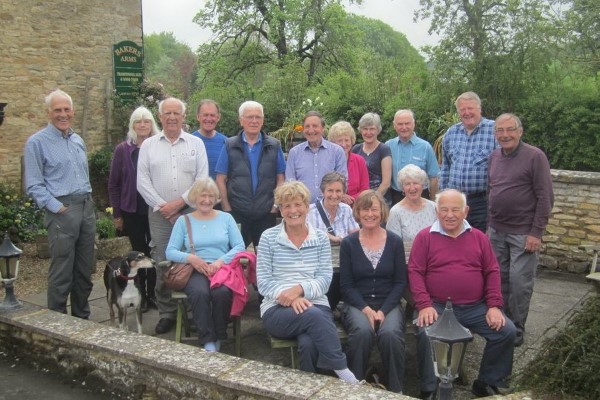 Another delightful weekend. Several walks and several lunches, a dinner, light refreshment, afternoon tea, perhaps a light nap, a snack ... Above all fellowship.
We invite you to contact us to find out more about Haddenham Rotary, to help us with our events or to ask about joining in one of our meetings: