Portland Rotary - Changing People's Lives for the Better
July 5th Handover
Sixty members and friends came to Wyke Road for handover. The weather had been threatening rain but we were really lucky with a beautiful afternoon.
Quiddles provided a seafood and also a chicken paella and there was lots of wine to drink.
During the afternoon we were able to present a cheque to Richard Backwell of the Okhle Village Trust, the sum of £1000 for the Nepal earthquake. This money is going to the rebuild in Okhle and its surrounding villages and for shelters in Ashrang, a village close to the epicentre and devastated. - Changing People's Lives for the Better.
It was a delight to award our immediate past District Governor Judy Barnard-Jones Honorary membership in recognition of both her support to Portland Rotary over many years and for her achievements in service since joining Rotary in her own right.
It was a pleasure to award Clive Davies a Paul Harris Fellow for his outstanding service and contribution to Rotary since 1981.
An unlikely character was awarded the Porthole shield for contributions to our magazine Porthole – and that turned out to be me!
The Community Award was presented to Terri Shakespeare for work in St John Ambulance. Both deserved and appreciated. We decided on a joint award this year and Kim Wilcocks will be attending the club for her presentation for her work with the ICA – Island Community Action.
7th July
Committee evening when all the committees were hard at work preparing for this coming year.
5 days in the Peak District
Judith and I then went for a break in the Peak District where the walking was stunning and we enjoyed a steam train ride on the Peak District Railway.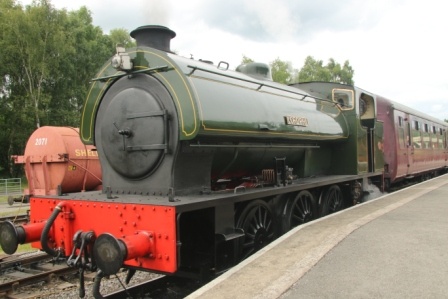 Ever keen to be leaning out of the window!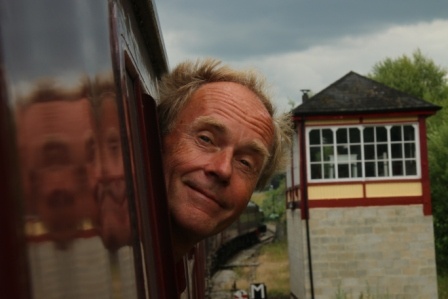 July 11th
This Table top sale raised £115 for the Weymouth and Portland Second Scouts. We helped them to help themselves and community itself benefitted from tables. Again changing People's Lives for the Better.
Janet organised a coach trip to Bath and raised £192.
July 14th
New member Sarah Standland was inducted. She had been a member previously and we are delighted to have her back.
After the trials of moving house away from and returning back to Portland it was a pleasure to welcome back into the club Sheila Sutherland after leave of absence.
Dave Shaw gave us an excellent talk – an insight into his life as a paramedic.
July 15th
I attended the scanner appeal with the Clubs of Weymouth Pilgrim House. This is an initiative for early diagnosis of ovarian cancer with training for GPs and a purchase of a scanner for Weymouth and Portland and will be officially launched soon This will Change People's Lives for the Better.
July 16th
This was a Pilgrim House Zone meeting with presidents from all the other clubs in our area. Weymouth, Melcombe Regis, Lyme Regis, Bridport and Brit Valley. Discussions were wide ranging but I found new ideas on the Rotary Breakthrough project.
There was a Nepal meeting in the evening for the club visit to Nepal to go through the itinerary and some final preparations.
July 19th
Rotary Walk. Our third walk was well attended with thirteen setting off from Kingston car park near Corfe Castle.
Myself and Judith, Peter and Rosemary, Bruce, Dave, Sarah, Celia, Mike and Evelyn, Ruth all representing Portland, Jane from Poundbury and Richard from Okhle Village set out on a seven mile walk to Swyre head, stopping for coffee there in sunshine with beautiful views of Kimmeridge and Portland to the west and the Isle of Wight and Poole harbour to the east. A lunch stop on the ridge above Creech Hill was again rewarded with wonderful views.
Richard kindly invited everyone back to his garden for tea, scones and cake, plus beer and wine!
We walked seven miles and thank you to everyone that came.
Roll on the next on the 16th August!
July 24th
Breakfast meeting at Poundbury, I was joined by Richard Brind from Casterbridge to give a presentation on Nepal water projects and earthquake.
Poundbury are joining us in our proposed water project at Baspani.
The Teddy Bears Picnic was also that morning and thanks to Pat Jayne Julia Sarah and Dave for their help. Unfortunately it rained so St John's Church was used, though there was some confusion about where to go.
July 25th
The Spirit of Portland was attended by Pat, Jayne, Dave and Rachel for helping out as information ambassadors and helping cars exit smoothly. Well done! The weather was much better and resulted in a really pleasant day for all. Also fortunately for me too at the opera held at Bryanston School as there was a picnic in their beautiful grounds first.
July 26th
The car boot sale at Tesco was cancelled due to strong southerly winds and driving rain. The car boot sales seem fated this year. Lets hope for better weather next time. However one of our members after a clearout at home anonymously donated £40!
July 28th
Our guest evening was attended by Graham Butler and his wife Alex. Graham was our guest speaker and related his experiences both a physical and emotional roller coaster on running the London Marathon all with a sense of humour too. He also showed us the emotive side of Sudden Infant Death Syndrome as this is the charity he is supporting. A brilliant presentation. He has raised £8000.