Membership.
Deals with prospective, Full, Corporate, Associate, Friends of Rotary members. Pictured are new Friends of Rotary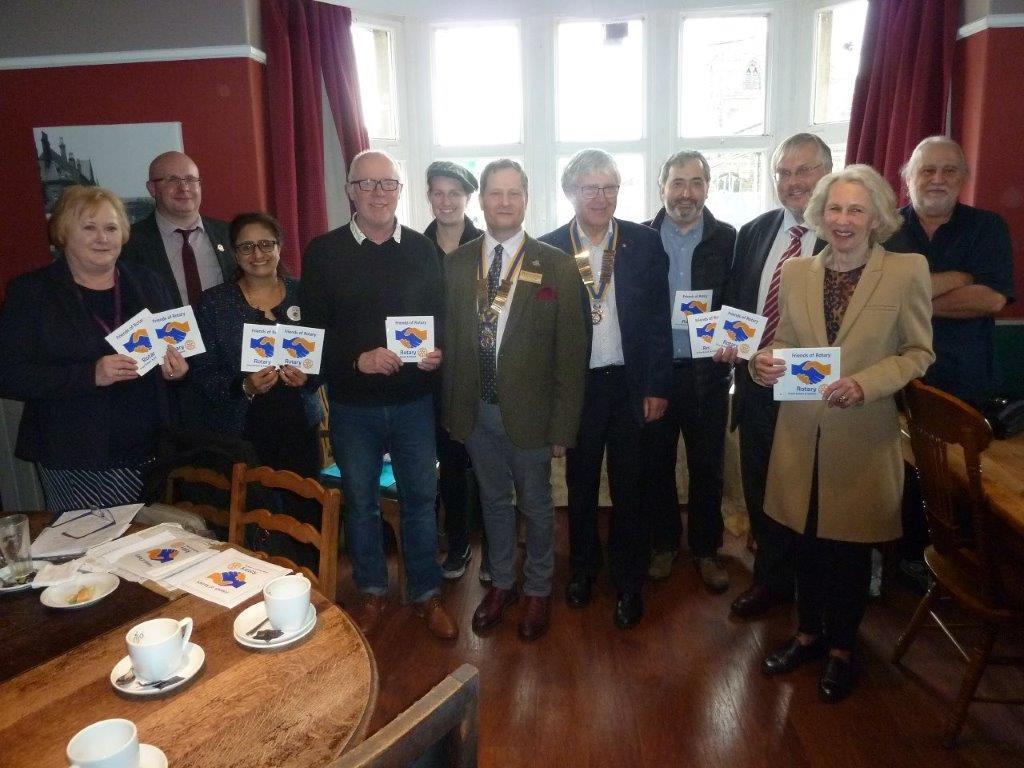 Rotarians are ordinary men and women from all walks of life who have a desire to give something back to their community, whether it is locally or at an international level. There are now myriads of ways to offer service under the umbrella of the Rotary organisation.
YOU MAY BE AMONG MANY PEOPLE FROM DIFFERENT BUSINESSES AND PROFESSIONS WHO WOULD LIKE TO PUT SOMETHING BACK INTO COMMUNITIES, BOTH LOCAL AND INTERNATIONAL. YOU HAVE THE VOCATIONAL SKILLS WHICH ROTARY NEEDS, BUT YOUR BUSY WORK SCHEDULE AND FAMILY LIFE MEANS THAT YOU NEED FLEXIBILITY, AND ROTARY NOW OFFERS THIS ..........
Associate membership is available for active business and professional people whose busy working schedule and family life make a full commitment difficult to achieve. You can join us and help when you can.
Corporate membership can be taken up by medium to large businesses by forming volunteer Rotary teams, who may share Rotary commitments by rota.
Ilkley Friends of Rotary
We were delighted to launch Ilkley Friends of Rotary campaign. (Pictured above)
The campaign was set up, as we recognised that local businesses and organisations wanted to share Rotary's fellowship developing Corporate Social Responsibility.
Many people in our community, due to other commitments, do not have time to become 'full' members of Rotary.
However, they wish to support the ideals and work of Rotary in a less formal way. It is a benefit that these 'Friends of Rotary' are around to help us in many different ways.
Current Ilkley Friends of Rotary are:
Ison Harrison Solicitors, Tesco, Mortens, LCF Law, The Dalesway Hotel,
Lishmans, Jeremy Bloomfield, La Stazione,
Wheatley Hotel & Riverside Hotel.
We also have friends in voluntary organisations with whom we work closely:
Ilkley Community Action, Ilkley Good Neighbours,
Clarke Foley Centre, Ilkley Round Table, Ilkley Chat, Ilkley
Business Forum, Cafe J and Soroptomists.
Full membership can be taken up in many existing clubs by professional and business people, of either gender, who are willing and able to actively participate. When eventually retirement comes, it does not mean a loss of vocational skills or the desire to serve, so many join now they have more spare time and the wish to keep an active and fulfilling life.