1st August
This month started with the Southwell Village Fayre. We were tasked with controlling the traffic at the road closed barrier area. Thanks to Carolyn and Sheila first thing and Keith and Rachel midway. I teamed up with Pat for the last session. In fact Pat had been there vuirtually all day. Whilst we fended off people trying to reach Portland Bill via the closed section we were entertained by the bands and it was abeautiful afternoon. A successful day for Service and well done everyone. Julia was there with her Julias House hat on along with Bruce and Brenda manning a teedybear tombola and raised £166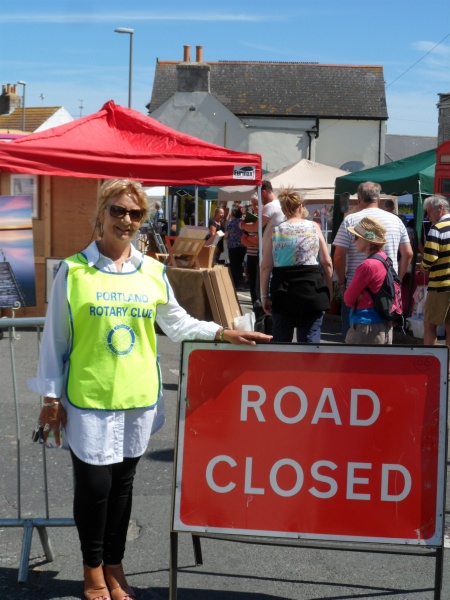 4th August
Committees and then Council met and planning continued for this year. In particular for our visit from Vire et le Bocage Normand Rotary our twinned club in France.
We were pleased to be able to make a donation to the Lullaby Trust which supports bereaved families affected by Sudden Infant Death Syndrome. It also raises money for research and educates parents on safer sleep
6th August
Janet held a tea in her garden and raised £625 for Breast Cancer. What a brilliant effort Janet.
8th August
Easton Gardens Summer Fete.
Four members of the club turned out on a beautiful morning to help set up gazebos, tables, bric-a-brac etc. for the Summer Fete. Thanks to Rachel, Alan and Dave who (with me) worked really hard. Then at the end (without me) helped clear everything away. Also especially to Julia who spent all of the time between in the kitchen.
In the evening Sarah organized a quiz evening at Weymouth Golf Club. She is trekking to Peru to Machu Picchu and is raising money for the British Heart Foundation. Well done Sarah. Our team Manaslu came third. There was a good turnout with Brian and Sarah, Keith and Judy BJ, Sheila and Roger, myself and Judith, Dave and Anna. Good to see members from Harbourside too. Judy won a beautiful orchid - a presentation by Sarah.
9th August
Wine afternoon at Clive and Ruth's
After the brilliant weather on Saturday it was disappointing to have a cool wind and cloud on Sunday. However that did not dampen peoples spirits.
Nearly seventy people attended and were welcomed with a glass of Prosecco, followed by the opportunity to taste 32 different wines. Some were really good but there was an absolutely terrible South African wine that we poured away! Clive and Sara entertained us with sing to sound tracks from scores such as Phantom.
Ruth, Judith, Judy cooked all the casseroles to perfection and Ruth Judith, Judy, Richard, Evelyn and Pat all created beautiful desserts.
Thanks to Janet for organizing the raffle and for all the helpers setting up and taking down.
Thanks to everyone who supported the event which raised (including the raffle) £851.00 for the Baspani water project in Nepal. Fantastic work everybody!
National Garden Scheme at Queen Anne House
Although not a club event Margaret and Paul helped by Bruce and Brenda opened up their gardens raising £210 for the Macmillan Trust and a further £110 for Julia's House. Again a tremendous effort.
11th August
We were delighted to welcome new member Mike Davis into our club this evening.
He is a retired policeman from the London Metroplitan Police and since retiring he has become a JP in Dorset and is a chairman of the bench.
He has helped the club with several events, with his wife Evelyn, over recent years, particularly in the field of wine! He is also a keen walker, enjoys gardening and will be a great asset to the club.
15th August
Bruce and Brenda were at Littlemoor and raised another £166 for Julias House with a teddy bear tombola.
In the evening Stan and Sarah held their Summer Evening Buffet at their new house. Barely having moved in they put on a lavish spread with lots to drink and all proceeds will be going to St John Ambulance Portland. There was a good turnout from Rotary members including Melcombe and also friends and family. All went well until Stan lit the chiminea , but after lots of smoke and closing all the doors to the house it settled down and made a cooler evening very pleasant. Well done Stan and Sarah. They raised £203!
16th August
This weeks walk - our fourth started at Cerne Abbas.
13 walkers - Mark & Judith, Peter & Rosemary, Bruce and Dave, Clive and Ruth, Mike & Evelyn, Richard & Judy and Jane set out in beautiful weather heading west of Cerne and climbed up to the ridge and past Higher City Farm to have coffee overlooking Sydling St Nicholas, wondering if we should walk down to the pub. Following south past Forceys Bell tower to Cross Dyke for lunch then back up to Ridge Hill and down to Godmanstone to follow the river valley back. Peter and Rosemary added Spice - the name of their dog a Sprocker and very well behaved!
10.3 miles and 249 m ascent
Next time more hills in preparation for Nepal!
18th August
Due to the District Governor visit on the 24th August, our last meeting of the month on the 25th has been cancelled to enable members to attend. Guest evening was moved forwards to tonight. Sadly our speaker had to cancel due to family illness and we all wish for a speedy recovery. I filled th gap and talked about Borneo and climbing Mt Kinabalu.
It was a delight to present Hilda Swinney with honoary membership. Really well deserved. (See the news page for more details and pictures)
We were also given a donation from the Joan Turner Trust of £600 towards our Nepal water project. A club member who wished to remain anonymous donated £100 to Nepal. (I know who it is and thank him most sincerely!) There was also another private donation fo £25 made, again to Nepal fund.
Sadly I shall miss the evening with the DG next week as on Friday it is an early start and I am off to the Baltics for 10 days cycling through Estonia, Latvia and Lithuania!