We hold an online "Speaker Meeting" every Wednesday evening at 19.30 BST [GMT+1 London] online using video conferencing from Zoom Cloud Meetings - to join us simply use: Rotary E-Club of East Anglia's Weekly Zoom Meeting, https://zoom.us/j/470985565
Meeting: Thursday 6th August - Wednesday 12th August 2015

President's Prattling ...
This week I visited Broadlands Club and Blackfriars Breakfast Club so really topped up with Rotary good and proper now! ... I went to the Breakfast Club [at 7am - Ugh!] speciifically to listen to Kieran Johns, a young man who I have been helping to charter the New Norwich Rotaract Club [18-30 age group] - He is very enthusiastic and is refreshing to see this in Rotary. He gave an exellent presentation of what he is trying to do and he has already got 25 young professionals and students involved - Brill! Their charter was confirmed yesterday.
Interestingly we have another enthusiastic young man from Ghana [Abdul Razak] studying at the University of East Anglia [UEA] and he is a rotaractor in his country and has decided to start another Rotaract Club at the UEA so we will have two clubs of young people enjoying Rotary shortly. There are two models - a community based one and a Uni one so it works out well really.
Both young guys are going to talk to us soon - Kieran about his journey setting up the club and Abdul about his Country and his ambitions.
---
Club Happenings ...
Holidays month so several people are heading off to the sun. Keith and Clive are taking up the sun in Spain and Ivan has moved camp with is caravan for another sojourn with friends in the Rotary Fellowship [ICFR].
James [The Rotary Blogger] has published another excellent blog on "service above self" - see http://rotaryblogger.co.uk/
Becky's motherhood is another week closer - hiccups reported this week from the womb :-)
As it is membership month why not think about friends and colleagues who you would like to invite to join our club or even just to visit our meeting to see what we are like.
We have two pending members and one enquiry came through the website today. So our ranks could swell a little more soon. I know Sam is beavering away down in Sussex enticing local people to join him to do good things in his area .. well done Sam!
---
Last Night's Speaker ... 12th August
Tom Law gave us an insight intothe work of Child reach International - A charity involved in education..
Child Reach International - Tom Law
---
Time for Rotary ...
RI President Ravi Ravindran is setting the pace for new ways for RI Officers to communicate with Rotarians. Showing that eRotary is gaining traction ....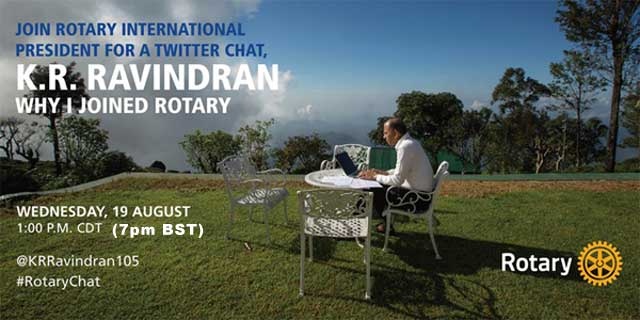 Twitter Chat With RI President K R Ravindran on Why You Joined Rotary(7pm in the UK).
Share your Rotary story during a Twitter chat with Rotary International President K.R. Ravindran on 19 August at 13:00 Chicago time (7pm in the UK). Relate the reasons you joined, hear President Ravindran's Rotary story, and find out what it means to Be a Gift to the World. Discuss tips on increasing interest in Rotary and bringing new members into your club. Use #RotaryChat to participate and follow @Rotary and @KRRavindran105.
August 11, 2015
Africa goes one year without a polio case .....
Today marks a tremendous milestone: one full year without a wild poliovirus case in Africa.
---
Time for Thought ...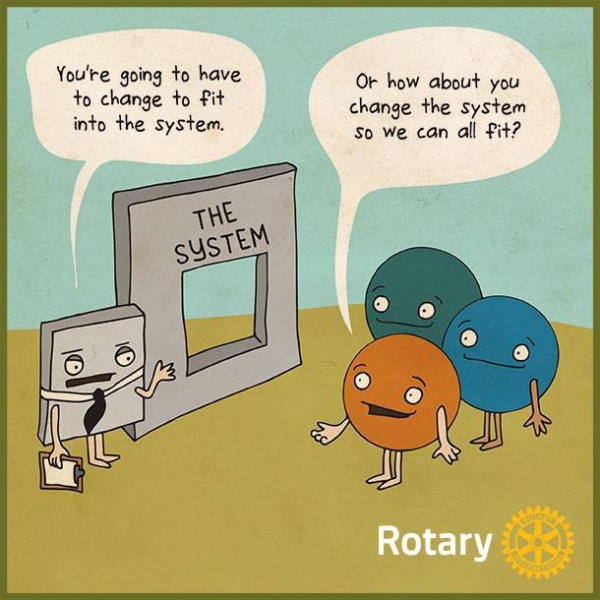 ---
Time for a Bargain ...
Rotary suppliers Toyne Kenning have Rotary emblem polo shirts available at a discount and you can even have the eClub name added for £3.50: Choice of colours . Just go to http://bit.ly/1Nw40j2 or click image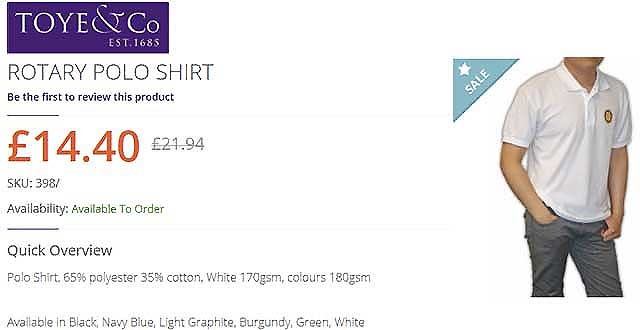 ---
Time to Learn ...
What can social media do for us ... Paul Wilson from the new Grantham Sunsrise Club started the "Rotary Global Swimmathon" and it resulted in him, not only raising more than £100,00 but he started his own business in social media.
If you have a morsel then let me know and i will add it - you can make comment below
---
Things to come ...
You can see the upcoming speakers by viewing our home page on the right hand side. You can click on it for more information too!

---