We hold an online "Speaker Meeting" every Wednesday evening at 19.30 BST [GMT+1 London] online using video conferencing from Zoom Cloud Meetings - to join us simply use: Rotary E-Club of East Anglia's Weekly Zoom Meeting, https://zoom.us/j/470985565
Meeting: Thursday 20th August - Wednesday 26th August 2015

President's Prattling ...
One event this week that was very interesting was when I visited the Thurrock RC online. They are an interesting club in that they are a traditional club that has embraced social media and eRotary as part of their way of operating.

I attended their land-based meeting through Zoom and was online with one of their mebers Lisa who was in the hot tub in Gran Canaria on holiday - so there we were sevral members along with their DG in a room in Thurrock and Lisa and me on the wall sharing Rotary and their meeting as if we were there. Brilliant and this is where i see eRotary developing, so was glad to participate.
One more serious thing to talk about though - if we are to be sustainable we do need to have a succession plan and need members for leadership in the year's to come. Keith wrote recently about nominations for the President Nominee to become Pressy in 2017-18 so not hassle for a while :-)) - so if you feel that you would like to help take the club forward then just let me know or nominate someone you think would be a good president [get their permission first though!]
---
Club Happenings ...
Sam and James participated in the twitter chat #rotarychat on Wednesday at the same time as attending our speaker meeting - so who says men cannot mulit-task eh what?
Keith is on holiday with Clive and their wives in Spain and they tried to join the meeting but I think technology let them down but at least they tried and credit to them - we could see them but could not hear them but more importantly they could not hear us!
We welcomed a visitor Anna-Marie who is interested in joining our happy band and she has written to David to ssay she thoroughly enjoy the experience meeting us all. She lives in the Uk and spends time in Greece so the eclub will be most appropriate ... watch this space!
---
Last Night's Speaker ... 19th August
We were given a superb insight by John McGorty on how their village pub in Shouldham Norfolk UK was saved through a social enterprise venture resulting in an asset to the local community and becoming a hive of activity. John shares the journey from a closed pub to a vibrant community asset.

Kings Arms from Martin Brocklebank on Vimeo.
---
Time for Rotary ...
RI President Ravi introduces a new benefit worldwide to members ....
Rotary President Ravi Ravindran Introduces Rotary Global Rewards from Rotary International on Vimeo.
to find out more visit >>
RotaryGlobalRewards
---
Time for Thought ...
Mark Zuckerman surprises Chinese at a Beijing Conference .. find out why ....
---
Time for a Bargain ...
Rotary suppliers Toyne Kenning have Rotary emblem polo shirts available at a discount and you can even have the eClub name added for £3.50: Choice of colours . Just go to http://bit.ly/1Nw40j2 or click image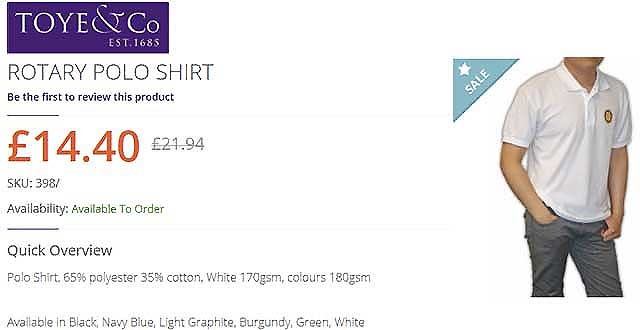 ---
Time to Learn ...
Controlling What You See in FaceBook News Feed ....

Are there times when you just do not wish to see your friends posts on FaceBook without unfriending them?
You can adjust what you see in your News Feed by using see first; following or unfollowing people,
Pages or groups; or liking Pages.

If you have a morsel then let me know and i will add it - you can make comment below
---
Things to come ...
You can see the upcoming speakers by viewing our home page on the right hand side. You can click on it for more information too!

---