COLIN'S CHALLENGE - Latest
Rtn. Colin Bell - Running 2015 km in the year 2015 - Raising money for ShelterBox.
LATEST NEWS
Today 26th Jan 2016, despite the terrible weather, Colin completed the final distance from Bodmin to Helston, approx. 70km, making his total distance achieved 2015km +
Escorted by friends and Rotarians through the night Colin arrived at ShelterBox HQ at approx. 1300hrs to a good reception welcome by all the ShelterBox staff. Colin presented his cheque for almost £1300 to the CEO of ShelterBox.

See Photo Gallery above.

<>
Due to a slight injury Colin has had to defer his final run, but still keen to do the complete distance he intends to do the last run Bodmin to Helston on Tuesday 26th Jan 2016 - Arriving at Shelter Box HQ approx. mid afternoon.
<>

Colin is now on course to complete his CHALLENGE with less than 200km to do in the next 6 weeks (approx. 4 marathons) Colin has runing events lined up and feels very confident that he will achieve 2015km in 2015.
<>
Colin - frequently seen training for future runs carrying a Shelter Box - Around the walks & trails close to Bodmin, often doing the Park Run and half marathons !!

Rtn. Colin Bell - Bodmin Rotary Club - has set this as a personal challenge for 2015 - Supported by Bodmin Rotary members. Greatness, Passion, Madness ! Whatever - to do this is an extreme personal effort for a humanitarian cause - PLEASE SUPPORT COLIN IF YOU CAN....
Text - SBOX69 £5 to 70070 - Scroll down to see LATEST....
or for larger amounts

Select
-
Virgin Money Giving Link....
Colin Bell's fundraising for Shelterbox
< SCROLL DOWN for LATEST MESSAGE >

Colin's message:
Hi, thanks for visiting my page.
I'm going to put myself through lots of pain and suffering in the hope that you will sponsor me so that you don't have to suffer as well.
I have committed to running 2015 kms during the year 2015 - that is over 48 marathons worth.
I have some big challenges scheduled which will help with the mileage including: -
22nd February - Cornwall F & R Service half marathon 21km COMPLETED
14th March - BAR8 50km Ultramarathon over Bodmin Moor COMPLETED
2nd & 3rd May Pony Express Ultramarathons, 96km over 2 days round the New Forest. COMPLETED
17th May - Imerys Trail Marathon 42km COMPLETED.
20th - 21st June - Camel Trail night marathon 42km COMPLETED
11th July - Chiltern Challenge Ultra 50km COMPLETED
18th to 22nd July - Equiv of 4 Marathons in 5 days 105km COMPLETED
23rd July - 50km from the Wear to the Tees COMPLETED
15th August - 50km Roseland August Trail. COMPLETED
13th September - Great North Run 21km, surely the best half marathon in the world?
I am also hoping to slip in a few other races as well.
My target is to raise funds equivalent to a Shelterbox (about £600).or more !

<
Through Virgin Money Giving, you can sponsor me and donations will be quickly processed and passed to charities. VMG is a not for profit organisation and will claim gift aid on a charity's behalf where eligible.
I really appreciate all your support and thank you for any donations.
See Virgin Money Giving Link above....
Colin
---
LATEST:
EQUINOX RUN - Camel Trail - Sat. 26th Sept.
My next home spun 'event' is this coming weekend I'll be aiming to do a 12 hour run along the Camel Trail to see how far I can get starting at sunrise 07.11 Saturday morning til sunset 19.08.
I'd love to be able to get 56.4 miles in = 2 marathons, but might struggle. Does anyone fancy popping out to see, run with or support me?
Schedule - Strart - Borough Arms to Wenford and back - Padstow and back - Wenford and back - Bodmin and back - This ampunts to 56 miles !!

TRURO Half Marathon - Sat. 19th Sept.
Came in 513th out of 518 finishers in today's Truro half marathon carrying my Shelterbox in a time of 3.00.08, managed to collect £114 in cash and £20 in text donations. Really pleased with that considering the nasty hills.
The GREAT NORTH RUN - Sunday 13th Sept.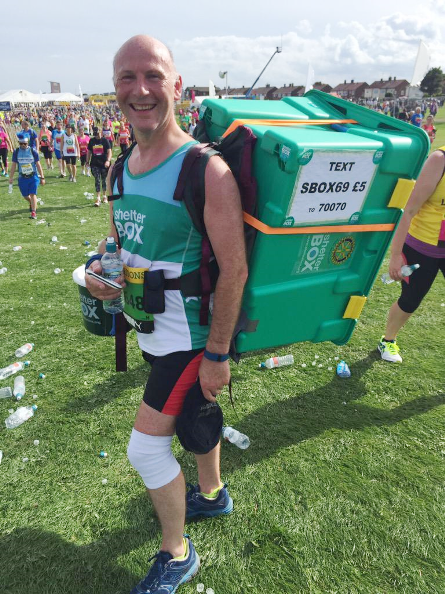 Official time for me and the ShelterBox in the Great North Run is 3.04.50, plus a lot of support and donations into the bucket. Really enjoyed it and happy to have spread the word for the charity. Many thanks to everyone for their support. - Colin.

Colin's placing was 37776th out of 57000+

Fantastic achievement - considering - carrying box, collecting, stopping and talking to supporters, spreading the word for Rotary !

.
Photo at the finish - looking good.
<
---
Only 690km left in my 2015km challenge to raise funds for ShelterBox, I'm still on target to complete the distance by New Year's Eve. The Great North Run on Sunday 13th Sept. 2015, is my next organised event, I'll be carrying the Shelterbox for a lot more than the 13.1 miles of the course though! - Look out for me on the Tele !!

Colin 23/08/2015
---
I think I'll get a T-shirt with 'Daft not stupid' printed on it in response to how many people ask me if the Shelterbox is full or empty. I'm lucky that I do not need it to be full for me to survive.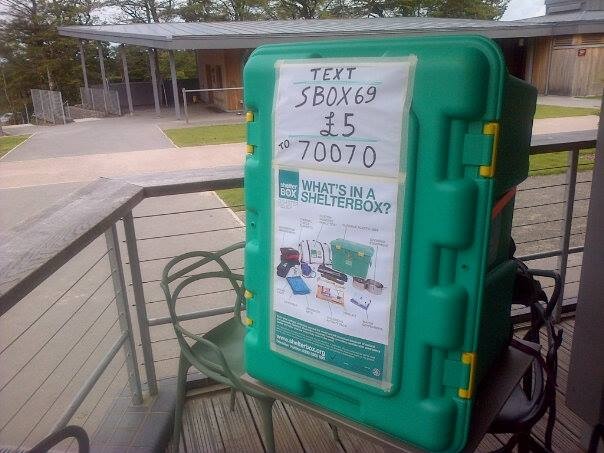 Colin 30/08/2015

<
---