It is good to return home after a cycling trip in the Baltics through Estonia Latvia and Lithuania accompanied by member Clive and our wives Judith and Ruth plus friends. Whilst the weather in the UK was not good, the temperature in Vilnius rose to 31 degrees. We cycled 390km through stunning scenery and beautiful villages and even swam in the Baltic sea.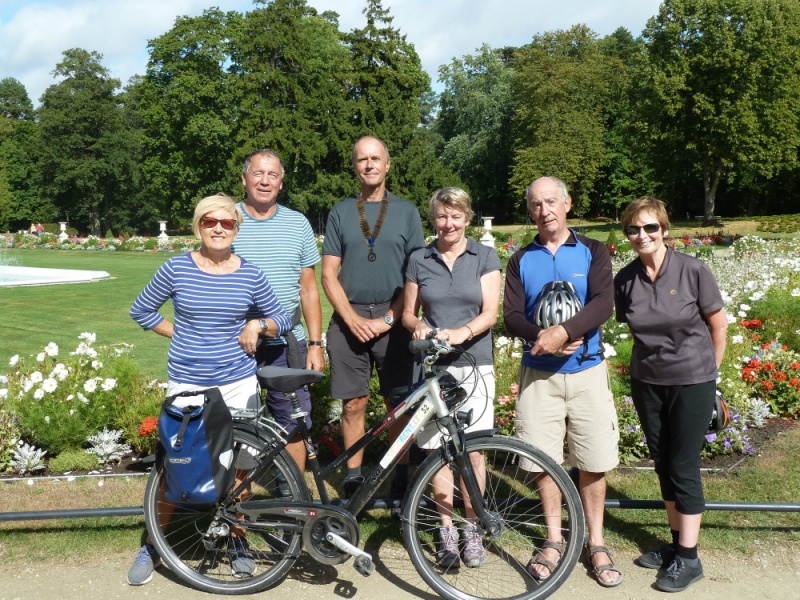 Whilst I was away it was business as usual at the Club.
22nd August The Table Top sale took place at C2000 for the benefit of Island Community Action and raised £138. Well done Dave Bruce Alan Keith Carolyn.
24th August. The normal meeting was cancelled on 25th to allow members to attend the visit by the District Governor on the 24th at Pilgrim House. This was a combined event with the Weymouth clubs and well attended.
Sunday 30th. Car Boot Sale at Tescos. Luckily this time the weather was settled and £96.00 was taken. Well done Dave Rachel Julia Pat and Carolyn
5th September The District Forum took place at Street with updates on the development of a database of Rotarians and their skills that would be called into action in the case of a Civil Emergency. This was following on from the experience after the Somerset Levels floods where Rotarians were a major player in the relief effort.
Polio eradication programme continues with only 37 cases this year in Pakistan and Afghanistan. Due to two vaccine related cases caused by the oral vaccine of type 2 polio the vaccine is being changed to the injectable form until the oral is developed with just types 1 and 3 next year.
Rachel, Dave and myself stayed on for the afternoon for an educational session on the Rotary website and how to make it the most effective.
Tuesday 8th September. This was an historic evening when it was a delight to be able to induct six new members into the club. We were delighted to be able to welcome below Alistair, Gillian, Andrew, (me in the middle) Anna, Andrea and Sharon.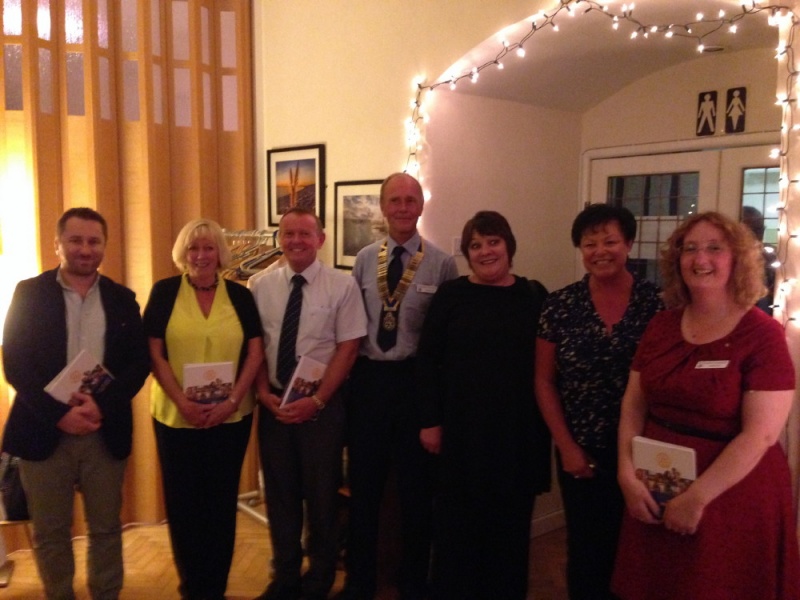 It was also a great pleasure to present Ian with the chains of Vice President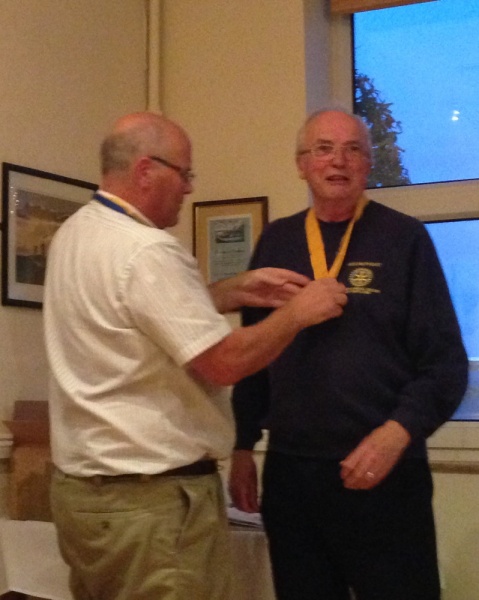 A donation of £200 was made to St John Ambulance
Sunday September 13th was a great day for our fifth walk in preparation for Nepal. A bright and breezy day made for good walking weather from Ringstead to Lulworth and back, all in preparation for Nepal.
Tuesday 15th September
I met up with Rick Winterburn from the Islanders Club who donated several sleeping bags for us to take out to Nepal
Friday 18th to Sunday 20th September
This was the exchange weekend when the Rotary Club of Vire came to visit us. Our biennial exchange. See the article under our News Page. Our club of Portland worked hard together to make the weekend a success. In particular Steve and Maria, Brian and Sarah, Judith (and me!) for hosting. Peter and Rosemary, Mike and Evelyn for inviting members and guests from Vire for a dinner. Chrissie did a tremendous job in organising the Casino evening. Julia and the cooks (Steve, Peter Dave) on Sunday for the brunch, plus just about everyone involved in washing up. Judith for breakfast on Friday and tea on Sunday and Ruth for baking cakes. In fact every member helped in one way or another.
Saturday 19th September
In the middle of the Vire visit Julia found time to run a teddy bear tombola for Julias House and raise £130!
Monday 21st September
A lightening visit to London to meet up with Dr Gerald Nwafor who I had met in Nigeria from the RC of Enugu. I was able to catch up on the results of the project on maternal and child health where the death rate is dramatically decreasing. They are working on a new walk in clinic for local people in the poor areas of Enugu. Rotary has built the clinic. Volunteers like Gerald man the clinics voluntarily whilst still holding down his full time job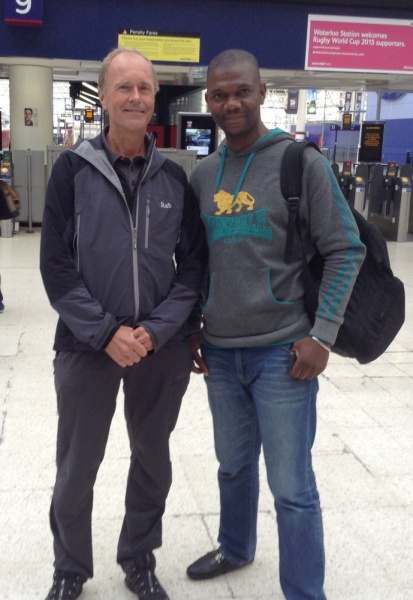 Tuesday 22nd September
Quiz night at the Poet Laureate. Organized by Jane from Poundbury, proceeds towards our joint Nepal water project and Foundation.We entered two teams. Both teams ended up about the middle of the field. Though the team with the President did pip the team with the President Elect!
Wednesday 23rd September
Skittles knockout at Abbotsbury against Bridport. well we won - but it was a close thing. By 1 point! Well done to Carolyn to organizing the match. Thanks to Brian and Sarah, Julia, Dave, Carolyn, Stan and Pat for valiantly playing.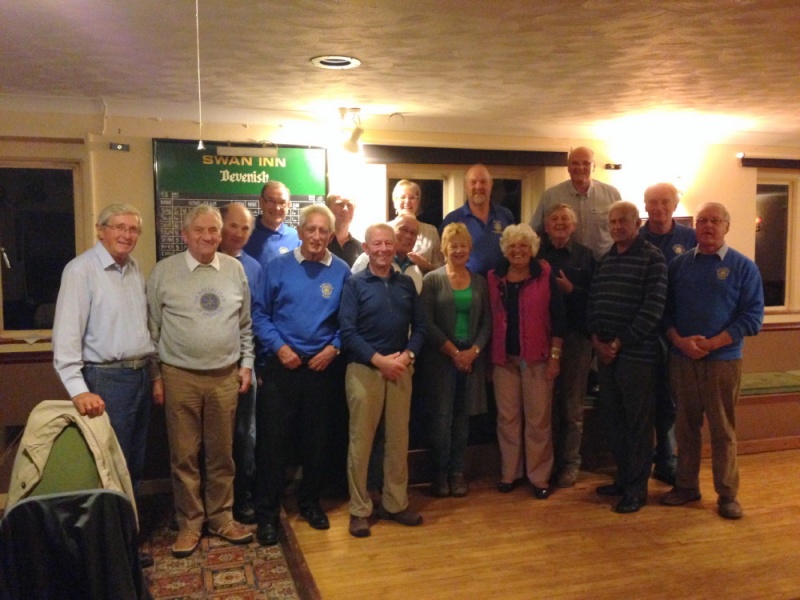 Sunday 26th September
The final car boot sale at Tesco's finally had some good weather and raised around £80, well done to Dave for organising. Leftover items were donated to June Moreley for their fundraising efforts for the Easton Community Group.
Tuesday 29th September
The last meeting of the month and Guest Evening.
A delight for Julia to present the Community Award to Kim Wilcocks and for me to induct Jayne into the club.
Dr Bob Ward gave an excellent talk on his sailing exploits crossing the Atlantic (twice) in a small boat on the Atlantic Raleigh Cruise and through some horrendous weather, with some dramatic video footage.