We hold an online "Speaker Meeting" every Wednesday evening at 19.30 BST [GMT+1 London] online using video conferencing from Zoom Cloud Meetings - to join us simply use: Rotary E-Club of East Anglia's Weekly Zoom Meeting, https://zoom.us/j/470985565
Meeting: Thursday 3rd September - Wednesday 9th September 2015

President's Prattling ...
My thanks to David McC for hosting the Wednesdya Speaker meeting as I was away for a few days break. Although I did manage to get online and say good luck the signal from the depth's of Northamptonshire was challenging! A good job done by all I gather and Allan's talk was well recieved ... watch it below if you missed it . I certtanly shall.
On my way back from sunning [yeah!] myslf in Oundle I called into the RYLA week programme at Grafham water to share with 50 young peeps a bit about Rotary, Rotaract and the eClub ... after they have had a week of outdoor gruelling challenges I am sure that listenning to an old man's ramblings was a testament to the course! There was quite a bit of interest following our presentation.
we should be thinking now about sucession planning for our club, so watch out for an email explaining the need for members to come up with ideas and think about who will be able to do what to make us sustainable.
---
Club Happenings ...
I am trying to keep up to date with birthdays so if I miss one let me know please ... I have just discovered ther there is a notification when you login to our website showing up and coming birthdays for the next month - 30th is Arvind Shah and Russell Cooper, 4th Oct is Peter Harle Cowan and 6th October is Chihiro Matsuda.
Brian has been beavering away in Spain to devleop another way for us to get to know each other and communicate avoiding a plethora of emails. I think there is a bit about it at the end of this this weeks recording. I will let you know more as it it develops - it is great to have members thinking outside the box about our
Keiko in Japan is now finding the asynchronous programme useful - she has communicated with me on PM [FaceBook] as follows:
"Martin, I finally could let myself hear Rotary talk done by Pat [Webb]. I will be catching up one by one. This is really good for me to understand what our club is doing. I went to Rotary scholar annual alumni meeting where I did presentation. Rotary is always giving me connections with people, especially this day I met Rotarians who care about refugees in Japan."
If you have people you think would love to join us then let David or me know.
---
Last Night's Speaker ... 2nd September
Allan Berry, member of our club shares a bit about himself but more about what he gets up to in Rotary.
Following Allan's talk our member in Spain Brian will share his development of a system for helping members communicate with each other without being deluged with emails.

Allan is the Editor of the Rotary [Rotary GB&I] national magazine which currently is in print form, however there is a sort of elecronic version on Issuu ... click here bit.ly/RotaryMagazine

---
Time for Rotary ... Presidential message
The RI President Ravi has established himself as a man of no nonsense and straight talking ...
this week he delivers another speech to wake up the "establishment" in places within our organisation .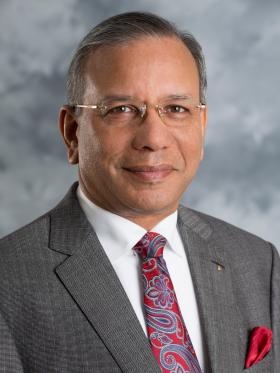 .. He starts with an anecdote ....
Definately food for thought!
"There was once a strong young man who was offered a job as a woodcutter. He set about his task with energy: The first week, he turned 18 trees into firewood. The second week, he worked just as hard, but was surprised to find he had chopped only 11 trees. The third week, despite working nonstop from morning till night, the number was six, and he went despairingly to the foreman to offer his resignation. "I am losing my strength. I can no longer cut as many trees as I once could."

The foreman looked at the young man, who seemed to him in fine health. "Have you thought of sharpening your ax?" he asked.

"Sharpen my ax? Who has time to sharpen an ax?" the young man asked indignantly. "I have been too busy chopping wood!
When we aren't making the kind of progress we feel we should be making, the natural response is to redouble our efforts. Sometimes, though,
the better response is not to work harder, but to work smarter.
Look at your tools. Analyze your processes. Are you directing your resources in the most effective ways? Or are you pouring all your strength into chopping wood with a dull ax?
For the last 20 years, we have relentlessly beaten the drum of membership in Rotary. We set goals and launch campaigns, all focused on bringing in more and more members. And yet, our overall numbers remain the same.
It is time to sharpen our tools. Instead of focusing on the question, "How can we bring more members into Rotary?" we should be asking ourselves, "How can we add more value to Rotary membership, so that more will join and fewer will leave?"
What are your thoughts?
---
Time for Humour ...
---
Time to Learn ...
We are hoping to get Paul to come and talk to us very soon ...in the meantime sign up for tips and a guide to social media .. bit.ly/PaulWilsonsocialMediaGuide

If you have a morsel then let me know and i will add it - you can make comment below
---
Things to come ...
You can see the upcoming speakers by viewing our home page on the right hand side. You can click on it for more information too! >> Just click on the logo above

---