We hold an online "Speaker Meeting" every Wednesday evening at 19.30 BST [GMT+1 London] online using video conferencing from Zoom Cloud Meetings - to join us simply use: Rotary E-Club of East Anglia's Weekly Zoom Meeting, https://zoom.us/j/470985565
Meeting: Thursday 17th September - Wednesday 23rd September 2015

President's Prattling ...
This week was attended by only a few of us due to holidays and members not being avaiable to attend. As a result it was felt that the talk would be defered to another date.

As it happened it was me talking about an intriguing historical perspective and therefore no speaker was harmed in the decision to cancel.

Mind those of us online did havea good old natter and put the word to right sand got to know each other a little better. We also had a potential member Anna Maria attend who was still in Athens, flying back to UK the following day. That is keen and I plan to meet up with her in Norwich before next meeting.

EVENT: I have been asked to let everyone know about a special speaker coming to Lowestoft East Point Rotary Club on 29th September - Clive Knowles form British Ironworks Centre is talking about Community Arts Project "Knife Angel" where a call to surrender knives [in an amnesty] will lead to these knives being made into a sculture of an Angel [called Knife Angel]. Sounds interesting and Clive is coming all the way from Shropshire to talk about this campaign. We have been invited ... so put 29th Sept at 7pm Hotel Victoria Lowestoft in your diary.
---
Club Happenings ...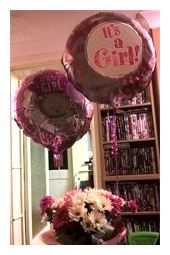 A little late news but our member Becky and hubby, Matt, became parents to Katie Jane Barley on 28th August 2015 inthe early hours of 1.04am. According to her mum, Katie was two weeks early and weighed 7lb 01 when she was born. She's doing really well, and giving her lungs a good exercise!

Congratulations from all of us and hope your journey through life together is great.

Our Blogger, James, has been producing his "Rotary Blogger" now for some time raising issues and commentary on the "the good; the bad; and the ugly" alway provoking thought and comment by followers.
His blog is certainly worth a look and following as there is lively ddiscussion on regular Rotary matters
Go to "rotaryblogger.co.uk"

Brian R has developed a bulleting Board to help with alternative group communication on subjects for discussion by club members., This has the advantage that subjects can be discussed in a single thread whereas on the FB "clubhouse" group it is difficult to keep track of a "conversation".

To register and start to discuss things clubwise go to eClub forum

We are considering introducing the Virtual Balloon Race again to raise money for End Poilio Now because with the help of Bill & Melinda gates matching 2:1 funding it makes sense to take advantage of this opportunity.

---
Last Night's Meeting ... 17th September
As we have a number of members on holiday and others who were unable to make the meeting we decided to have more of a chat and have the talk at another time. We enjoyed a good chinwag online!
Next week's meeting is Keith Tovey. His talk is particularly topical given all the hype about the 75th anniversary of the Battle of Britain. Keith will share a story about personal happenings in war torn Britain resulting in a peace memorial service in the Octagon Chapel Norwich in November. It is a fascinating tale.
As we have no recording of a speaker here is an absolutely fascinating talk showing the "power of action" in this 6 minute TED talk by Andrew Bastawrous ...
See more about "Peek App" [thanks to SiliconValley Rotary eClub for sharing.]

---
Time for Rotary ... Rotary and the United Nations:


Rotary's relationship with the United Nations dates back to 1945 when some 49 Rotary members acted as delegates, advisors and consultants at the United Nations Charter Conference in San Fransisco.
The Rotary Club of New York, and many other Rotary clubs, played an essential role in building support during the formative years of The United Nations, and in selecting New York City for the Permanent Headquarters of the United Nations. As such, more than 60 years later, Rotary International still maintains the highest consultative status with the United Nations "ECOSOC" of any non-governmental organization.
In this capacity, Rotary International and the United Nations has built a strong and productive partnership in achieving the Millennium Development Goals of 2000, including the global eradication of Polio, cultural exchanges, literacy, education, water/sanitation projects, and promotion of peace conferences around the world. By the late 1940's, Rotary International was one of the largest "international" organizations in the world. There were more that 6,800 clubs in more than 81 countries.
In 1942, Rotary clubs from 21 nations organized a conference in London to develop a vision for advancing education, science, and culture after World War II. That event was a precursor to UNESCO, established in 1946. Rotarians helped write its constitution and made a considerable contribution to the Charter itself. In 1945, 49 Rotarians went to San Francisco to help draft the UN Charter, in particular the framing of provisions for the Economic and Social Council. (ECOSOC)
In recent years, Rotary and UNESCO have strengthened their cooperation. In 2006, Rotary and UNESCO hosted the Action for Water Conference in Paris to discuss collaborative opportunities in the freshwater sector. Within the framework of the UN Literacy Decade, several Rotary leaders participated in UNESCO literacy conferences held in Beijing, Bamako, New Delhi, and Mexico City, sharing examples of Rotary's literacy and education projects worldwide.
Rotary Day at the United Nations
Each year, Rotary Day at the United Nations invites more than 1,300 Rotarians including many Rotary International Directors, Foundation Trustees, past Senior Leaders, and guests to come together at the United Nations Headquarters in New York. The program is designed to inspire and educate all participants as well as provide insight into the relationship between Rotary International and the United Nations. his year
Rotary Day at the United Nations will take place on November 7, 2015. > click <
---
Meet our Members ...
In this new section, I will start this week with a brief profile of me.

I have been a Rotarian since 1998 and this is my second club - the first being Norwich South. I joined because I went into business for myself and in the early days if I did not tlak to cutomers I saw juts the walls of my office - A friend intorduced me to Rotary and this filled the gap in social contact for me.

I started life as in Halfords with no qualifications and soon realised if I was to progress I needed to gain some. I studied and ended up with two Masters - one in Business Management and one in Learning. I have put both to use over my career.

I now have a web design and internet marketing business where I provide hosting, design and online marketing for quite a few clients, mainly SME businesses. We also have a small property rental business which is mainly looked after by my wife Trish, except whern I have to do some repairs!

I enjoy Photography [although not brilliant]; Cooking; Family History [and social history as well] Boating [not sailing though :-)] and travelling.

We have a son, Asa, who lives in South London and manages a pub in Forest Hill.

---
Time for a Bargain ...
Rotary suppliers Toyne Kenning have Rotary emblem polo shirts available at a discount and you can even have the eClub name added for £3.50: Choice of colours . Just go to http://bit.ly/1Nw40j2 or click image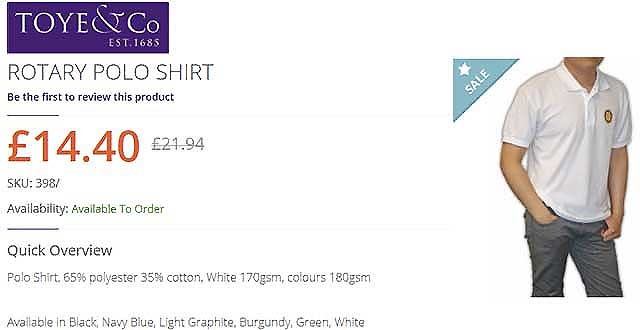 ---
Time to Learn ...
from Rushton Hurley [Silicon Valley eClub Preisdent] : This week is designed to show you a new way to use Google Calendar. Enjoy!....
If you have a morsel then let me know and i will add it - you can make comment below
---
Things to come ...
You can see the upcoming speakers by viewing our home page on the right hand side. You can click on it for more information too!

---