We hold an online "Speaker Meeting" every Wednesday evening at 19.30 BST [GMT+1 London] online using video conferencing from Zoom Cloud Meetings - to join us simply use: Rotary E-Club of East Anglia's Weekly Zoom Meeting, https://zoom.us/j/470985565
Meeting: Thursday 24th September - Wednesday 1st October 2015

President's Prattling ...
Busy time for me at the moment with both paid work and plenty of Rotary stuff. On the paid work front I have a nice contract to develop a "pop-up" comedy store in the West End of London and a refridgeration company in Bury St Edmunds so working life in quite varied. One of my clients is a sex therapist, which was a challenging website to create!

On the Rotary front apart from the Pressy stuff with our club, I am working on the team developing the integration of the membership databases which is going OK but tedious. More interesting this week has been visiting the "fresher's week" at the UEA to help the newly formed Rotaract club peddle their wares to over 1800 incoming students. It was a great event and we signed up more than 20 new members and there are still some who want to sign up online so a good day was had.

---
Club Happenings ...
Brian has been working on a new additonal communication method to be able to share ideas, comment and exchange views through a Forum. In Brian's words in an email to you "As you know we have created a club forum for chatting at other times outside meetings. It's a good way to chat so that everyone is involved and informed in the conversations we may have".To join in just go to http://bit.ly/ClubForum and register. once signed in then read and comment or simply post your own subject thread.

It helps us to talk about any subject or project we have and keeps our thinking so that new members can catch up with what's going on and quickly become involved.
We need to consider our succession planning ... we need to have a President Elect and Nominee to step in to the roles from July 2016 and July 2017 respectively.

if members can put their thinking caps on for new projects in the coming months this would be good.
---
Last Night's Meeting ... 23rd September
Our speaker this week shares a personal story of his famil during the bombing of Coventry during the 2nd World War and the friendships formed resulting in Swansea not being bombed and the German being sent to Siberia ... a fascinating story culminating in a Peace Concert at the Octogon Chapel in Norwich in November ... see details below:
The Peace Concert on Sunday 8th November 2015 is in aid of dementia and a rememberance of those killed in the Coventry bombings >download leaflet<

The Coventry Rose Poem written by Neville Macauliffe > the poem < the following verse has inspired the planting of a Peace Rose during the concert ...

extract: Might you-perhaps in some shady corner,
by chapel or oaken tree-
somewhere pause, and think to plant...
Another rose like me?"
---
Time for Rotary ... Nigeria Reaches a Polio Milestone:
Nigeria has been removed from the list of polio endemic countries in what is being regarded as a "milestone" on the quest to eradicate the disease.The announcement by the World Health Organization (WHO), was made at a meeting of the Global Polio Eradication Initiative (GPEI) in New York.It follows Nigeria going more than a year without a case of wild - naturally occurring - polio.Three years without cases are required before it can be declared polio free. The decision means there are just two endemic countries - Pakistan and Afghanistan - where transmission of the paralysing virus has never been interrupted.
Nigeria has not reported a case of wild poliovirus since 24 July 2014, and all laboratory data have confirmed a full 12 months have passed without any new cases.
As recently as 2012, Nigeria accounted for more than half of all polio cases worldwide. Since then, a concerted effort by Rotary, all levels of government, civil society, religious leaders and tens of thousands of dedicated health workers have resulted in Nigeria successfully stopping polio.

More than 200,000 volunteers including Rotary across the country repeatedly immunized more than 45 million children under the age of five years, to ensure that no child would suffer from this paralysing disease. Innovative approaches, such as increased community involvement, the new IPV [Inactivated Polio Vaccine] and the establishment of Emergency Operations Centres at the national and state level, have also been pivotal to Nigeria's success.
The interruption of wild poliovirus transmission in Nigeria would have been impossible without the support and commitment of donors and Rotary and its development partners.

Polio in the world in 1988 ... in 2015 see below: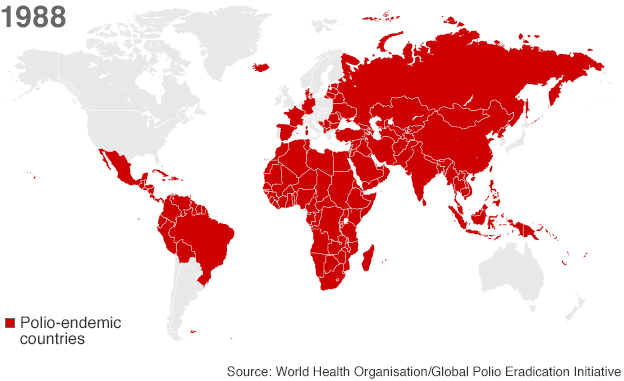 For more information visit The Global Polio Eradication Initiative at www.polioeradication.org

---
Time for a Bargain ...
Rotary suppliers Toyne Kenning have Rotary emblem polo shirts available at a discount and you can even have the eClub name added for £3.50: Choice of colours . Just go to http://bit.ly/1Nw40j2 or click image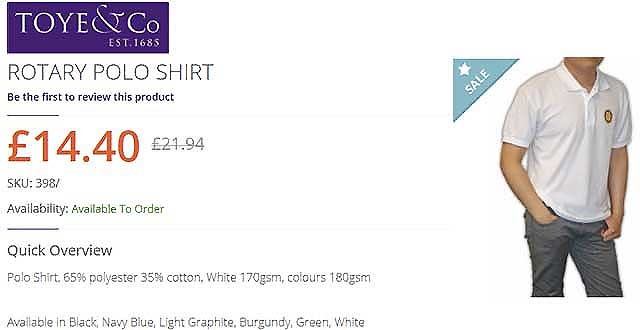 ---
Time to Learn ...
This week we learn how to add photos to Google maps ...
If you have a morsel then let me know and i will add it - you can make comment below
---
Things to come ...
You can see the upcoming speakers by viewing our home page on the right hand side. You can click on it for more information too!
PLEASE NOTE THAT AS MANY OF US ARE ATTENDING THE DISTRICT COUNCIL MEETING ON 7TH OCTOBER THERE WILL NOT BE A SPEAKER - HOWEVER YOU ARE MOST WELCOME TO COME ONLINE AND SHARE FELLOWSHIP WITH EACH OTHER ON THAT EVENING.
---