On Thursday 2nd May retired Chief Veterinary Officer of England, Fred Landeg, gave an enlightening talk on
'Government Vets, Crisis communications and Prime Ministers'. illustrating the way the UK protects our Country from livestock disease threats from around the world. Fred, who is a world expert on Rabies, Avian influenza and risk assessment and management to prevent the introduction of disease from other countries, described the way the UK has retained it's status of being Rabies free and is keeping Avian influenza under good control, despite many challenges presented by globalisation, increased travel and by wild bird carriage of disease.
He also described the real challenges presented by the salmonella in eggs crisis in the 90's and the 2001 and 2007 Foot and Mouth disease outbreaks and the lessons learnt, with vivid illustrations of the way different Prime Ministers and Agriculture Ministers approached the challenges through the COBRA Committee, some insisting on understanding the details and others seeing the big picture and delegating well. He demonstrated how good IT information can be a real help in following and understanding the course of a disease and provide good input to the assessment of risk, facilitating disease control, while, where it is misused to frighten the public by using the extremes of likely hood of the disease occurring, can unnecessarily mislead and frighten the public, delaying control, adding to costs and unnecessarily disrupting trade.
Fred, funded by the EU, is presently advising China,many Eastern European countries, Iceland and Norway how to use risk assessment to build effective ways to prevent the introduction of animal diseases and facilitate their control. He warned of the real threat of African Swine Fever, out of control in Russia and China, to the UK pig industry.
Questions from members included 'how to control TB in cattle in the UK', 'The role played by badgers in spread of TB , and 'How vaccination might play a stronger role in the prevention of several diseases.''
Kerry Eastwood has recently joined the Rotary Club of Reading Abbey. Kerry has told us why she joined our club...
Why not! Being an avid runner, volunteer and fundraiser, it's a great feeling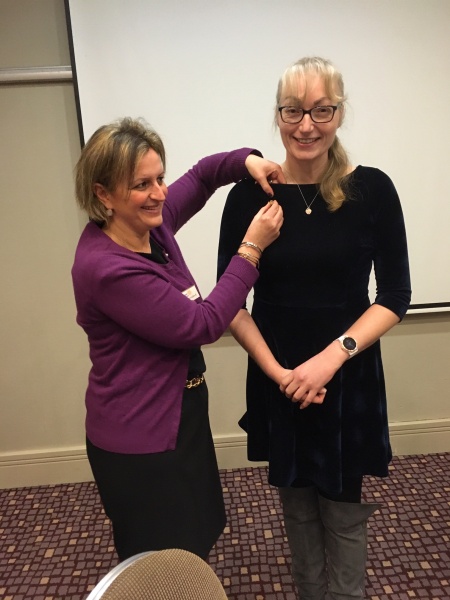 when you can combine all three. It was the Englefield 10k; a local non-profit race for runners put on by Reading Abbey Rotary and Tadley Runners, which caught my eye and made me curious of The Rotary. What is it? Who are they? What does it do?
I should have asked what doesn't it do? No secret handshakes but a social gathering combined with food, of like-minded humans who want to give back to the community they live in, really changing lives and having fun too!
I joined because I wanted to do more, volunteer more, be involved locally more and learn about my Reading in a different way. The wonderful Adele Costabile, I have to thank for introducing me to everyone and I already know I am in for lots of laughs and many smiling faces.