We hold an online "Speaker Meeting" every Wednesday evening at 19.30 BST [GMT+1 London] online using video conferencing from Zoom Cloud Meetings - to join us simply use: Rotary E-Club of East Anglia's Weekly Zoom Meeting, https://zoom.us/j/470985565
Meeting: Thursday 1st October - Wednesday 7th October 2015

President's Prattling ...
This week I became a Global Citizen :-) as part ofthe UN major initiative to make our planet a better place by engaging the next generations in the fight for sustainability and peace the world over ... a big challenge but it started with a bang .. 17 goals to change the world - see below.
What struck me was the parallels with Rotary and I noticed that it has signed up to the campaign but it is strange we have heard nothing about it.
The question is whether by getting "A" list celebrities and senior world leaders involved it will have a cohesive plan of action that we can all buy into. It starts with spreading the word but needs to go further to gain traction.

I have to say that I watched the launch Concert in New York Central Park and it was quite a spectacular event.

A couple of birthdays yesterday - Arvind and Russell with Chihiro, Peter and Andy coming up in the next week. have a great day becoming a year older and a year wiser!

---
Club Happenings ...
PLEASE NOTE: As several members are going to the District Council Meeting on the 7th October and other members are on holiday or otherwise indisposed there is no speaker but feel free to go online and meet up with each other and chat. It will be a good opportunity to experiment with the online meeting.

Keith has compiled a survey for our members to establish how they would like to see the club progress and to identify a few details on what you are interested in so we can meet more members preferences. This will be with you in the next week so please help by completing the survey and returning it to Keith
There is a Club Special General Meeting on Wednesday the 18th November to discuss resolutions and to elect the future officers. Keith will be sending out a reminder to everyone.

---
Last Night's Meeting ... 30th September
Abdul-Razak Yakubu is a hive of energy studying at the UEA from Ghana and he talked to us about his life back home, his passion for making his Country a better place to live for all esepcially women and children. He talked about setting up a Youth Movement and the community work they do. He shared with us his reasons for studying here at the UEA and why he became a Rotarian.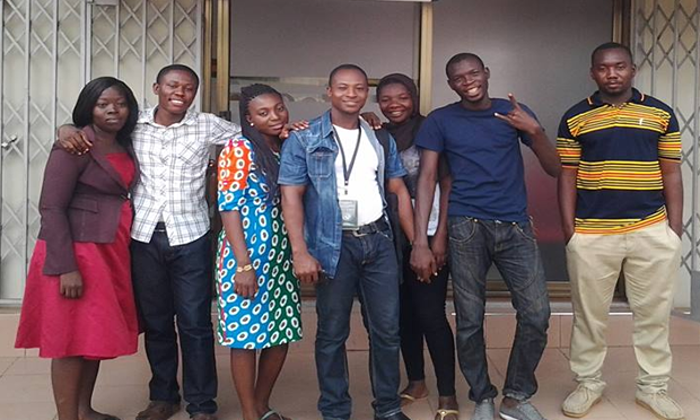 The youth movement for African unity, headed up by master's student Abdul-Razak Yakubu. Photograph: The University of East Anglia
Abdul became interested in activism from a very early age. The mission of "making things better" surrounded his childhood, with World Vision and various NGOs being as much a part of his community as the locals themselves in Tamale, in the northern region of Ghana.
Growing up in northern Ghana presents many challenges to young people. It is under-developed, rural and heavily reliant on agriculture. It's also an estimated 50 years behind southern Ghana, the urbanised, coastal region where many young people flee for a chance of income.
With his interests focused on gender activism; the rights of young girls and women; Abdul sought formal education with a diploma and bachelor of arts in business studies. But this was not enough to make the progress he wanted to see in his country. He needed formal recognition.
Abdul says: "To achieve what I wanted to, I already had the experience [working in community projects] but not the professional qualifications. I knew I wanted to study the master's in
conflict, governance and international development
at UEA.
The Chevening Scholarship is a UK government award scheme aimed at developing global leaders by academically linking them with UK opportunities and networks. Abdul was one of only three Ghanaians to receive this after demonstrating his potential as a young agent of change.
He says: "Young leaders are found virtually in all areas of work in Africa and many of them are demonstrating semblance of hope that given the right platform, and the right opportunities, they can be change champions."
Here is Abdul talking about his summer school in New York encapsulating what he said last night to our members.
Ghana is more than people know and here is a Youtube video showing another side ...
---
Time for Rotary ... The UN Goals are Rotary Goals:
An ambitious plan ...... World Leaders have committed to 17 Global Goals to achieve 3 extraordinary things in the next 15 years. End extreme poverty. Fight inequality & injustice. Fix climate change. The Global Goals for sustainable development could get these things done. In all countries. For all people.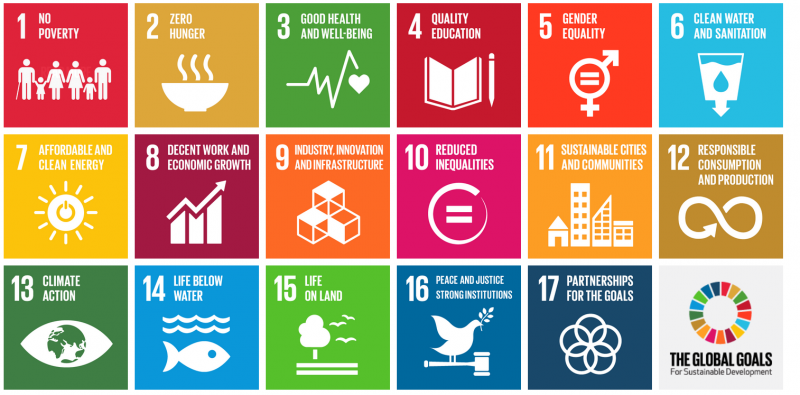 Join the Global goals plan >click<

---
Time for a Thought ...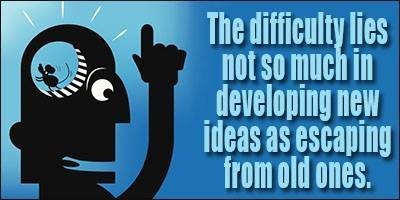 ---
Time to Learn ...
Brian has set up a new club forum as anothe way to communicate topics and ideas .. go to http://bit.ly/ClubForum

If you have not done so, you will need to register so you can login and use it free of spam.
the login page looks like this: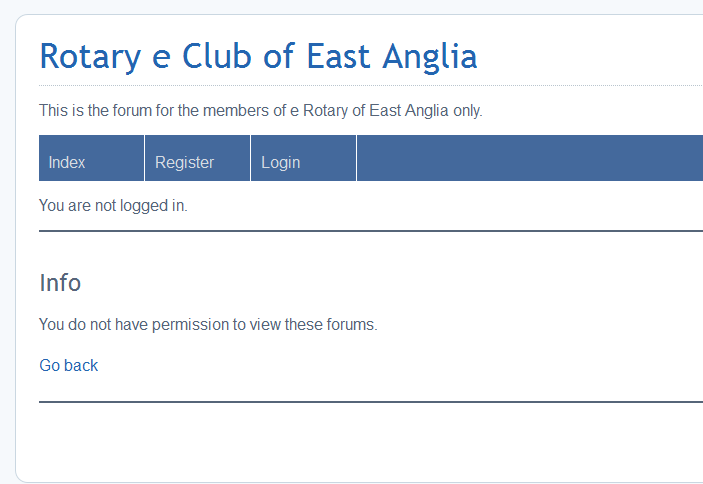 once registered and logged in you will see the following page - click "members" to see the list of topics posted by members :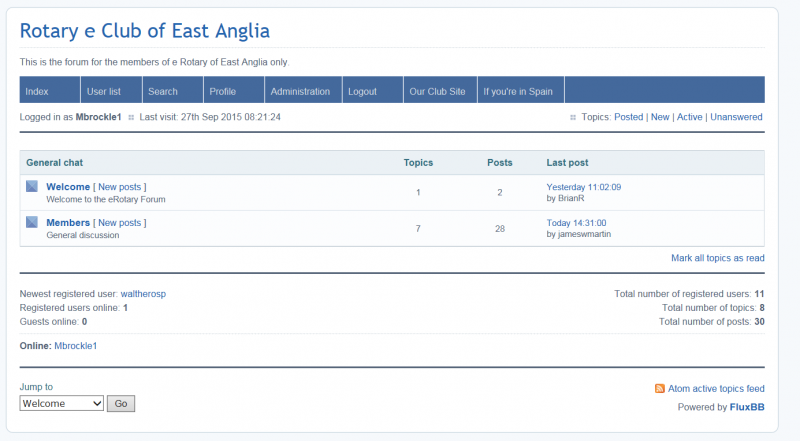 Now you can see the posts as follows and you just click anbd respond: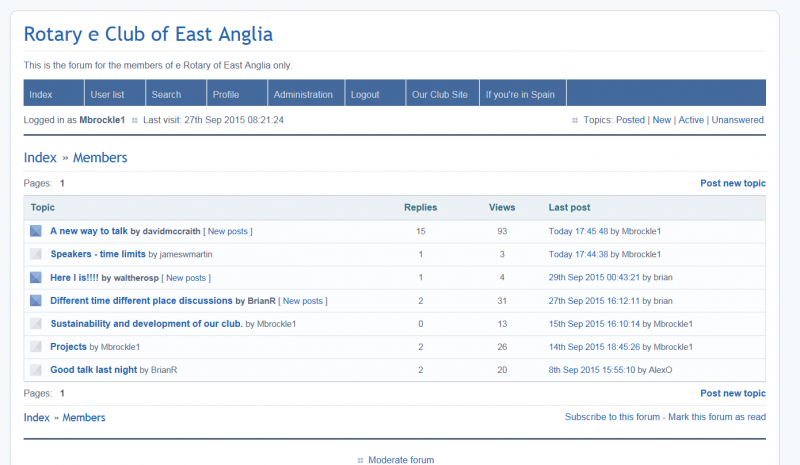 If you have a morsel then let me know and i will add it - you can make comment below
---
Things to come ...
You can see the upcoming speakers by viewing our home page on the right hand side. You can click on it for more information too!
NEXT WEEK'S MEETING .....
PLEASE NOTE THAT AS MANY OF US ARE ATTENDING THE DISTRICT COUNCIL MEETING ON 7TH OCTOBER THERE WILL NOT BE A SPEAKER - HOWEVER YOU ARE MOST WELCOME TO COME ONLINE AND SHARE FELLOWSHIP WITH EACH OTHER ON THAT EVENING.
---