29th September
It was a pleasure to be able to induct Jayne into the club. She brings our membership to 34. We are delighted to have her as our newest member.
Julia prsented the community award to Kim Wilcocks for her work in the community for Island Community Action
Dr Bob Ward gave an excellent presentation with slides and video on the experiences of crossing the Atlantic in a small boat. From being becalmed to severe storm force winds!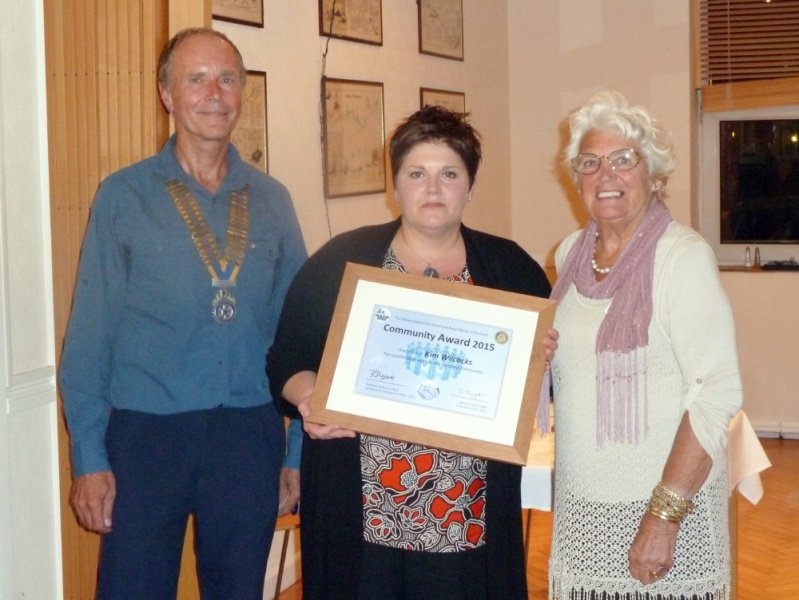 Anna circulated a sponsor form for her daughter Jodiewho is running the New York Marathon in November in aid of Great Ormond Street Hospital. Members donated £109 at the meeting! Excellent
Thursday 1st October. I joined Dave and Jayne from Poundbury for a walk and a night's camping at Bagwell Farm in preparation for Nepal. A beautiful day for a walk from Burton Bradstock to Shipton Hill (9 miles). A loveley evening to visit the Kings Arms and a rather cold nght in the tent! But all worth while. Dave being Dave spent an extra night! In the morning it was cooking baked beans on toast over a gas stove before home.
Monday 5th Ocober. A joint meeting over a curry to discuss the final preparations for Nepal. Sandra from our walking group has rasied £275 for toys for the children. Janet is still collecting items for children from members.
Friday 9th - Sunday 11th District Conference 1200 under DG Bob Acland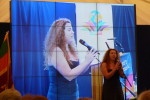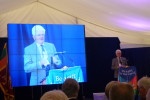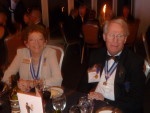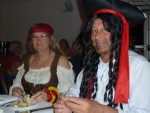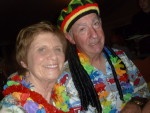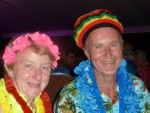 Myself and Judith, Keith and Judy, Clive and Ruth, Brian and Sarah all travelled up to the Cotswold Water Park near Cirencester for a fulfilling and rewarding weekend of the conference.
There were inspirational talks by the rugby player David Flatman who gave insight into his career but also how he found he could identify with and contribute contribute to the local youth. I felt like I was back at medical school with an interesting presentation by Dr John Kemshead on developments in oncology. Jane Walker MBE told us how she had been to the Philippines on sabbatical and how the child workers in the open dumpsites changed her entire life. She gave up her work as ajournalist and started a charity creating poverty reduction programmes. We are fortunate she will be coming to the club to speak on 24th November. An excellent and inspirational speaker. Dr Jason Lane updated us on Polio and Talan Skeels-Piggins on how he became a british Alpine skier and motor cycle racer after becomng paraplegic after a motor cycle accident.
There was a Rotary showcase and Portland had a display on our water projects in Nepal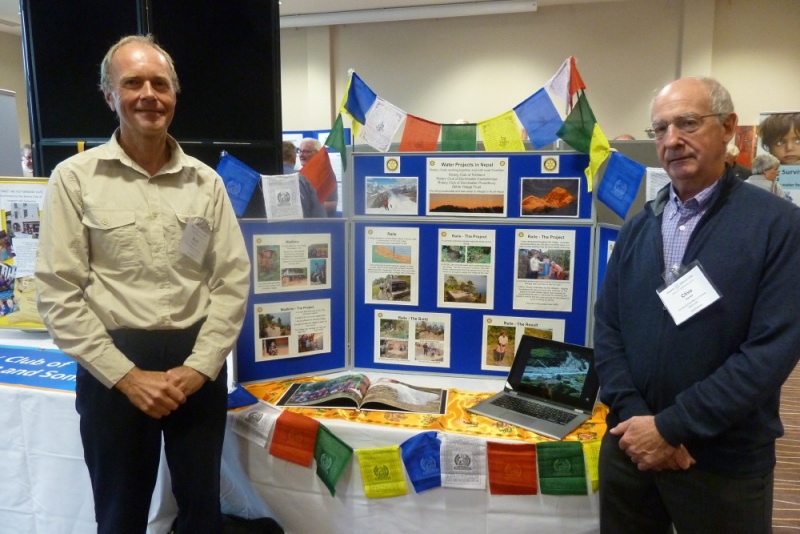 Saturday night was a Caribbean evening and everyone dressed up for a fun time!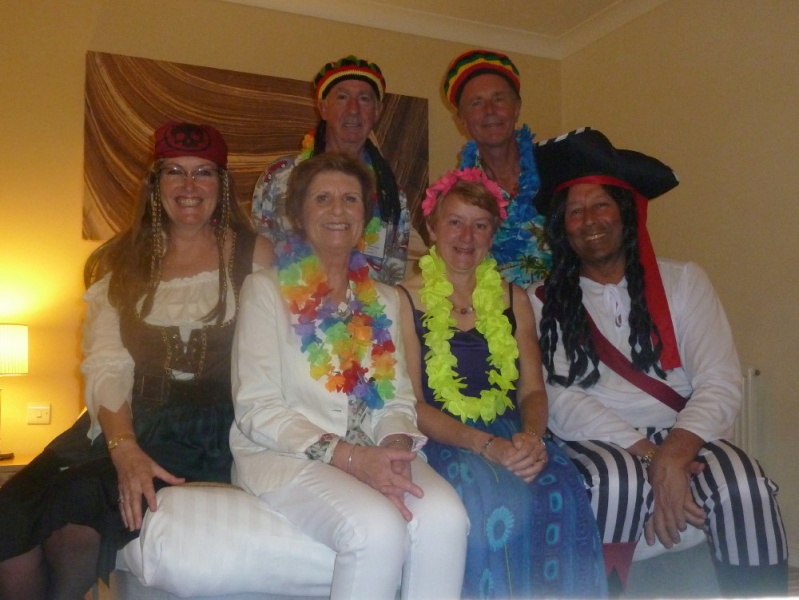 I think Brian deserved the prize for his pirate outfit.
Saturday 10th was the Table Top Sale for the benefit of the Sea Scouts. A total of £270m was raised including the raffle. Plus Rotary made another £25 on our table
Tuesday 13th Our regular meeting. It was great to see Sarah Standland who had returned from her trek in Peru. Not only did she have a great time visiting the Inca ruins of Machu Picchu after a tough trek up the Lares valley, she and her team raised a total of £30,000 for the British Heart Foundation. Brilliant. Perhaps a talk later in the year? A rather bruising time in thje open forum. There seemed to be a consensus to speed up meetings and 1. start the meeting before the meal arrives. 2 Cut down the notices and general announcements to 10 minutes. 3 Cut out a comfort break before the speaker. We will do our best.

Wednesday 14th. Janet arranged for a group of us to go to Abbotsbury Gardens to see Martin Clunes turn on the lights and then a walk round the beautiful lit gardens themselves.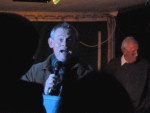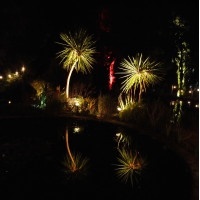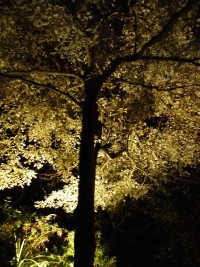 Sunday 18th and it was the Community tea. This year hosted by Bridport at the Highlands End Holiday Park. A really scenic drive along the coast road to get there. Over 40 guests from Portland Dorchester and Bridport were able to attend. Entertainment was provided in the form of singing old favourites and an excellent tea of scones and cakes was provided, Well done to Sheila who organized things so efficiently from our end. Thanks to drivers Margaret, Chrissie, Jula, Steve & Liz, Jayne & Pat. My two ladies thoroughly enjopyed themselves. Its over to us next year and probably October 4th.
Tuesday 20th. Our regular business meeting. Dave reported he had collected £130 from the wishing well. The club made a donation of £75 to the British Legion and £100 to the Tall Ships Youth Trust which supports disadvantaged children and gives them a once in a lifetime experience. The club provided the members going out to Nepalnext week with several bags of pens, pencils, crayons. We shall be visiting Samjur and Gahateri Schools. Changing peopleslives for the better.
Sunday 25th Ocober. Our last Rotary walk this year. Peter and Rosemary, myself and Judith, Dave, Carolyn Bruce and Jayne from Poundbury met at Burton Bradstock for the repeat of our walk to Shipton Hill. A loveley picnic by the lake in sunshine. We all met up later with Celia and Richard to sort out all the items we are taking out to Nepal with us.
Tuesday 27th October. We were pleased to have Rod Wild the Mayor of Portland as our guest speaker. He gave us an excellent talk giving an insight into his own life and also of the council on Portland and changes that are happening on the island.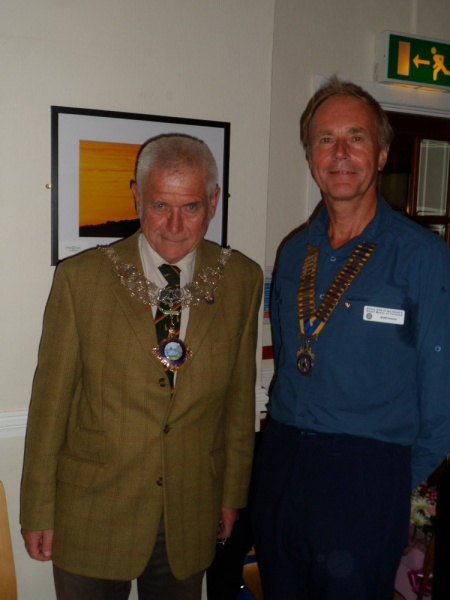 Judith was absolutey delighted to be presented with a bouquet of flowers after she had made cake for all the walks! They are beautiful and thank you to all the walkers. Roll on next year for our next series which we will maintain.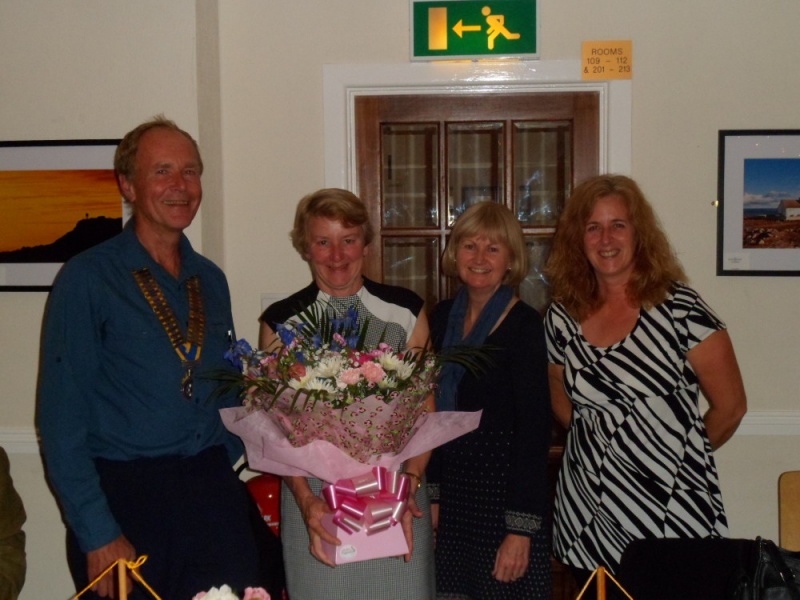 And next its Nepal.
Myself, Dave, Bruce, Caolyn, Celia, Richard Backwell (OVT) Richard from Casterbridge, Jane from Poundbury and Jo all leave on Friday.
More next month!