We hold an online "Speaker Meeting" every Wednesday evening at 19.30 BST [GMT+1 London] online using video conferencing from Zoom Cloud Meetings - to join us simply use: Rotary E-Club of East Anglia's Weekly Zoom Meeting, https://zoom.us/j/470985565
Meeting: Thursday 22nd October - Wednesday 28th October 2015

President's Prattling ...
Thanks to Alex we have found a way to express the "asynchronous" meeting in a better way. From now on I am going to call it our "catch up" meeting ... much more down to earth and meaningful ;-) thanks again Alex .. good one!!
My computer is limping along until I have finished building a couple of websites for clients then into the 'puter hospital for treatment!
This weekend I put my District Membership hat on attending a seminar in Rotary GB&I Headquarters in Alcester, near Stratford upon Avon. Our District is standing still a bit with overall membership numbers but we are in the top three in the country for membership development and growth.
I have discovered that we have another eClub in the UK - the eClub of D1070 [Northamptonshire] which chartered in late July with 21 members. This means that in the UK we have seven eClubs including our provision "daughter" eClub of Aviation in Dundee.
There is also an eSatellite club attached to the landbased RC of Oswestry and RC of Thurrock has an interesting model with being a traditional club but has eMembers who visit the physical meetings online from the wall.
We of course are developing with Sam Sweeiry down in Sussex an eGroup which is likely to embrace an eSatellite for the South East of England so erotary is emerging succesfully in many places. we are one of the leading edge established eClubs now pushing the boundaries to a new and exciting future for Rotary.
---
Club Happenings ...
This week we had a very interesting talk by Louisa Peaver about the work of the charity Water Aid. .
We need to appoint a President Elect urgently for July 2016-17 and ideally a Presidnet Nominee for July 2017 -18. Nominations are a little slow coming but they will be welcomed from any member. If you wish to discuss what is involved just contact me.
We have now issues the membership engagement survey and so far have had 18 responses so thanks for that ... just need the rest of the members to compete it and we will be able to build a better club in a way you want it to be.
Make sure you have in your diary - A Special General Meeting is being called for Wednesday 18th November 2015 7.30pm online using Zoom to discuss leadership appointments and club business
To see agenda >>
click here
<< [
Keith has already send this out in an email
]
---
Last Night's Meeting ... 21st October
Ending extreme poverty and building a healthier, more prosperous world for the poorest people cannot be done without safe water, sanitation and hygiene. Water Aid has set its agenda to ensure potable water if available to all by 2030 as partof their involvement in the UN Global Goals.Louisa Peaver outlined the valuable work they do.....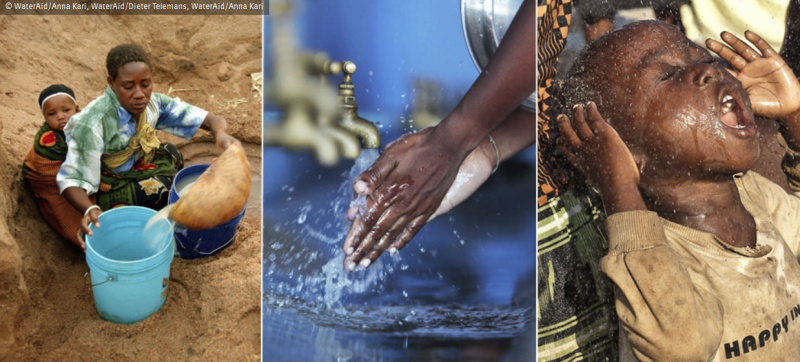 ---
Time for Rotary ... World Polio Day - 24th October

World Polio Day was October 24th and Rotary held a very special event with celebrities, sponsors and Rotarians. It was opened by our RI General Secretary John Hewko and was live streamed to the world
with over 800 Rotarians tweeted and connected on that event online and I was one of those who posted comment on behalf of our club on Saturday at Midnight. :-)

Bill Gates marked the occasion by writing a thank-you letter to everyone involved in the international coalition to fight the disease: the volunteers and front-line health workers who go out and deliver vaccines, the leaders who make it a priority, the funders who underwrite the work. Thanks to all these efforts, we are achingly close to eradicating polio. Now we need to finish the job. Here is his message ....
Let's End Polio Now!!
---
October 2015 D1080 News ..... >>Click image<<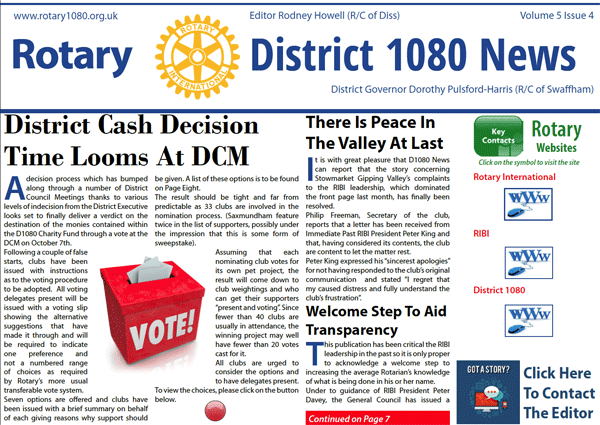 ---
Time for Humour ...
This made me smile ..... Future Rotarians ... or ROTAKIDS??
---
Time for Inspiration ... Amazing things can be done with a 3D printer!

This is the story of Not Impossible Labs founder Mick Ebeling. After reading about a boy named Daniel who lost both his arms during the civil war in South Sudan, Mick turned to technology to help. He traveled to Africa armed with 3D printers, Intel 2-in-1s and spools of plastic and, with Intel's help, established the world's first 3D prosthetic printing lab in Daniel's village

---
Time to Learn ... You can have your own meeting on Zoom ...

As a member of our club you can use Zoom to have your own instant meetings with other members by arrangement - just use the Weekly Speaker Meeitng Number 470 985 565

If you have a morsel then let me know and i will add it - you can make comment below
For more Zoom training videos got to >> http://bit.ly/ZoomTraining

---
Things to come ...
You can see the upcoming speakers by viewing our home page on the right hand side. You can click on it for more information too!
NEXT WEEK'S MEETING ..... 28th October 2015 19.30
Kieran John is going to share iwth us how he started a new Rotaract Club in Norwich for Students and Young Professionals, chartering with 25 members and going on to have more than 35 members within a few weeks.

Usual sign in on: https://zoom.us/j/470985565
---
We also have a "double bubble" this week because our "daughter" club has a special speaker talking to their club and President Ian Kerr has invited us to visit a little later than ours at 21.00 ...
Here is his invitation Note that it is on a different Zoom meeting number: 9298845973

"This Wednesday we have a really top class speaker called Steve Elkins who is a personal friend of one of our members in California.

For 22 years Steve has been searching for the legendary White City in Mosquitia, the largest untouched rainforest in Central America. To see more on his story, please link to "Explorer Legend of The Monkey God" at https://www.youtube.com/watch?v=wqVTAR7DWh0 - I was absolutely riveted watching it."
I would like to invite you and your members to join us at 21.00 UK time on Wednesday 28th October using link:
If you plan to join us, may I suggest you watch the youtube link first in order to whet your appetite and get more out of Steve's talk.
---