Latest Club News
Enhancing Milton Creek Country Park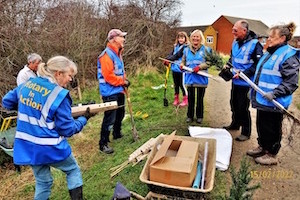 On Tuesday 15 February, members of the club joined Milton Creek volunteers to assist with planting saplings and pruning existing trees to enhance amenities at the park. There were fifteen club members and families including four grandchildren.
Maintaining and improving Milton Creek Country Park as both an outdoor amenity and wildlife habitat is a continual process carried out mainly by the Park Ranger, Kris Staples with his assistant and a team of volunteers They get together each Tuesday morning to do the work, which at this time of year involves both pruning existing trees and planting new native woody species to create more hedges.
The Club supports efforts to enhance our local environment and contributed about 22 man hours of work. Some of the planting is supported by a donation of 420 tree saplings by the Woodland Trust which is acknowledged by Invicta and Milton Creek Country Park.
Kent Police and Crime Commissioner visit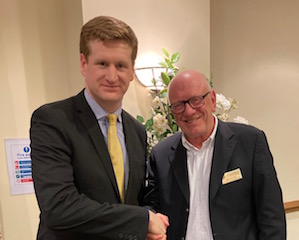 Matthew Scott,Kent Police and Crime Commissioner spoke to our meeting on 7thFebruary.
He started by congratulating the Club on the excellent work that we do and in particular the work with Swale CVS helping local people throughout the pandemic.
He has now served as Commissioner for six years and explained that the role of the Police and Crime Commissioner covers three main areas:
To appoint the Chief Constable, set policing priorities and hold the Chief Constable to account in achieving the priorities.

Establishing the funding precept on the Council Tax.

Working with victims of crime.
Matthew works with the Chief Constable to establish the Police and Crime plan which sets out the policing priorities. This year three additional areas have been added:
Matthew urged all men in the Club to look up "White Ribbon" and become an ambassador to help change the culture of violence against women
Christmas Stockings for the Foodbank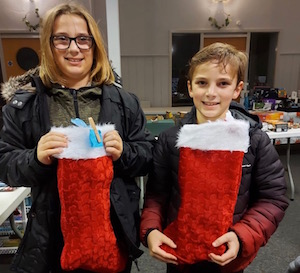 This Christmas, the club donated 334 Christmas stockings full of presents to the Swale Foodbank. We had help from Neighbourhood Watch volunteers, golf club friends, WI members, wives' groups and individuals to put together stockings for boys and girls in various age groups.
President Ian said: "This project caught the imagination of our members and friends. I'm very grateful to all those who provided stockings or donated money. Let's hope that in these very uncertain times a lot of children will have a happier Christmas."
Esther Hurwood, project manager at Swale Foodbank, said: "We would like to express our heartfelt gratitude to Rotary Club Invicta who provided us with pre-stuffed Christmas stockings to pass on to families needing our support.
"We had families come in who had nothing and when they saw the stockings we had many in tears. It was beautiful to see. One man who cried alongside his wife had recently lost his whole business due to Covid.
"The fact that Rotarians had taken the time to create these stockings just blew them away. They were so grateful.
"We have helped families where a parent has cancer and is undergoing treatment. Every one of them so grateful. Thank you, on behalf of the hundreds of children you will possibly never meet or know about. Because of what you did, those children feel loved and seen this year."
Invicta Welcomes Russ Hughes
Russ was formally welcomed as a member of the Club on Monday 11th November 2021. Chris Porter introduced Russ and highlighted some interesting aspects of his CV.
President Ian welcomed Russ to Rotary reminding him that he was a member of a worldwide organisation, and presented him with a Rotary pin and name badge.
Russ thanked the Club members present and promised a future talk on some interesting encounters with musicians and bands.
High Sherrif of Kent Visits Invicta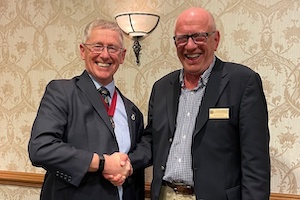 President Ian was pleased to welcome John Weir, High Sherrif of Kent, as speaker at our partner's evening on Monday 18th October 2021.
John talked about the role of High Sherrif which dates back nearly 1000 years and is appointed by Her Majesty The Queen. After serving for 22 years on the magistrates court John was approached to ask if he was willing to have his name put forward. Having accepted the nomination he was warned that "Her Majesty will be most displeased if an appointment is now assumed".
John said the High Sheriff is the Queens representative on all matters of law and order; originally it included the collection of taxes. John works closely with the Chief Constable of Kent and the Kent Police and Crime Commissioner. He attends Court and sits with the Judges. Since being appointed he has carried out 115 engagements.
The Vote of Thanks was given by Martin Lukehurst who thanked John for a very interesting talk. Martin also congratulated John for over 50 years as a very successful business man, and for his work supporting local people in need.
Farewell To Richard & Liz
It was farewell to Richard & Liz Joy at a partners' evening at Hempstead House Hotel on Monday 18th October 2021. President Ian thanked Richard for his magnificent service to the Club since joining in 1998. Richard has held many roles in the Club including: President (2004/2005), Chair of International, Executive Secretary and Webmaster for 21 years. In addition, he has undertaken several District roles; Training Officer, Webmaster, and member of the Conference Committee.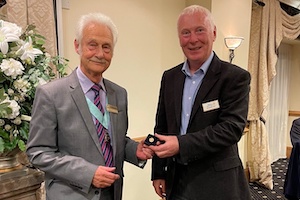 Richard has also been involved in many Club activities – he and Liz planned and organised two club visits to India: in 2005 to deliver mosquito nets, and in 2010 to open a school library building that the club had funded. Richard was also part of the Rotary Ride Team – commencing with delivering a petition to 10 Downing Street followed by a bike tour of Kent raising over £10,000 for the End Polio Now campaign. Richard became a volunteer with the Kingfisher Medway Trust in 2009 and organised many club outings on the boat over the years; since then many Club members have signed up as volunteer Skippers and Crew. President Ian then presented Richard with Honorary Membership of the Club and presented Liz with a bouquet of flowers.
District Governor Chris Benchley also thanked Richard for all his work over many years. Setting up and running Training programs, and establishing and running the District website. Richard has played a key role as part of the District Team helping the District Team and many Clubs. District Governor Chris presented Richard with a Paul Harris Fellowship with two sapphires.
Richard responded thanking everyone for their good wishes. He and Liz have enjoyed 22 years with the Club and have very happy memories. Richard will remain a member of this Club whilst he visits other Clubs in the Thames Valley area.
Collection For Marie Curie
Fourteen club members collected for Marie Curie Cancer Care at Morrison's Supermarket over the weekend 21-22 August 2021.
A total of £861.99 was collected, and club members subsequently voted in favour of raising this to £1000.
Swale's 20's Event
Last year, the club purchased a gazebo, two promotional flags and a covered table with the aid of a grant from Rotary District. The gazebo is a distinctive blue with the club's name in bold lettering with a prominent roundel.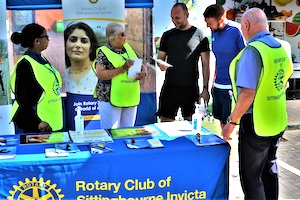 The plan is to have the gazebo at local public events where Rotary can be advertised and the club say what we do in the community. It also acts as a focus for meeting prospective members.
The gazebo had its first outing on 17th July during the Swale's 20s weekend in the Sittingbourne High Street and looked really impressive with nobody in doubt who we were.
Twelve club members took 2-hour shifts in stewarding at the gazebo, and had available a leaflet explaining what the club does and contact details. The volunteers also distributed leaflets advertising our Easyfundraising campaign to the public. Members 'on duty' engaged with the story of what Rotary was doing for the community of Swale and particularly Sittingbourne. The atmosphere in the High Street was good and very relaxed, and the easyfundraising leaflets started many conversations as there was genuine interest.
Rodmersham Foodbank Drop-off Point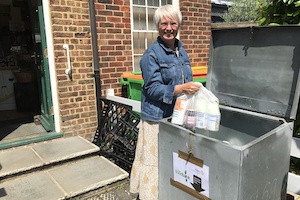 The club has set up the first of hopefully a number of food drop-off points for Swale Foodbank.
Thanks to John Fisher for organising the set-up of the drop-off point at Rodmersham Coffee Shop. At a visit on 1st July 2021, it was pleasing to see that food donations had already started to be deposited in the galvanised bin outside the coffee shop.
Donations of food will be collected and delivered to Swale Foodbank on a regular basis.
Club Handover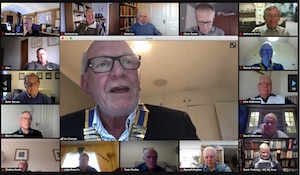 Our 55th Zoom meeting was held on Monday 28th June 2021 and attended by 32 members plus four guests.
The past 16 months has neccesitated us meeting online due to Covid-19 restrictions, but attendances have generally stayed above 30 and we have continued our volunteering and charity giving throughout so "business as usual" in many ways.
It has also been a year when President Martin Lukehurst has conducted all meetings online with the exception of one meeting at Hempstead House Hotel back in September 2020.
Hopefully, this was our penultimate online Zoom meeting and we are looking forward to Covid restrictions being fully lifted on July 19th when we hope to return to face to face meetings.
At our handover meeting, President Martin gave thanks to his 2021/22 team for supporting him throughout the year and delivering on our club goals. He then handed over to incoming president, Ian George, who will now lead the club throughout 2021/22.