Latest Club News
Collection For Marie Curie
Fourteen club members collected for Marie Curie Cancer Care at Morrison's Supermarket over the weekend 21-22 August 2021.
A total of £861.99 was collected, and club members subsequently voted in favour of raising this to £1000.
Swale's 20's Event
Last year, the club purchased a gazebo, two promotional flags and a covered table with the aid of a grant from Rotary District. The gazebo is a distinctive blue with the club's name in bold lettering with a prominent roundel.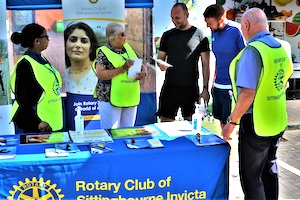 The plan is to have the gazebo at local public events where Rotary can be advertised and the club say what we do in the community. It also acts as a focus for meeting prospective members.
The gazebo had its first outing on 17th July during the Swale's 20s weekend in the Sittingbourne High Street and looked really impressive with nobody in doubt who we were.
Twelve club members took 2-hour shifts in stewarding at the gazebo, and had available a leaflet explaining what the club does and contact details. The volunteers also distributed leaflets advertising our Easyfundraising campaign to the public. Members 'on duty' engaged with the story of what Rotary was doing for the community of Swale and particularly Sittingbourne. The atmosphere in the High Street was good and very relaxed, and the easyfundraising leaflets started many conversations as there was genuine interest.
Rodmersham Foodbank Drop-off Point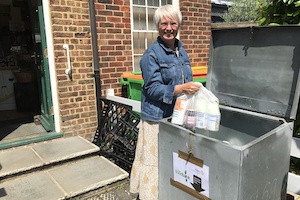 The club has set up the first of hopefully a number of food drop-off points for Swale Foodbank.
Thanks to John Fisher for organising the set-up of the drop-off point at Rodmersham Coffee Shop. At a visit on 1st July 2021, it was pleasing to see that food donations had already started to be deposited in the galvanised bin outside the coffee shop.
Donations of food will be collected and delivered to Swale Foodbank on a regular basis.
Club Handover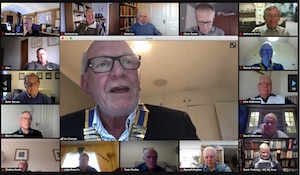 Our 55th Zoom meeting was held on Monday 28th June 2021 and attended by 32 members plus four guests.
The past 16 months has neccesitated us meeting online due to Covid-19 restrictions, but attendances have generally stayed above 30 and we have continued our volunteering and charity giving throughout so "business as usual" in many ways.
It has also been a year when President Martin Lukehurst has conducted all meetings online with the exception of one meeting at Hempstead House Hotel back in September 2020.
Hopefully, this was our penultimate online Zoom meeting and we are looking forward to Covid restrictions being fully lifted on July 19th when we hope to return to face to face meetings.
At our handover meeting, President Martin gave thanks to his 2021/22 team for supporting him throughout the year and delivering on our club goals. He then handed over to incoming president, Ian George, who will now lead the club throughout 2021/22.