Latest Club News
Club news items for the current Rotary year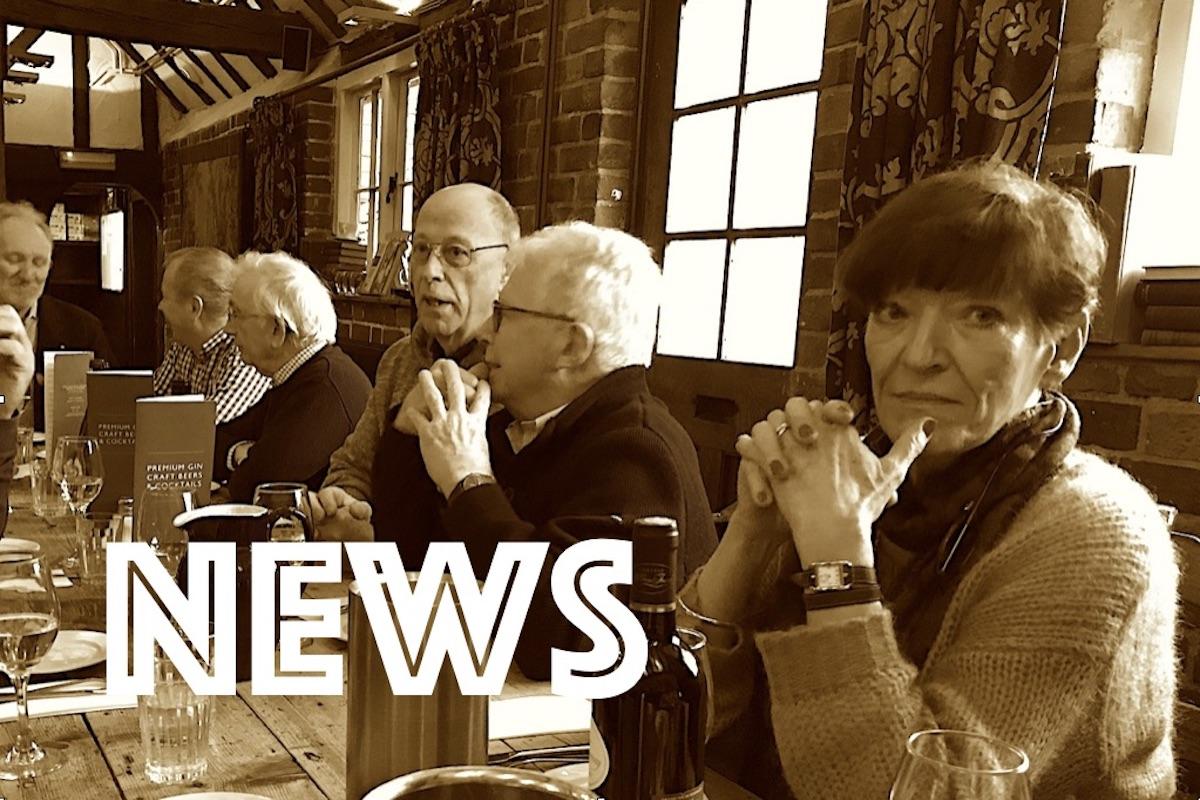 Latest Club News
John Retires After 53 Years of Rotary Service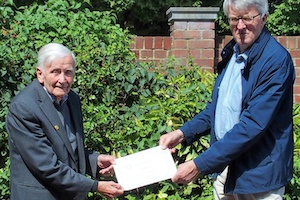 John Bishop & John Frewin
Club member John Bishop decided it was time for him to retire from Rotary after being a Rotarian for 53 years. John originaly joined the Rotary Club of Sittingbourne & Milton in 1967 before moving to Invicta on 1st July 2019.
At the Club Handoevr Meeting on 29th June 2017, outgoing President John Frewin said he was delighted to announce that the club had awarded him an Honorary Membership of the Sittingbourne Invicta Club.
John joined Rotary in 1967 and served as President, Treasurer and Chair of International for the Rotary Club of Sittingbourne & Milton. He was awarded the Paul Harris Fellowship for his service. John was also part of the team that formed the Rotary Club of Sittingbourne Invicta.
Invicta During Covid-19
The Government declared a Covid-19 lockdown on 23rd March 2020 resulting in the Club ceasing regular meetings at Hempstead House Hotel. This prompted an immediate move to online Zoom video meetings.
Our social and fund-raising programme was halted with events being either cancelled or postponed. While the flow of new charity funds ceased we were fortunate to have some reserves, which enabled us to continue to support local community groups and charities.
In recent weeks we have :
1. Donated £1000 to the Sittingbourne Food Bank
2. Successfully applied for a matching grant from Rotary District 1120 (Kent and East Sussex) which added $1000 (about £800) from wider Rotary funds to the same amount donated by Invicta. This allowed us to donate £1600 to Swale Community Voluntary Services to support its team of volunteer drivers who deliver food and other essential items to vulnerable people in Swale. In addition, as part of the grant application, Invicta members joined the SCVS telephone befriending team, providing companionship and support to isolated people through regular phone calls.
3. Opened our Community Chest scheme in which local community groups can apply for small grants to help them in their work by funding a specific purchase, project or activity. Last year £5,280 were distributed to 24 groups, and since it started in 2012 we have donated £35,779 through the scheme. The Covid-19 pandemic means we cannot run as many fund-raising events so the maximum Community Chest grant this year will be £150 and will go to up to 20 groups.
Out and About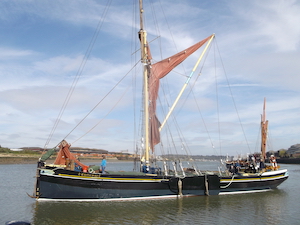 Edith May sailing barge
On 24th February 2020, a group of 40 club members and partners visited a Thames sailing barge in Lower Halstow for a social evening. A talk on the Edith May preceded a dinner served on board the boat.
21 Club members enjoyed another social evening on Monday 20th January 2020. The evening started with a fish and chip supper followed by a visit to the Old Forge Wartime Museum in East Street. This was a private opening for our club members who toured the various rooms in the museum and ended the evening with tea and biscuits in the café.
On Tuesday 14th January 2020, a group of 33 club members and partners visited The Hazlitt Theatre in Maidstone to see Michael Portillo who gave an accout of his two careers; politics and TV documentaries about railway journeys.
On 19th December 2019, club members helped in the running of an activity day for Swale Foodbank.
35 years of Rotary Service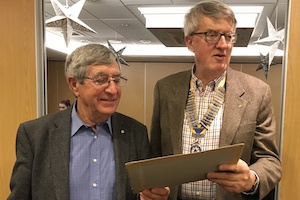 Anthony Birsh & President John Frewin
President John Frewin was pleased to present a 35-year Rotary Service certificate to club member Anthony Birch during our meeting on Monday 13th January 2020.
Christmas Dinner for Homeless People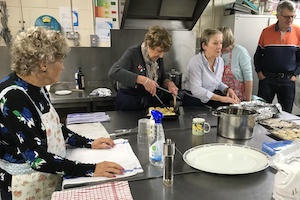 In the kitchen at the Quays
Invicta members worked well together in delivering an early Christmas dinner on 17th December to about 30 homeless people in Sittingbourne.
Club members were involved in baking mince pies, peeling vegetables, cooking, carving the turkey, serving up the food and washing up afterwards. A great team effort which was much appreciated by all at The Quays.
Thanks went to MB Farms Stockbury and Sittingbourne's Lidl for donating the meats and vegetables.
---
Rotary Citation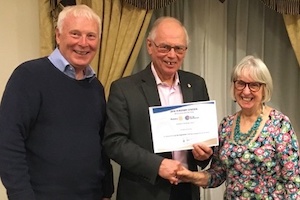 Richard, John and PDG Brenda
Nov 11th 2019 - PP John Williams received a Rotary Citation with gold distinction from PDG Brenda Parsons on behalf of the club. This was in recognition of the club's achievements during the last Rotary year.
Also in the photo is club member Richard Joy whose role it is to add annual club goals and monitor progress in achieving them within Rotary Club Central.
---
Love in the Box
Nov 11th 2019 - This year club members collected 75 shoebox Christmas presents. The presents were collected by the charity Mustard Seed and are destined for children in Eastern Europe.
---
World Polio Day 2019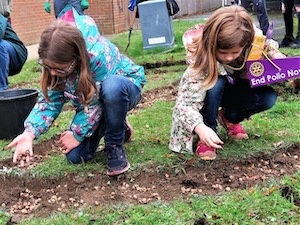 Planting purple crocus corms in Sittingbourne
GOOD NEWS! On World Polio Day, Rotary and its Global Polio Eradication Initiative (GPEI) partners announced that wild poliovirus type 3 (WPV3) had been eradicated worldwide.
It was also job done in Sittingbourne on World Polio Day thanks to some little helpers. A team of 8 club members along with other members of the public helped plant purple crocus corms outside Phoenix House in Sittingbourne on 24th October 2019.
The team lifted turf in the shape of the Rotary emblem before children stepped in to plant 4000 purple crocus corms.
Purple has become the colour for the End Polio Now campaign for Rotary, and represents the colour of the dye painted on the little finger of a child's left hand after being immunised against polio.
We will now look forward to a splash of purple colour in the Spring.
In addition, Invicta had advocated Rotary's efforts in the fight to eradicate polio from this world over the past month on social media. We also assisted Rotary Radio UK by providing polio notes for use on the day, and Rob Fenton made a voice recording for radio about our club's efforts on this day.
---
Hoorn Visit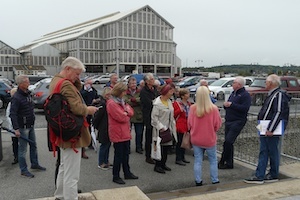 Visit to Chatham Historic Dockyard
We were pleased to welcome a party of eight from the Rotary Club of Hoorn in the Netherlands over the weekend commencing Friday 11th October 2019.
Four supper parties were hosted by club members on the Friday evening. The Dutch party and other club members met up the following morning at the Historic Dockyard, Chatham where John Robinson acted as our guide. Following a tour of the Mould Shop and other exhibits, the group went on to see Slip 3 The Big Space before lunch. In the afternnoon the party viisted the sloop HMS Gannet, HM submarine Ocelot and WW2 destroyer HMS Cavelier, before touring The Ropery.
Dinner on Saturday evening was at The Dirty Habit where the Dutch presented us with a "Brexit" hamper in case of need. We were also given Kolf stick to commemorate our twinning arrangement.
The Wilkinsons provided Sunday morning breakfast before going on to The Sun at Bredgar for the final farewell.
Special thanks went to IPP John Williams for organising the weekend.
---
Congratulations Sam & Jenny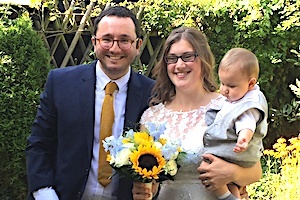 Sam & Jenny Wood with Joseph
Rotarian Sam Wood married Jenny Henderson at a delightful ceremony at The Black Horse, Thurnham on Saturday 14th September.
The "best man" was their son Joseph, who delivered the rings on time with considerable aplomb (and a little help from Claire Wood). Freddie the Lurcher also provided musical embellishment to the proceedings in his own inimitable style.
The newest Wood Family are pictured here basking in the late summer sunshine.
(Report and photo by Steve Wood)
---
Working on our Public Image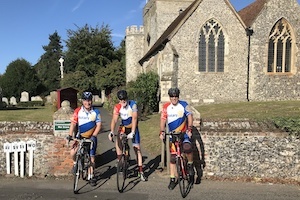 Richard, George & Michael outside Borden Church
On Saturday 14th September 2019, George Cole, Richard Joy and Michael Downes donned their Rotary branded cycling gear and cycled 63 miles and visited 40 churches along the route. They were cycling in the Ride & Stride event organised by Kent Churches.
John Fisher, who normally rides at this event, raised over £300 in sponsorshiip instead.
The brightly coloured Rotary cycling gear drew many a remark along the way, and gave the three a chance to explain more about Rotary and helped raise the club's public image at the same time.
---
Golfing Success!
Sittingbourne Invicta was once again victorious at the annual District Golf Competition held at Boughton Golf Club yesterday Thursday 5th September. They bring back the team shield that has been won several times by both Sittingbourne Invicta and Sittingbourne and Milton teams.
The Sittingbourne Invicta "B" team of Chris Porter, Martin Williams, Alan Joy and John Frewin came in with a team score of 77 points, winning by a single point. They beat teams from Gravesend, Thanet and Canterbury Sunrise.
The individual champion of the day was Sittingbourne Invicta's Martin Lukehurst who scored 37 points and will be bringing home the impressive silver trophy. He was joined in the Sittingbourne Invicta "A" team by Mike Gee and Patrick Philips.
---
On the River Medway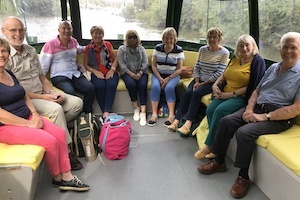 Social outing on Kingfisher
A few club members enjoyed a day messing about on the River Medway on Sunday 11th August 2019. This annual event on our social calendar also raised £135 for The Kingfisher Medway Trust.
The club party travelled up river to Oak Weir Lock where they picknicked before returning to Wateringbury with an ice cream stop at Tea Pot Island on the way back.
Club members Dudley Cramp and Graham Ledger volunteered to help going through the locks and George Cole had a short spell steering the boat.
---
Congratulations John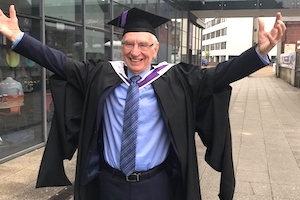 John Fisher on graduation day
Club member John Fisher has spent two years undertaking distance learning through Portsmouth University, and has recently been awarded with an MA. in Naval History.
Congratulations go to John who proves you're never too late to learn.
Club members are now looking forward to hearing John's talk on Admiral Nelson at our club meeting on Trafalgar Day.
---
President's Handover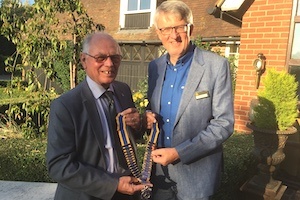 John Williams & John Frewin
On Monday 15 July, outgoing President John Williams handed over the responsibilities of leading Invicta to incoming President John Frewin.
John, a founder member of Invicta, has taken just 30 years to step up to the "top job" in the club. At a ceremony in Hempstead House Hotel, he thanked John Williams for his efforts during 2018/19 and looked forward to a busy and enjoyable year ahead.
---
Visit of Rotary GB&I President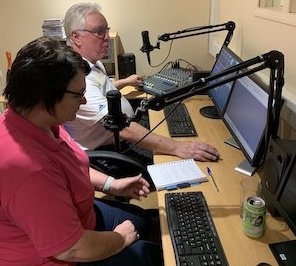 Rotary GB&I President Donna Wallbank at RRUK
On Thursday 11th July 2019, Rotary Radio UK was delighted to welcome RIGBI President Donna Wallbank and her husband Steve to the studios at The Criterion on the Isle of Sheppey.
Rotarian Jenny Hurkett showed the party around the restored music hall, and Steve Wood and John Robinson conducted the studio tour.
While she was here, Donna recorded a couple of jingles for the station and Steve interviewed her about her Rotary journey and her plans for her Presidency.
---
Pesky Pigeons Defeated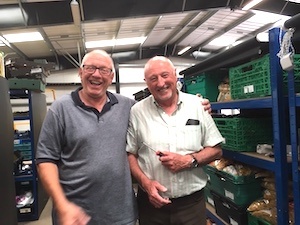 Ian & Chris at Sittingbourne Foodbank
On the morning of 10th July a small group of Rotarians gathered at the Sittingbourne Foodbank warehouse, to assist their volunteer, Ray, in fixing 24 roller blinds to the front of the shelving units where food is stored. The blinds were needed as there are pigeons that come and go in the warehouse, and which can access food stock if unprotected.
Rotary Club Of Sittingbourne Invicta successfully applied for a District Grant, which was matched in order to purchase the blinds and fittings.
The work was smoothly accomplished under Ray's expert guidance, and the pesky pigeons are now defeated.
---