Latest Club News
Club news items for the current Rotary year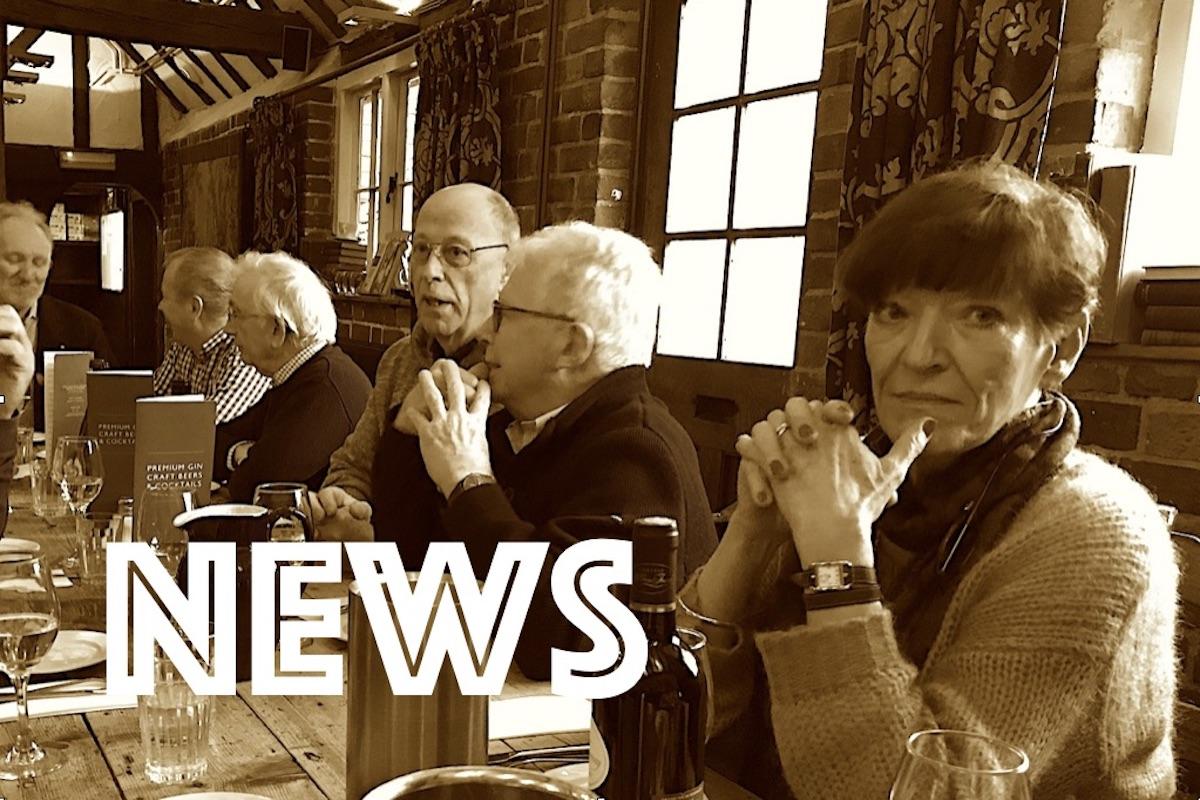 Latest Club News
Great Daffodil Appeal
Our annual bucket collecting for Marie Curie Cancer Care's Great Daffodil Appeal was unable to happen this year due to Covid restictions. However, this did not stop our members making individual donations.
As a result of the generosity of our members we were able to send £1200 to Marie Curie Cancer Care this year.
Easter Eggs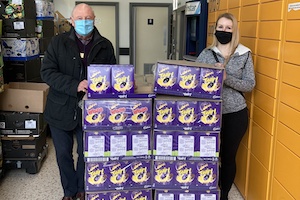 The Rotary Club of Sittingbourne Invicta has this year supplied 250 Easter eggs to the Swale Foodbank.
President Martin Lukehurst says, "We hope that these Easter eggs will brighten the day for the children who receive Swale Foodbank help and at this special time of the year it gives us great pleasure to continue our support for this marvellous organisation"
Esther Hurwood, Project Manager at Swale Foodbank says, "We are thrilled to once again partner with the Rotary Club here in Sittingbourne who have generously provided us with 250 Easter eggs to pass on to our clients. We are so grateful for the continued support of the local community and especially the members of the Rotary Club who never fail to amaze us with their generosity towards our clients. Thank you!"
We would also like to acknowledge the help of Morrisons and their Community Champions Sally and Monique in this Project.
An Evening With a Hairy Biker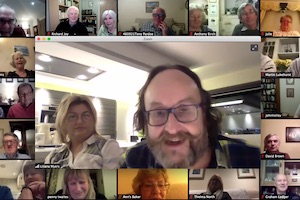 We were pleased to welcome Dave Myers of the Hairy Bikers to our online Zoom meeting on 22nd March 2021. This was a question and answer session with Dave answering members' questions.
Dave said the Hairy Biker series started in 2004 and they have now completed 35 series. Dave attended Goldsmiths College London studying fine art.
Dave said that although he had no classical training, but cooking had always been an important part of his life. They have now written 25 cookbooks.

Dave said there had been no absolute disasters in the programme peries, but one trip more difficult than expected was Route 66. The temperature in Chicago was -9⁰C and temperatures in the deserts rose to over 60⁰C. The Team ended up having to hire two extra trucks as one was stolen and one broken into.
Dave said that he really enjoyed appearing on Strictly Come Dancing, but had to admit that he wasn't a natural dancer.
Dave agreed that his friendship with Si was the Unique Selling point of the show – a genuine friendship that has built up over 30years.
Delivering Lunches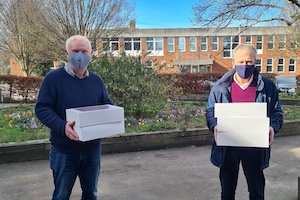 Rotarians Chris Porter, Chris Bunting, Richard Joy, Ian George, Thelma North and Graham Ledger volunteered on 18th and 24th February to deliver lunches to elderly residents across the local area.
This was again in support of Swale CVS who provided the lunches for their Befriending clients instead of their lunch club.
Delivering Afternoon Teas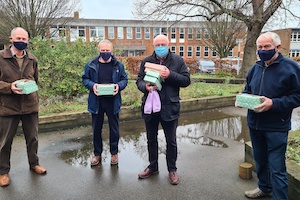 Rotarians Rob Fenton, Chris Porter, Chris Bunting and Peter Taffs volunteered to deliver afternoon teas to elderly residents on Thursday 28th January 2021.
This was in support of Swale CVS who decided to provide afternoon teas to some of their Befriending clients in place of their usual monthly lunch club at a local pub or restaurant.
Sittingbourne Vaccination Centre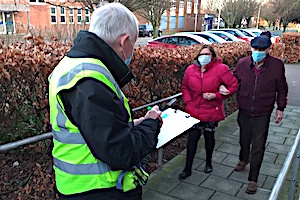 Club members commenced support for the Sittingbourne Covid Vaccination Centre in the Age UK premises on Sunday 17th January 2021.
Club members Michael Downes, John Holley and Peter Taffs each worked a six-hour shift cycling local people through the centre at two minute intervals.
Delivering Hampers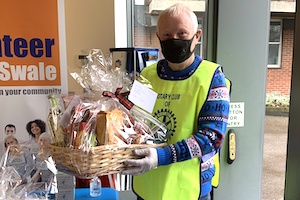 The club supports Companionship at Christmas each year. This is run by volunteers for Swale CVS who normally provide cooked dinners on Christmas Day and Boxing Day for local people living on their own.
However, due to Covid-19 restrictions this was not possible this year. So instead, six club members volunteered to deliver Christmas hampers to people in their homes.
Club member Richard Joy was first out on Wednesday 23rd December 2020 and others carried on the deliveries on Christmas Eve.
Delivering Fish n Chips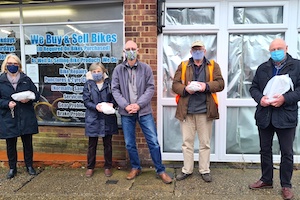 A number of club members volunteered to deliver fish n chips to local people over a couple of days in December.
This was in support of Swale CVS who run a befriending service to people in Swale. Normally, some of those within the befriending service attend lunch clubs, but were unable to do this in December because of Covid-19 restrictions.
Other Activities By The Club
In addition to the 380 Christmas gift boxes delivered to Swale Foodbank, club members have continued providing a service to the local community during strict Covid-19 restrictions applying to our Swale area.
Interview Skills training recommenced via online Zoom for Sittingbourne Job Centre Plus.
19 club members have continued making telephone calls to elderly Swale residents in support of Swale CVS's Befriending Service.
The club has also continued using its charity funds for projects supported by the club, namely:
£1000 to the Swale Foodbank (Feb 2021)
£2400 sent to Kenya to help a community in Kianjai grow crops and sustain their community
£500 donated to Demelza Children's Hospice
£250 to Meadowfields School to enable them to provide Christmas presents to children with special needs
£250 to a nursery to purchase special toys
£50 for the purchase of knitting wool for turning into hats for premature babies
Christmas Food Boxes For The Quays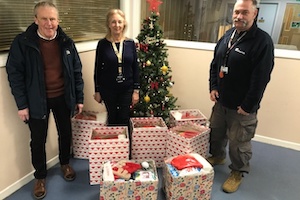 Rotarian Chris Porter organised the filling of food boxes for The Quays in Sittingbourne. This was instead of cooking a Christmas meal for homeless people at The Quays as was undertaken the previous year.
Club members and friends collected a range of "goodies" and Chris packed them into seven boxes. Chris is seen in the photo right presenting the food boxes to staff at The Quays before Christmas.
Christmas Gift Boxes to Swale Foodbank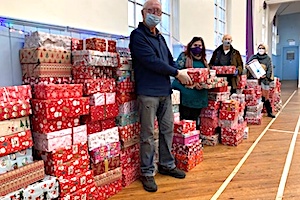 The Rotary Club of Sittingbourne Invicta delivered around 380 Christmas Gift Boxes to Swale Foodbank on 2nd December 2020; to make Christmas a little brighter for children in Swale.
The boxes for boys and girls in various age groups have been put together by Rotarians, their families, Friends of Rotary as well as with donations from the wider public who believed this simple gesture could make such a big difference.
Rotary President Martin Lukehurst said "This has been a project that has caught the imagination of so many of our Members and friends and I'm very grateful to all those that have provided boxes or donated money. Let's hope that in these very difficult times a lot of children around Swale will have a happier Christmas"
Swale Foodbank Project Manager Esther Hurwood said "We were absolutely thrilled to receive this incredible number of Christmas Gift Boxes filled with all kinds of goodies today, that we will distribute alongside the hampers in our Hampers Of Hope campaign over the next few weeks. What started as a simple idea and a relatively modest target of collecting 100 Gift Boxes a few months ago has today culminated in over 350 wonderful Christmas Gift Boxes! Incredible! We deeply appreciate the ongoing support from Rotary Club of Sittingbourne Invicta and would like to extend our thanks to all those involved in organising the Christmas Gift Boxes".
In conclusion President Martin Lukehurst said: "In the present uncertain environment we, are as a Club, are always happy to hear from any Swale based Charities or organisations to establish whether we can help in any way."
Rotary Citation 2019-20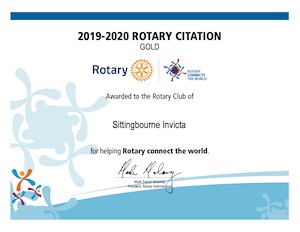 We are pleased to have been awarded a Gold standard Rotary Citation certificate for our achievement of club goals during 2019-2020.
This is the second year running we have achieved this high standard of achievement of Rotary goals across all areas of service.
This is also a remarkable achievement given the club were unable to meet face to face since March 2020 because of Covid-19 restrictions, which also caused the cancellation of a number of events and curtailed our ability to raise new funding for our charity trust account. Despite these setbacks we still managed to demonstrate Sittiningbourne Invicta is an effective club.
Return To Hempstead House Hotel (for one night only!)
Club members recommenced club meetings at Hempstead House Hotel on Monday 7th September 2020.
Our last meeting at the hotel was on 16th March 2020 after which Covid-19 prevented us from meeting as a group. Since then club members met on line via Zoom meetings on seventeen occasions.
However, due to an increase in the daily rate of Covid-10 cases, the Government announced on Wednesday 9th September that the meeting of people for the foreseeable future would be limited to six people. This caused the club to cancel further meetings at Hempstead House Hotel and return to meeting on Zoom instead.
John Bishop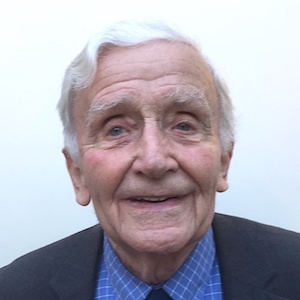 It is with sadness that we report the passing of Honorary member John Bishop on 1st September 2020.
John had only been a member of the Sittingbourne Invicta Club for one year, but had served Rotary for 53 years in the Rotary Club of Sittingbourne & Milton right up to its closure.
President Martin Lukehurst paid tribute to John's many years of Rotary service and to his life in Sittingbourne at the club's meeting on 7th September. Members then observed a few minutes of silence.
Africa is Polio Free
The World Health Organization (WHO) on 25 August 2020 announced that transmission of the wild poliovirus has officially been stopped in all 47 countries of its African region. This is a historic and vital step toward global eradication of polio, which is Rotary's top priority.
Since 1996, countless Rotary members from across Africa and around the world have raised funds, immunised children, and promoted vaccinations, enabling the GPEI to respond to and stop polio outbreaks. More than 9 billion doses of oral polio vaccine have been provided throughout the region, preventing an estimated 1.8 million cases of paralysis. Each year, about 2 million volunteers help vaccinate 220 million children against polio multiple times in the African region.
Rotary members have contributed nearly $890 million towards polio eradication efforts in the African region. The funds have allowed Rotary to issue PolioPlus grants to fund polio surveillance, transportation, awareness campaigns, and National Immunisation Days.
Long Service Award For Barton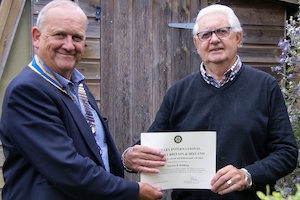 On 15th July 2020, Rotarian Barton Dolding was presented with a Long Service Certificate by President Martin Lukehurst to mark Barton's 40 years' membership of Rotary International.
Barton joined the Rotary Club of Sittingbourne and Milton in 1980 and variously served as Chair of numerous committees and was also President of that Club. Barton transferred membership to Sittingbourne Invicta on 1st July 2019.
Before joining Rotary, Barton was an enthusiastic member of Round Table and many people in the Sittingbourne and Swale area will also remember Barton serving the community in the family clothing business of W J Dolding & Son.
Presidential Handover 2020
For the first time in the club's history, the Club's handover meeting was conducted during an online Zoom meeting on 30th June due to the corona virus lock down.
President John Frewin handed over the running of the Club to the new President Martin Lukehurst. Martin will be supported during 2020/21 by President-elect Ian George and President-nominee Penny Twaites.
John Frewin's year as president had to contend with the corona virus lock down which limited opportunities for fund raising and social events in the second part of the year.
However, in John's year the club still managed to cater a Christmas lunch for thirty residents at the Keys hostel; support the Marie Curie collection in Sittingbourne; award 11 grants to local community organisations from Invicta's annual Community Chest ; provide grants to water projects in Kenya and funding for meals for children, orphaned by the corona virus, in Meru Kenya.
During the latter part of John's year Invicta's weekly Monday evening meetings at Hempstead House Hotel were cancelled due to the virus although continued each week on Zoom. Rotarians have donated the value of their Monday evening meals to Sittingbourne's local Food Bank.