Latest Club News
Club news items for the current Rotary year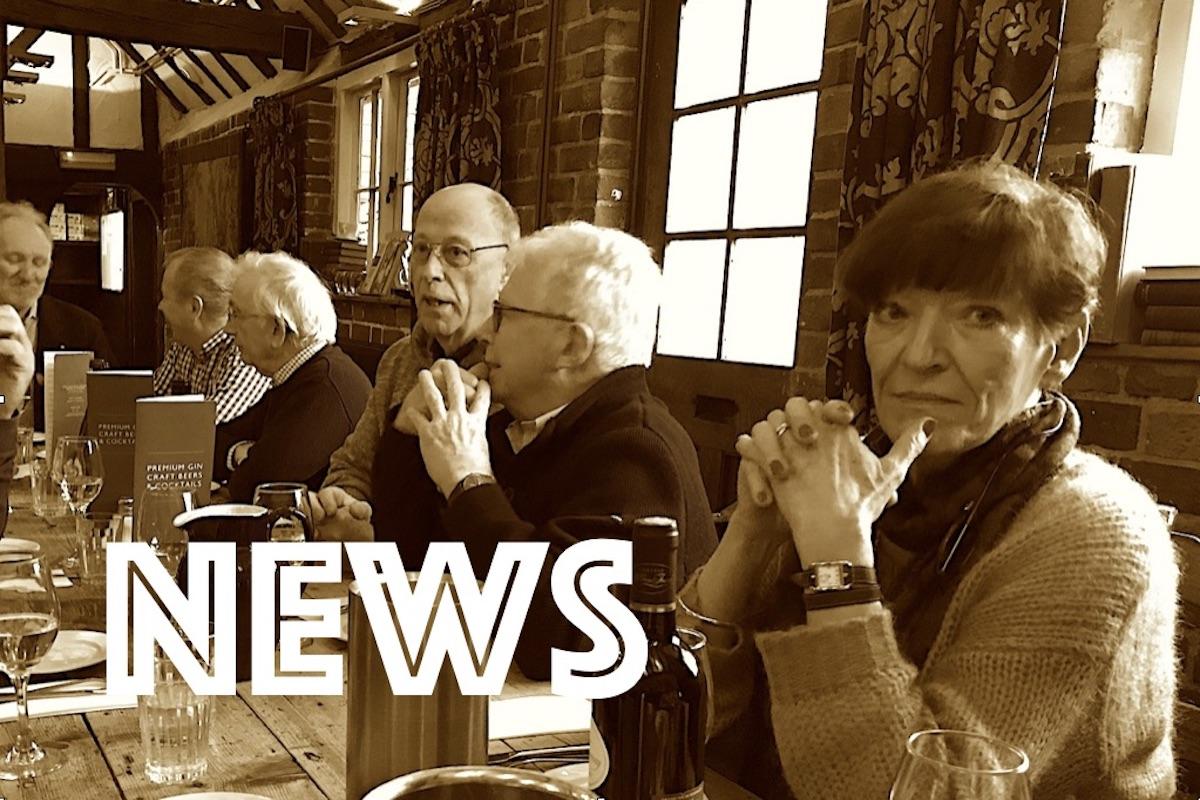 Latest Club News
Rotary Citation 2019-20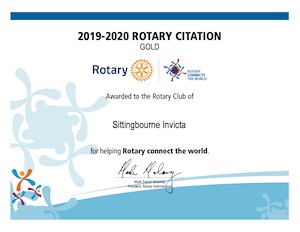 We are pleased to have been awarded a Gold standard Rotary Citation certificate for our achievement of club goals during 2019-2020.
This is the second year running we have achieved this high standard of achievement of Rotary goals across all areas of service.
This is also a remarkable achievement given the club were unable to meet face to face since March 2020 because of Covid-19 restrictions, which also caused the cancellation of a number of events and curtailed our ability to raise new funding for our charity trust account. Despite these setbacks we still managed to demonstrate Sittiningbourne Invicta is an effective club.
Return To Hempstead House Hotel (for one night only!)
Club members recommenced club meetings at Hempstead House Hotel on Monday 7th September 2020.
Our last meeting at the hotel was on 16th March 2020 after which Covid-19 prevented us from meeting as a group. Since then club members met on line via Zoom meetings on seventeen occasions.
However, due to an increase in the daily rate of Covid-10 cases, the Government announced on Wednesday 9th September that the meeting of people for the foreseeable future would be limited to six people. This caused the club to cancel further meetings at Hempstead House Hotel and return to meeting on Zoom instead.
John Bishop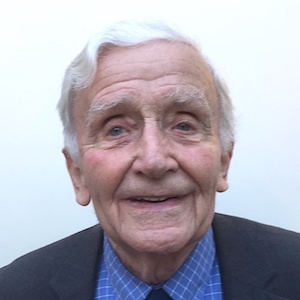 It is with sadness that we report the passing of Honorary member John Bishop on 1st September 2020.
John had only been a member of the Sittingbourne Invicta Club for one year, but had served Rotary for 53 years in the Rotary Club of Sittingbourne & Milton right up to its closure.
President Martin Lukehurst paid tribute to John's many years of Rotary service and to his life in Sittingbourne at the club's meeting on 7th September. Members then observed a few minutes of silence.
Africa is Polio Free
The World Health Organization (WHO) on 25 August 2020 announced that transmission of the wild poliovirus has officially been stopped in all 47 countries of its African region. This is a historic and vital step toward global eradication of polio, which is Rotary's top priority.
Since 1996, countless Rotary members from across Africa and around the world have raised funds, immunized children, and promoted vaccinations, enabling the GPEI to respond to and stop polio outbreaks. More than 9 billion doses of oral polio vaccine have been provided throughout the region, preventing an estimated 1.8 million cases of paralysis. Each year, about 2 million volunteers help vaccinate 220 million children against polio multiple times in the African region.
Rotary members have contributed nearly $890 million toward polio eradication efforts in the African region. The funds have allowed Rotary to issue PolioPlus grants to fund polio surveillance, transportation, awareness campaigns, and National Immunization Days.
Long Service Award For Barton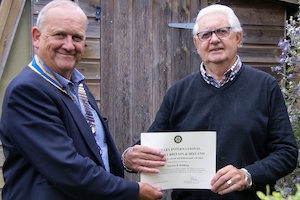 On 15th July 2020, Rotarian Barton Dolding was presented with a Long Service Certificate by President Martin Lukehurst to mark Barton's 40 years' membership of Rotary International.
Barton joined the Rotary Club of Sittingbourne and Milton in 1980 and variously served as Chair of numerous committees and was also President of that Club. Barton transferred membership to Sittingbourne Invicta on 1st July 2019.
Before joining Rotary, Barton was an enthusiastic member of Round Table and many people in the Sittingbourne and Swale area will also remember Barton serving the community in the family clothing business of W J Dolding & Son.
Presidential Handover 2020
For the first time in the club's history, the Club's handover meeting was conducted during an online Zoom meeting on 30th June due to the corona virus lockdown.
President John Frewin handed over the running of the Club to the new President Martin Lukehurst. Martin will be supported during 2020/21 by President-elect Ian George and President-nominee Penny Twaites.
John Frewin's year as president had to contend with the corona virus lockdown which limited opportunities for fund raising and social events in the second part of the year.
However, in John's year the club still managed to cater a Christmas lunch for thirty residents at the Keys hostel; support the Marie Curie collection in Sittingbourne; award 11 grants to local community organisations from Invicta's annual Community Chest ; provide grants to water projects in Kenya and funding for meals for children, orphaned by the corona virus, in Meru Kenya.
During the latter part of John's year Invicta's weekly Monday evening meetings at Hempstead House Hotel were cancelled due to the virus although continued each week on Zoom. Rotarians have donated the value of their Monday evening meals to Sittingbourne's local Food Bank.