The Youth Achievement Award Scheme run by the Rotary Club of Horwich is designed to foster the development of individual talent for young people, under the age of 19, who live or attend school in Horwich or Blackrod.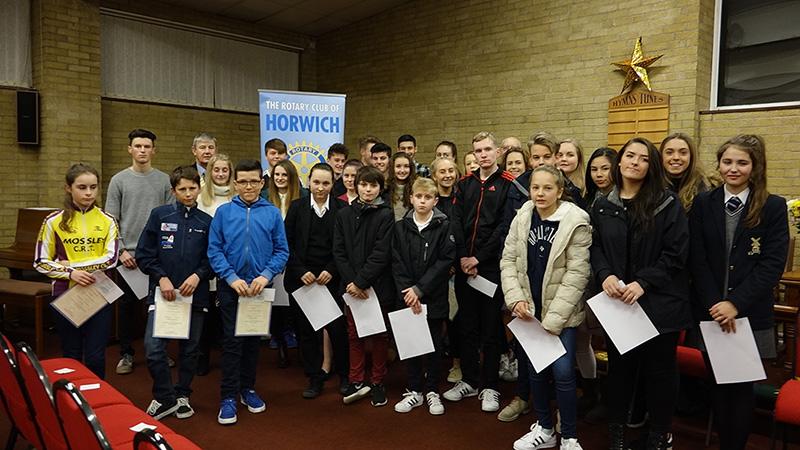 The scheme is not means tested and is concerned solely with identifying and developing individual talent in all forms of activity, regardless of family circumstances. This year the scheme attracted a large number of quality applicants,who live,or go to school, in the Postal District of BL6. We are pleased to make the following awards:
AMELIA ATHERTON – Musical Theatre

LAUREN BANKS – Tennis

JENNA BARTON – Dance

ALEXANDRA CLARKE – Flute Playing

HOLLY CLARKE – Cornet Playing

REBECCA CROOKSON – Musical Theatre

LORCAN KNOWLES – Dinghy Sailing

GEORGIA LEVER – Athletics

THOMAS MASSEY – Fell Running

ELLA NIGHTINGALE – Sabre Fencing

ANGELA TILLOTSON – Dance

KIERAN WATERS – Badminton

KIERA ASHTON – Athletics

JOSHUA BANKS – Tennis

JACK BERRY – Handball

THOMAS BILLINGTON – Cricket

SOPHIE BRACEGIRDLE – Tennis

ELLIE MAY CHARNOCK – Dance

ERIN CORRIGAN – Cyclocross

THOMAS CROOKSON – Golf

LAUREN DIXON – Dance

CHARLES FLETCHER – Handball

JAMES KAY – Trumpet Playing

TRIUMPH KENEDY – Football

BILLY MOSS – Handball

ABBEY NICHOLLS – Performing Arts.

A total of £4000.00 has been allocated under this scheme to help these talented young people with their future development. This money has been raised by members of the Rotary Club of Horwich, during the current Rotary Year. The Rotary Club of Horwich wishes to thank the people of Horwich and Blackrod for their generosity and feel that this scheme is an excellent way of investing in the talent of our young people.
W. B. Watkins (Vocational Services Committee – 5th December 2015.)