Eradicating Polio From The World
Rotary's Fight To Eradicate Polio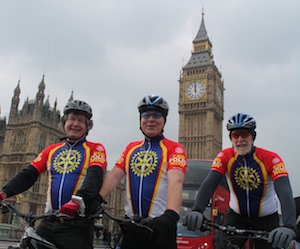 Rotary Day on Westminster Bridge
The global effort to eradicate polio demonstrates the tremendous impact of immunisations. The number of new polio cases, a disease that once paralysed more than 1,000 children every day, has dropped more than 99 percent since the 1980s.
Downing Street
Five club members of our End Polio Now cycling team visited Downing Street on Rotary Day 2013.
The team were photographed holding Rotary purple crocuses. A purple crocus was also given to the prime minister along with a letter urging the government to continue in its support to the global effort to eradicate polio from the world.
Letter to the Prime Minister
The letter to Prime Minister David Cameron recognised the UK's continued leadership as the Global Polio Eradication Initiative embarks on the 2013-2018 Polio Eradication Endgame Strategic Plan, and ecouraged the Prime Minister's continued support.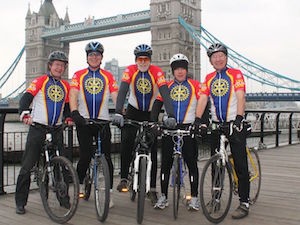 Rotary Day by Tower Bridge
The Prime Minister's Reply
Prime Minister David Cameron acknowledged the club's cycle ride in aid of End Polio Now.
Prime Minister David Cameron said, "I salute Rotary's unflagging support across the decades, and in almost every country, towards eradicating polio and ending the suffering it causes. Rotary have made a huge contribution as part of the global efforts to reduce the burden of polio worldwide: but we still have much work to do to finish the job and eradicate it completely. The UK will work with all our partners to deliver a polio-free world for our children."
Rotarians Cycling So Children May Walk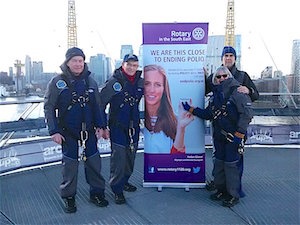 President Steve & Peter Walk the Dome
In July 2013, six club members cycled 165 miles in support of the End Polio Now campaign to eradicate polio from the world. As well as raising awareness of the End Polio Now campaign throughout Rotary South East, the team also raised £10,800 for End Polio Now.
Walking the Dome
On Rotary Day 2016, President Steve Wood and Peter Taffs Walked the O2 Dome and raised funds for the End Polio Now campaign and another Rotary water project; Roll Out The Barrell.