We hold an online "Speaker Meeting" every Wednesday evening at 19.30 BST [GMT+1 London] online using video conferencing from Zoom Cloud Meetings - to join us simply use: Rotary E-Club of East Anglia's Weekly Zoom Meeting, https://zoom.us/j/470985565
Meeting: Thursday 28th January - Wednesday 3rd February 2016

President's Prattling ...

I am always amazed at how eRotary can achieve so much and the extent to which it saves time and produces connections that simply would not have been possible in years gone by. This week I have connected online with California, Spain, Argentina, Scotland and the North of China.
This sometimes blows my mind that we can do so much around the world at the push of a button. Not only just connected and talked but held a training session online and worked on documents and presentations collaboratively as if we were in the same room ... absolutely brilliant!
If this is what we can do today then what will our grandchildren be doing in the years to come?
Club Happenings ...
One of the meetings online was to collaborate with Helen and Gordon from the eclub of Southern Scotland to arrange a joint club event on Wednesday 3rd Jan to listen to their speaker Olympian Sammi Kinghorn who is getting ready for the Brazil Paraolympics. Sammi became a triple European champion and most recently is competing at the World Championships in Doha in October 2015. She already has the qualifying times for the Rio Paralympics in 2016
The Rotary Ride - July 2016
The Ouse Washes [Rotary Ride 2016] event is continuing to gain ground with the possibility of a major sponsor in the form of Lexus cars. This will be a great asset and reduce the risks. We have had confirmation that the RBI insurance covrrs this event and we just have to complete the risk assessment which is being done at the moment.

The Millenium O2 Charity Dome Walk - Feb 23rd Rotary Day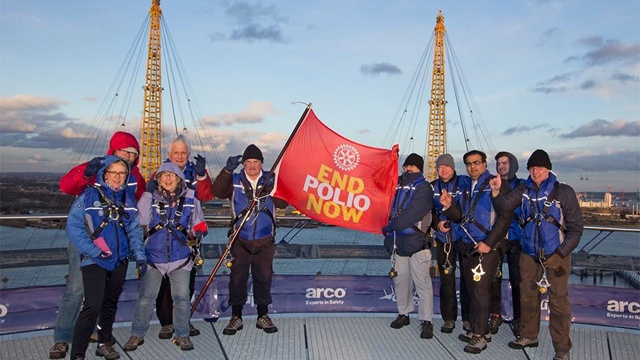 The walk across the O2 Dome is looming up and we need to support our intrepid members James, Caroline and Becky. Please help our three members by donating to one [or more] of their "Just Giving" pages at:
Caroline Dobson - https://www.justgiving.com/Caroline-Dobson1/
Becky Barley - https://www.justgiving.com/Rebecca-Barley-1104 You can also donate by text! Just message RJMB86 followed by the amount you wish to donate to 70070
James Martin - https://www.justgiving.com/jamesmartin-climbthe02/
Some of us are going to support by going on the day to cheers them on and meet up inthe pub afterwards maybe .. sounds like a plan :-)
There's still spaces left to join the team ...visit http://www.benefitgigs.com/ to find out more or to register [£30] to do the walk. There is also a Facebook Page you can visit for more info: https://www.facebook.com/RotaryDayO2Climb/
Membership Matters:
We have a couple of pending members:
Peter Romain who lives in Spain and Colchester and has recently left his Spanish club is pending the 7 day notice to members.

Emma Hamilton has been discussing possibly joining us and this discussion is ongoing.

Mike Anthony is also seeking to transfer from Ely Hereward to our club upon his return from Slovakia.
If you feel you know smeone who would be interested in joining Rotary and our club then feel free to introduce them to me, Jacqueline or David M.
---
Last Night's Meetings ... 27th January
The Hour Project was born out of an idea in the Framlingham Rotary club after it was formed from a break away group of another club. They wanted to have a sustainable and meaningful project and Immediate Past District Governor explains how they went about it and what is happening now.

---
Time for Rotary ...
Bournemouth National Conference 11th-13th April 2016
Who is up for making this event a weekend for us to get together in Bournemouth for the Rotary GB&I national conference?

If there is an appetite to do this then we can see what we can do.

---
RI Assembly in San Diego .. Next Year's President Theme
Each year the Incoming RI President creates a theme for his/her year ... John Germ takes office in July and his theme was unveiled at the International assembly in San Diego.

Germ unveiled the 2016-17 presidential theme, Rotary Serving Humanity, to incoming district governors on 18 January at the International Assembly in San Diego, California, USA.
"I believe everyone recognizes the opportunity to serve Rotary for what it truly is: not a small opportunity, but a great one; an opportunity of a lifetime to change the world for the better, forever through Rotary's service to humanity," said Germ.
---
Time for Humour ... Scottish Social Media

do the scots do social media any different? ....

---
Time to Think ... Famous Failures

If you have a morsel to share then let me know and i will add it - you can make comment below

---
Things to come ...
You can see the upcoming speakers by viewing our home page on the right hand side. You can click on it for more information too!
NEXT WEEK'S MEETING ..... 3rd February2016 @ 19.00 **Note the time change**
A special joint meeting with the eclub of Southern Scotland
Usual sign in on: https://zoom.us/j/470985565


---