We hold an online "Speaker Meeting" every Wednesday evening at 19.30 BST [GMT+1 London] online using video conferencing from Zoom Cloud Meetings - to join us simply use: Rotary E-Club of East Anglia's Weekly Zoom Meeting, https://zoom.us/j/470985565
Meeting: Thursday 4th February - Wednesday 10th February 2016

President's Prattling ...

This week we ventured into new ground again by joining forces with the eClub of Southern Scotland to host a special speaker - Sammi Kinghorn is a wheelchair athlete who inspired the audience with her story.
Because of our experience of handling online speakers we helped our Southern Scotland eClub friends and circulated the event to our connections. This resulted in a remarkable attendance ... which was a new experience for us too!!
This week a few of us met up at a pub with our member from Spain, Brian. A pleasant face to face bevvy or two with a pub lunch and pleasant chatter.
Club Happenings ...
Our joint meeting with Southern Scotland eClub was a very succesful and interesting. It is the first time we have exceed 25 people .. in fact we had 47 registrations in 18 different clubs [both eClubs and land-based], 13 districts across 9 countries and 8 time zones. WOW to this as on the night we still had 40 actually attend form around the globe.
We had guests from Australia, New Zealand, South Africa, Switzerland, Finland, USA and we had a video greeting from the President of the eClub of Silicon Valley, California and also a message from our member Vivian read out by Keith Tovey.

Amazing and another "first" story to add to our repetoire of credibility.

The Rotary Ride - July 2016
The Ouse Washes [Rotary Ride 2016] event is about to gain ground with the start of the marketing and communication to clubs. we are also quite near to a possible main sponsor with Lexus Cars.

The Millenium O2 Charity Dome Walk - Feb 23rd Rotary Day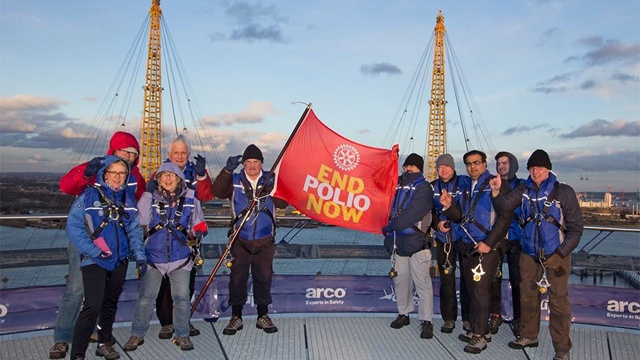 The walk across the O2 Dome is looming up and we need to support our intrepid members James, Caroline and Becky. Please help our three members by donating to one [or more] of their "Just Giving" pages at:
Caroline Dobson - https://www.justgiving.com/Caroline-Dobson1/
Becky Barley - https://www.justgiving.com/Rebecca-Barley-1104 You can also donate by text! Just message RJMB86 followed by the amount you wish to donate to 70070
James Martin - https://www.justgiving.com/jamesmartin-climbthe02/
Some of us are going to support by going on the day [1400 at the O2 Dome] to cheers them on and meet up inthe pub afterwards maybe .. sounds like a plan :-)

---
Last Night's Meetings ... 3rd February
20 years old Samantha "Sammi" Kinghorn is a wheelchair racer. when she was 14 she was badly injured on the farm where she grew up.

Sammi tells of her journey from being in a bed in a hospital in Glasgow paralysed from the waist down to becoming a triple Gold European champion in the 100m, 400m and 800m.

She is now qualifying to go to the Olympic Games in RIO.
Sammi has an inspiring story to share with us.......
---
Time for Rotary ...
Bournemouth National Conference 11th-13th April 2016
It is not looking like there are many takers for the Bouremouth Conference so I will send out an email to see if there is an appetite to do this - see last week for the video promo.
---
Time for Motivation ...
Our club can take examples from this ...

---
Time to Learn ... Free stuff on social media from Rtn Paul Wilson

For the first time, all 4 of my most popular social media training guides in one free download - enjoy!

/p

If you have a morsel to share then let me know and i will add it - you can make comment below

---
Things to come ...
You can see the upcoming speakers by viewing our home page on the right hand side. You can click on it for more information too!
NEXT WEEK'S MEETING ..... 10th February 2016 @ 19.30 **back to normal**
Mitty Chang from the eClub of Silicon Valley talking to us about his views on Rotary and the next generation.
Usual sign in on: https://zoom.us/j/470985565


---