5th February 2016 - District Governor's Visit
President Maggie welcomes District Governor Chis Williams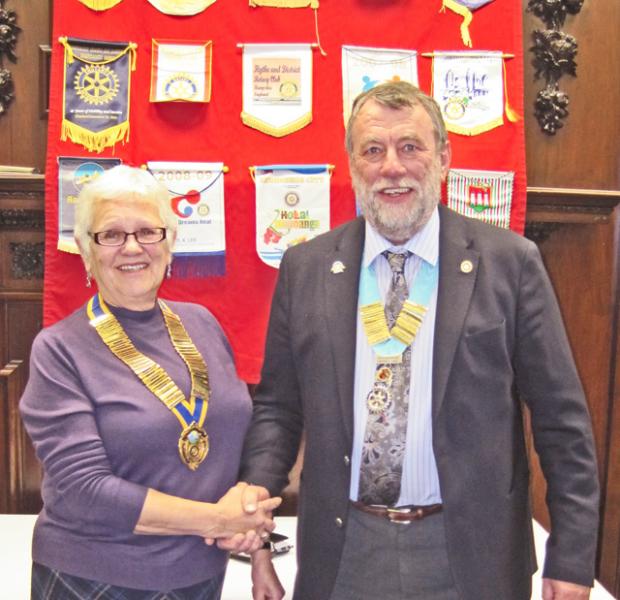 The Rotary Club met on February 5 at the Bay Hotel . President Maggie Stringer welcomed District Governor Chris Williams, his wife Brenda and several guests.
President Maggie announced that the Manbake competition will be held the day before Valentine's day on Saturday, February 13. This is a fun event open to men of all ages. A Victoria sponge is the cake to bake with entries by 11 am on February 13 to the Market Hall Fishguard. Judging, mainly on taste, will be at 11.30 am.
The latest lottery bonus ball winner was Arwel Davies. Eirian Evans reported on the area stage of the Rotary Young Musicians competition . Hannah Morris from Ysgol Dewi Sant represented the club with an excellent piano performance but vocalist Amy Barwick also from Ysgol Dewi Sant was unable to participate due to illness.
President Maggie then invited DG Chris to address the club. He focussed on two priorities for Rotary – polio eradication and membership. In 1985, when Rotary initiated the project to eliminate polio, there were 1000 cases every day. In the whole of 2015 there were only 55 cases globally, restricted to an area of conflict on the Afghanistan/Pakistan border. He emphasised the importance of seeing the job through to completion in the next few years.
Recruitment depends on Rotary adapting to the rapid changes in society . Novel arrangements such as satellite and 'e'clubs can respond to the way young professional and business people lead contemporary lives while retaining the core Rotary value of 'service before self'. A strong presence in social media and service projects enhance awareness in the community, while collaboration between Rotary clubs makes possible projects with greater impact.
President Maggie thanked Chris for his motivating message and offered birthday greetings both to him and Mike Iles for the forthcoming week. The meeting closed with the final toast by John Davies.
John Ratcliffe 5/02/16