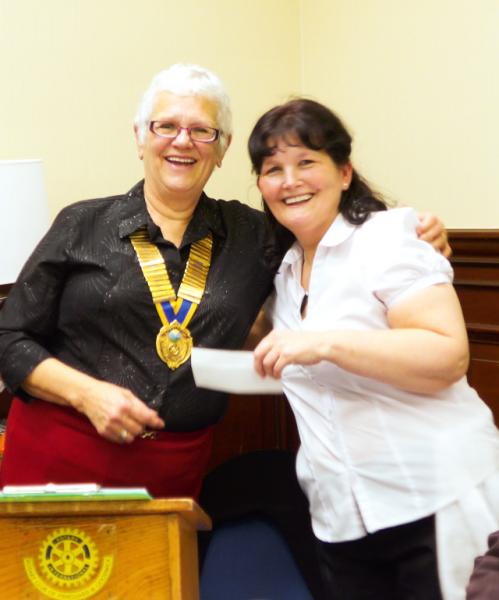 The traditional Christmas lunch was held at the Bay Hotel on December 11. President Maggie Stringer welcomed the many guests before grace was given by Paul Davies. After a fine feast , President Maggie presented a cheque to Glenda Phillips, representing the hotel staff , in appreciation of their forbearance and excellent service to the club throughout the last year.
There followed a cornucopia of prizes . First up was the draw for the Grocery Grab raffle in aid of Rotary charities. Richard Goswell reported that this had been well supported by our communities with over 1000 tickets sold. He particularly thanked Louise, manager of the Coop Food Store , and Rotarian Nigel Owen for invaluable help in making it such a success. The lucky winner was John Davies, with second prize going to Georgina, and third prize to Bruce Moffett.
The annual 100 Club draw was orchestrated by treasurer Bob Kilmister . The £300 prize went to G. C. Griffiths, and £100 prizes to Michael Charlton and John Ratcliffe.
Finally, Paul Davies introduced a draw in aid of purchasing Water Survival Boxes. The winner of the splendid framed photograph of a bluebell woodland was Richard Sheen Jr.
After the excitement of the prize giving , the agenda was completed by the President's wildcard- a round of jokes. Christmas cracker gags were relieved by the odd shaft of humour. Richard Goswell's story most tickled the President's fancy so he was ennobled for outstanding work in the field.
It only remained to thank Vanessa Walker for elegant table decorations and to congratulate John Davies on a very senior birthday on December 28th before Myles Huthwaite closed an enjoyable meeting with the final toast to 'Rotary International and peace to the world'.
John Ratcliffe 12/12/15