A young team of whiz kids from Thornhill"™s Wallace Hall Primary School recently took top spot in the Rotary Club of Thornhill and District"™s Primary School Quiz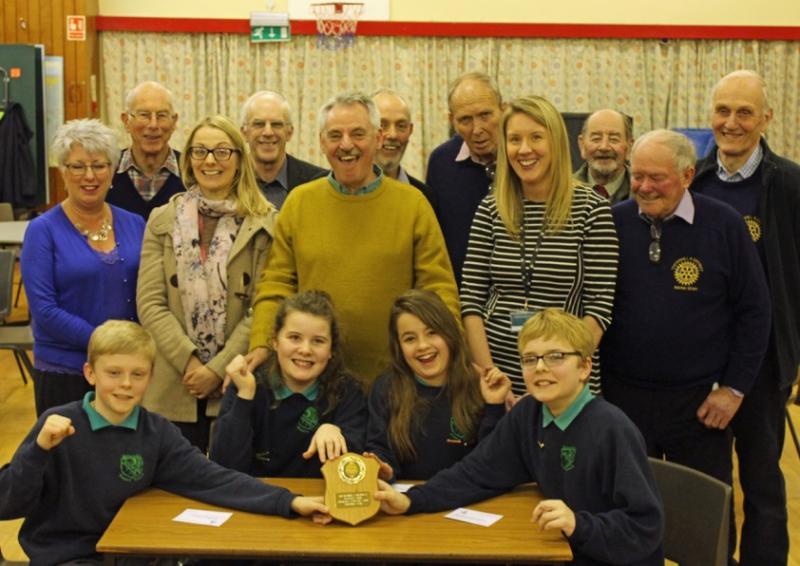 Show related pages
Primary School Quiz
A young team of whiz kids from Thornhill's Wallace Hall Primary School recently took top spot in the Rotary Club of Thornhill and District's Primary School Quiz. The Wallace Hall team triumphed over teams from Kelloholm, Penpont, Closeburn, Moniave and Duncow Primaries.
The Wallace Hall youngsters will go forward to the Dumfries and Galloway final to be held in a few week's time.
Thornhill Rotary Youth Services convenor Joan Neilson said 'At the end of the day it was a closely fought contest. I am sure the young people enjoyed the event and it was good to see Kelloholm Primary joining us again after a few year's absence. All the children were a great credit to their parents and teachers.'
Picture shows Wallace Hall bright sparks Andrew Oram, Brodie Fergusson, Abigail Maxwell and Matthew Johstone. Standing, centre is Rotary Vice President Ian Morrison with Wallace Hall teachers Miss Meegan and Mrs Rewick. Looking on are Thornhill Rotarians.
G.N./A.S.