Tom Jordan Bursary Award "" Presentation Evening.
Information on the Tom Jordan Bursary
''At a special Club meeting last week, the 2016 Tom Jordan Bursary Award was presented to Sam Robinson from Broadbottom. The presentation was made to Sam by Tom Jordan's Mum, Jill, and attended by Club members, Sam's family, Sam's teaching assistant and sponsor, Claire McGrail.
Sam is a 10 year old little boy who lives who at the age of 2 years old was diagnosed with Glucose Transporter or GLUT 1 deficiency syndrome. Sam was extremely lucky to be diagnosed so young and is one of only approximately 500 children in the world with this rare condition.
Sam faces an immeasurable number of challenges throughout his daily life and often has to miss out on things that many of us take for granted. Amongst other symptoms, his condition often leaves him with little, or no energy, wobbly legs, shaky hands, sickness and diarrhoea. He can also experience seizures and hallucinations.
All of these symptoms make it very difficult for Sam to participate in a full range of classroom activities. Most notably, his lack of energy and shaky hands (ataxia) make it incredibly hard for Sam to record any of his own thoughts or ideas – and he is not short on these! This leaves him reliant on others to scribe for him and it can be hard to keep up once his ideas are flowing.
Sam follows a strict ketogenic diet which is high in fat and very low in carbohydrates. The high fat content is what Sam's brain and body uses to function and this helps to manage some of his symptoms. As you can imagine it is not an easy, or pleasant diet for a child to follow and comes with a number of side effects and drawbacks. Sam is also required to drink a mixture of medicinal oil (MCT oil and olive oil) which he takes as a 'shot' five times a day, YUCK!
The most important thing we learned about Sam is what an incredible and inspiring young man he is. He bravely perseveres through many a day which would leave most of us curled up in bed feeling sorry for ourselves.
The Bursary award will be used to buy Sam ICT equipment, in particular, a dictation device or software that will enable Sam to record his own ideas without relying on others. This will have a huge impact on Sam's confidence as it will remove the pressures of him having to attempt physical recording of work and promote his independence. Becoming familiar with this type of ICT equipment/software now, will benefit Sam through next year – his final year of primary school, and beyond.''
Photos of the presentation evening can be viewed at :
https://www.flickr.com/photos/glossoprotary/albums/72157668875281742
---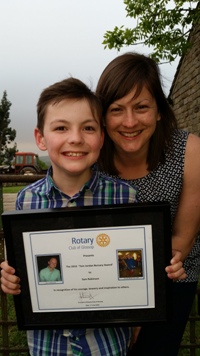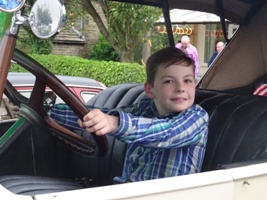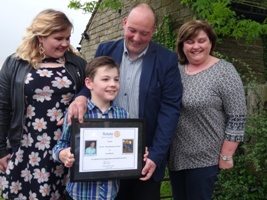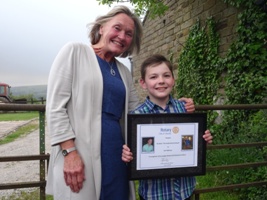 ---
The Tom Jordan Bursary is an award presented to a young person who has demonstrated courage, bravery and inspiration to others in the face of personal adversity. Tom Jordan was an Honorary member of Glossop Rotary Club and lost his life tragically young to cancer. Tom was a committed and talented sportsman, dedicated to encouraging other young people to make the very best of their lives and talents.
The Bursary is £500 and must be used for something that will make a big difference to the recipients life.
Applications for the Bursary can be received between January – April each year and presented in June / July of the same year,
To be eligible applicants need to live in High Peak, Stockport or Tameside and be under the age of 21 at the time of application.
Application forms for the 2017 Bursary Award will be available from the Club and Club Website from Jan 1st 2017.
---