Crop Irrigation Project
We have undertaken a humanitarian project that addresses the needs of the Kianjai area and provides sustainable, measurable outcomes in the community.
This involved rainwater havesting and crop irrigation addressing the following Rotary Foundation areas of focus:
water and sanitation
economic and community development
basic education
Background To The Kianjai Community
The local economy is entirely based on rain-fed agriculture. There are two rainy seasons and two crop cycles per year.
Subsistence Farming - Small-scale farmers grow maize and beans to feed their families. After saving seed for the following crop any surplus is sold and the cash used for essentials such as medical treatment and schooling.
Periodic Draught - The rains are often irregular with actual droughts every three or four seasons. Out of the last 10 seasons there have been 3 major crop failures. With little or no water for domestic use or for irrigation a multitude of problems follows. Poor hygiene and an increase in preventable illness are compounded by hunger, child malnutrition, lack of ready cash and in really hard times insufficient seed for the next crop.
Government intervention, especially on distribution of relief food and school fees subsidy, is not sufficient to meet the overwhelming need. People in the community may gain casual employment, but these jobs are only available to very few and the daily wage is about two dollars. Those who get farm jobs are normally laid off when drought strikes as farmers have no crop to harvest.
Impact on the Economy - Poor crop yields, food shortages and a lack of ready cash keep subsistence farmers locked in a cycle of poverty and deprivation that is almost impossible to escape despite their best efforts.
The Project
The Friends of Kianjai (a UK registered charity) is helping farmers to lift themselves out of poverty and improve health and education in the area with a number of projects. Working together, the Rotary Club of Sittingbourne Invicta is supporting a number of Community Pan Water Projects that provides both training and equipment with the following aims:
Improved techniques of rain water capture and storage for domestic and farm use
Better growing techniques for staple crops maize (carbohydrate) and beans (protein)
Growing a wider range of crops to supply much needed vitamins and trace elements (especially zinc and iron)
A reliable and nutritious food supply and a regular income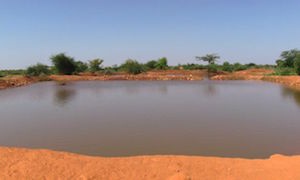 Community Water Pan (photo World Vision)
Project Details
Communuity Water Pans - water pans are constructed into individual family shambas (farms) then channeling rain water to fill these water pans during the two rainy seasons.
Water Irrigation Systems - Either using gravity or hand pumps, the water is then pumped into drip pipes to irrigate the crops. This ensures that even if the rains are not of the duration required to harvest a good crop the farmer can use water from the pan to irrigate his land.
With effectively his own small dam of water the farmer is no longer powerless in the face of unreliable rainfall.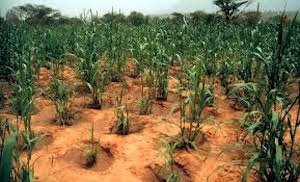 Zai pits (photo CGIAR)
Zai Pits - three zai pits (1m square dug out to 0.75m) are also dug at each home. These are filled with moisture retaining compost with a clear area around each Zai pit must so rain water will fill the pit. The zai pits are built close to homes so farmers can check that the compost doesn't get washed away. Each pit can produce up to 9 plants with each pit producing a different crop enabling families to grow a variety of food all year round.
Education & Training - we anticipate the need to educate and train around 800 smale-scale farmers in the choice of crops, use of zai pits and the use of water irrigation systems connected to community water pans.
Test Pans
As a first step, we funded ($2000) the construction of three water pans using different methods of construction to evaluate the approach to be taken for the construction of further water pans.
Further Pans
Following the success of the first test pans in 2017, we have gone on to provide three more pans making six in total to date.