Wadebridge Rotary Club holds another Race Night for Charity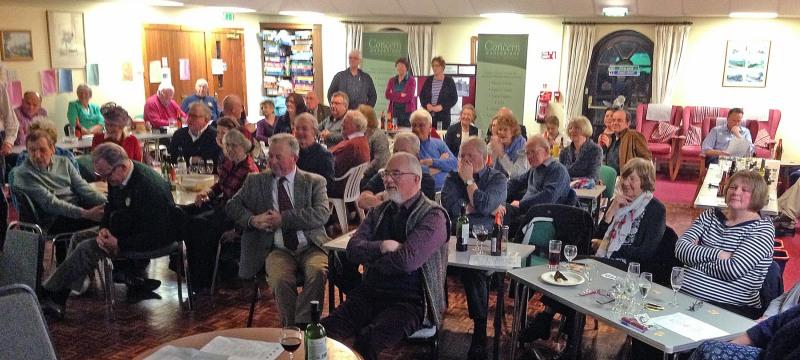 Show related pages
'ROTARY RACE NIGHT RETURNS WITH A FLOURISH'
The Betjeman Centre hosted the second Rotary race night with some style. Punters turned up in their finery, well some did, to enjoy a Spring Meeting par excellence. The colts and fillies, frisky in the Spring air, made a lot of running as did those betting on the races, all very good fun.

We were led on many a merry circuit by MC Graham (Renwick) sporting his starters gear; plenty to drink and some great food, lovingly prepared by Clive, Yvonne and Tamsyn (the Wadebridge Family Robinson) rounded off a memorable night. The visiting Colonel in his country finest said 'T'was a damn'd fine night to lay a few bets and sup awhile. Mine's a double'.

Many thanks also to Ian (Thurtle) and Kevin (Smith) on the bar, Martin (Broadfoot) to the fore with all the audio and recording kit, Tracey (Renwick) serving, Peter (Marsh) assisting, Keith & Gina (Snelling), Nick (Saunders) and Philip (Cardew) on the Tote all supporting Eric (Buchanan) as lead bookie ensuring the books were carefully weighted in the Tote favour. The Author (Nick Pickles, Club President) as usual lost!

Nick may have lost but that probably explains why Wadebridge Rotary Club made a 'profit' on the evening (after expenses) of £880! The beneficiaries will be 'Rotary Eliminating Malaria in Tanzania (REMIT)' and 'Water Aid'. Thanks all you losers – cold comfort it may be, but just remember that your loss is someone else's gain!

Author – Nick Pickles

Photo: courtesy of Martin Broadfoot.