Wensleydale Wander 2016 Report
The 2016 Wander was blessed with perfect weather, enjoyed by 309 walkers and runners.
thumbnail view
There was plenty of sunshine, without being too hot, and the wind was only light.
Although the Wander was, and is, designed as a walk, hence the name, an increasing number of entrants choose to run it each year. Inevitably, the fastest treat it as a race so, for those wishing to know how they fared, click on Results for placings and times.
For the majority of walkers, with time to have a relaxed and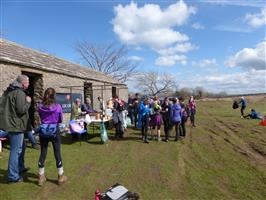 sociable walk while enjoying the magnificent views, this was a great day. This was especially noticeable at the Rubbing Houses on Middleham High Moor where the 13mile checkpoint provides hot dogs and drinks. These were so popular that we ran out of sausages- the first time this has happened in 13 years! We do apologise to the few tail enders and sweepers who were disappointed, along with one or two Rotarians, and promise it won't happen again!
Please click on
Video
to watch the excellent YouTube video recorded by Mike Brown as he ran round the Long course!
We would like to thank our sponsors, GSC Grays, our RAYNET volunteer radio operators, our wives/husbands who have helped, and of course all walkers and runners for supporting the event. Next year's date is Saturday 8th April, so we hope to see you again!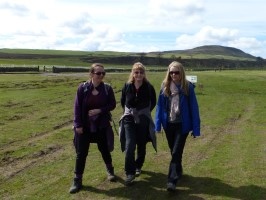 For one family, a mother and two daughters, this was there 17th Wensleydale Wander- all long walks, without missing a year, and they plan to make it 18 next year!