NEW VACCINE DISTRIBUTED WORLD WIDE
Last month the largest and fastest globally coordinated rollout of a vaccine into routine immunisation programmes in history was completed.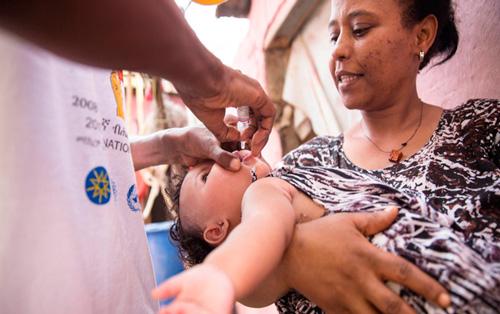 Between 17th April and 1st May, 155 countries and territories around the world stopped using the trivalent oral polio vaccine (tOPV), which protects against all three strains of wild poliovirus, and replace it with bivalent OPV (bOPV), which protects against the remaining two wild polio strains, types 1 and 3. This effort will provide better protection for children against polio, particularly those most vulnerable to infection.
The oral polio vaccine (OPV) has been used to stop polio in most of the world. On very rare occasions in under-immunised populations, the live weakened virus contained in OPV can mutate and cause circulating vaccine-derived polioviruses (cVDPV). More than 90% of cVDPV cases in the last 10 years have been caused by the type 2 vaccine strain. Withdrawing tOPV and replacing it in routine immunisation programmes with bOPV will eliminate the risks associated with the type 2 vaccine strain and, just as importantly, boost protection against the two remaining wild strains of the virus.
"This is an extremely important milestone in achieving a polio free world," said Reza Hossaini, Chief of Polio at UNICEF. "Hundreds of thousands of vaccinators and health workers have been trained for the switch to happen quickly and effectively, so that children everywhere can be protected from this devastating disease."
You can read more about this exciting advance towards a polio free world HERE .....