RAJIP - HOPE FOR THE FUTURE?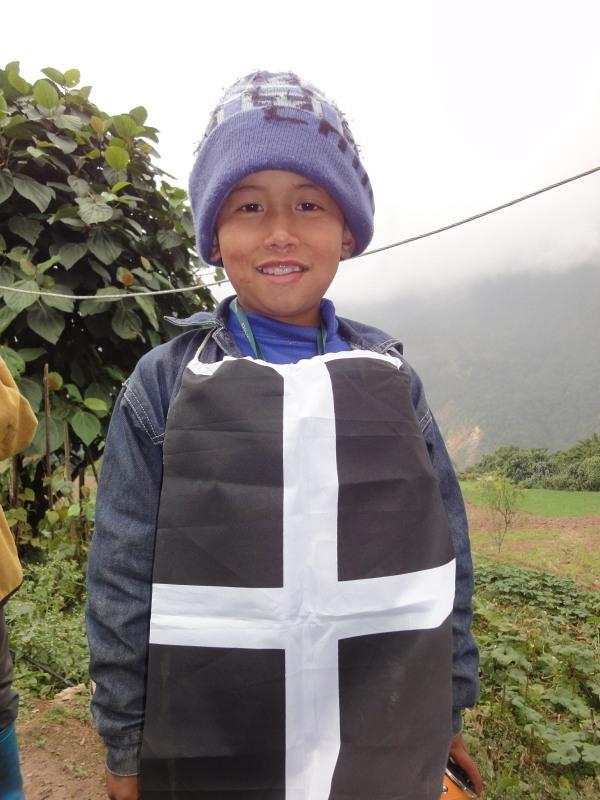 Show related pages
"Namaste"

"Namaste" – the ubiquitous greeting used by the Nepalese people and offered to Wadebridge Rotary members when Paul Holmes returned to the Club for a second opportunity to tell the story of his trip within a trip i.e. when Paul went off-piste, up into the mountains with a Guide and four brave, strong Nepalese who acted as Paul's 'porters' during his three-week adventure.

During this trip of a lifetime, Paul was astonished and honoured to be invited to stay with a Nepalese family for four days – it was here, east of Kathmandu up near 'Pikey Peak', at around 12,000 feet (approx. 4000m), that Paul first met with a young boy, Rajip. Rajip is really bright, full of curiosity and a thirst for knowledge. Through contact with Paul, Rajip now loves everything British, but most importantly, Cornish!

Paul, being the man he is, has determined to help support this bright, intelligent boy through his school days. As Paul says "maybe Rajip will be the next great engineer to help Nepal build the bridges and schools this country so desperately needs; but, whatever Rajip decides to turn his hand to, I believe he may be one hope for the future for whom I can make a difference".

In a country where corruption is endemic and ingrained in society, education must be the only way to change Nepal. Surrounded by India and China – both nuclear powers – this nation of friendly, seemingly contented, people needs to work with the world at large; otherwise its voice will be drowned out.

As Paul travelled with his support team, he was 'treated like a king' (his words, not mine) – he was well fed, eating rice, a bit more rice and then to top it all up…………more rice at every meal! When staying with the family, some meat would appear, but it was obvious that this was because they had a guest staying. As Paul said "it was both humbling and extraordinarily generous". The village where he stayed, was run almost entirely by women (quite right too, I hear you say) and the absence of young men was quite marked. Eventually, through the complications of interpretation and gesture, Paul understood that all the young men were in Qatar building football stadiums for the 2018 World Cup.

One little aside – Paul was at one stage on his 'trek' offered a cigarette; from a brand he had not seen before and couldn't believe existed, certainly in the West. It was named 'Hitler' and to Paul's immediate astonishment he realised that none of the Nepalese, certainly in this mountainous area, had ever heard of the monster from Braunau am Inn, Austria.

The Nepalese are a deeply spiritual people, highly superstitious and now, following the assassination of the entire Nepal Royal Family (allegedly by the Crown Prince) live in a democratic republic. They are a Buddhist people and as Paul said "Buddhism is the only world religion that acknowledges the existence of other Gods and manages to avoid saying 'mine is best'".

So as the Royal Cornwall Show fast approaches, it only remains for us to hope that one day this great Cornish event will be honoured by a visit from a young and talented Engineer, Doctor, Lawyer (who knows?) called Rajip. Rajip began his schooling 2 weeks ago, so his 'educational journey' has finally begun and we wish him well with his studies. He will be welcomed in Wadebridge, that's for sure – a town that looks to the future as well as remembering its past.
"Namaste".

Report by Graham Renwick. Photo of Rajip (proudly wearing his St. Piran's vest) by Paul Holmes