Presidents Diary May 2016
Have we changed peoples lives for the better?
A good start to the month!
April 30th saw Margaret Stone organise with the club a bingo night to raise money for the Youth of the Island. Thanks also for the support and generosity of all the regular players, and to all of the volunteer helpers, particularly Mick Patience, Kelly Roberts, Mark Stone, Arthur Copus and Wendy Randall
We raised a fantastic sum of £562.47, which we have earmarked for our next youth project – it will be either:
RYLA, Rotary Youth Leader Awards which aims to develop leadership skills in bright and motivated young people aged 16-19 years who show potential via a week's residential course; or
'Break Through' which is a newer initiative specifically aimed at building empathy, communication, motivation and team working skills, with students who are showing negative leadership within their peer group at school and may be at risk of exclusion, to try and turn them back in the right direction. This is done through working with the school to provide mentoring, and coaching during a 34 mile, 3-day trek across Dartmoor, where the young people are in charge of navigating, assessing risk to keep the group safe and managing their own food, water and shelter.
Janet as chair of International announced that she had raised £432 from her fund raising coach trip to Bath and proceeds will go to ShelterBox in light of the recent earthquake in Ecuador
Friday 6th May was the Presidents night and 25th anniversary of the charter of Britt Valley Rotary Club. It was a pleasure to be able to attend their celebration at the Weymouth Sailing Centre.
Saturday 7th May saw the District Assembly at Street. The incoming District Governor presented his plans for 2016/7. His theme this year is "Yes Rotary Can". Meanwhile the theme for the Rotary International year will be "Rotary Serving Humanity". Our new president is John F Germ. Keith Barnard-Jones updated us on the latest situation with end Polio. There have only been 13 cases this year and that is in Pakistan. The change to the injectable 2 strain vaccine is happening now.
Tuesday 10th May had our guest speaker Jayne Urquhart-Sims who gave a very interesting insight into her career in Journalism and running a nursery school. She has worked in Zimbabwe when it was still Rhodesia and Australia. We were joined by six members of Huntingdon Rotary Club who were visiting Dorset for several days and exchanged banners.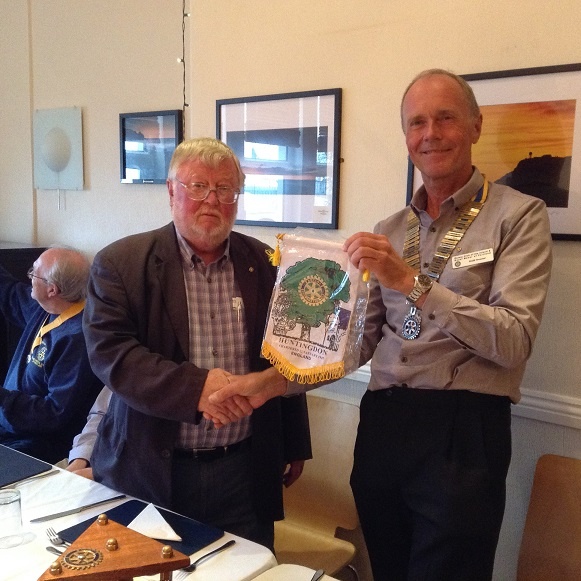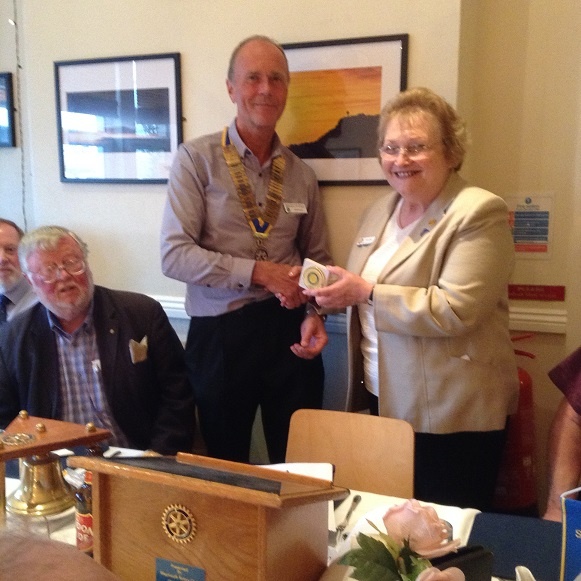 Sadly one of our members, Colin Illiffe, has died after a long illness. He had been in the club for many years and had been a loyal member and involved in may projects and initiatives within the club.
The table top sale was run for the Southwell WI and raised £152.
At our AGM The club president and the committee chairs reported on the club achievements this Rotary year. These are detailed in the diary over the last few months but I want to highlight that in club membership our numbers have risen from 23 to 37 plus two honorary members. Internationally we have donated £4100 to Nepal for ShelterBox (3), to help with rebuild after the earthquake, and to contribute to new water projects in Baspani. Foundation have raised £1311. Foundation is Rotary's own charity giving grants for big projects in developing countries. Community has been busy all year with table tops and sleigh tours and helping with community events. Youth have run all the children's events such as the Kids out to Creally Park for the disadvantaged and also the Christmas party
Dr Keith Barnard Jones attended a seminar on EVAG. This is a volunteer group of Rotarians being set up in case of civil emergency for both the immediate and long term needs. These needs were highlighted after the Somerset Levels floods. There were many Rotarians with skills and resources who wished to help, but no database of system for call out.
Payswara is a village in Nepal. 270 people in 55 houses. Their current supply is dire They have a desperate need for a clean water supply and we are applying for a grant from District, in conjunction with support from Casterbridge and Poundbury and the Okhle Village Trust, we hope to do this project this year.
We were pleased to be able to donate a sum towards a tricycle for a disabled boy, and also to be able to make a contribution to some much needed medical treatment.
The 24th May meeting was chaired by Dave Shaw whilst I languished with a viral myositis – or muscle pain!
The last Tuesday was a presentation on Nepal by the team that went out last November and was an account of the work on our water projects achieved in the villages