2020-21 Rotary Young Photographer
The digital camera has revolutionised photography. As a talent and art form, Rotary celebrates the photographic skills of young people with a sequence of competitions that allows them to demonstrate and display what they can produce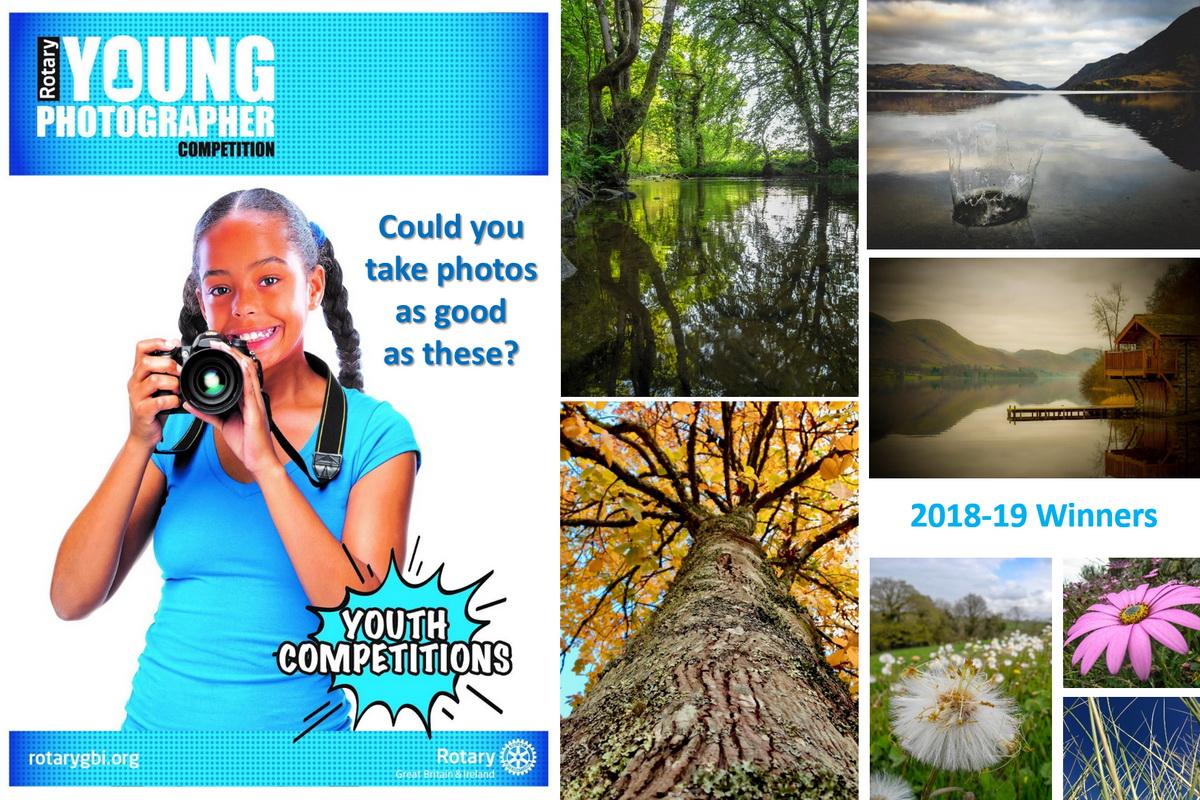 2020-21 Competition
There are 3 age groups in the Rotary Young Photographer competition (7-10, 11-13 and 14-17, as on 31st August 2019) and for 2019-20 entrants are required to produce a portfolio of 3 photographs based on the theme "Through My Eyes". Local heats will be organised by Rotary Clubs located throughout Devon and Cornwall (club entry deadlines set locally), with the winners being entered into the District 1175 Young Photographer competition (district entry deadline 31st January 2021), and the best entries in that competition being forwarded to compete nationally (national entry deadline 28th March 2021).
Entrance is free and certificates will be awarded to everyone participating. Prizes will be awarded to the winners at each level of the competition. Full details of the Rotary Young Photographer competition and entry forms are included below, but please contact your local Rotary Club (click here for contact details) for more information.
If your local Rotary Club is not running a competition in your area then please use the contact form at bottom to enquire about participating in the District 1175 Direct Entry Competition and download the direct entry guidance below (direct entry deadline 10th January 2021).
One of our prize sponsors for the 2019-20 District 1175 Young Photographer competition is ACD Systems. If you are new to photography, they have some really useful advice to help make your pictures look really great. Please click here to visit their "Photography 101" tutorial webpage.
The winners of each age group in the District 1175 Young Photographer competition will be invited to attend a photographic workshop with Ross Hoddinott in North Cornwall on "Friday 13th March 2020" from 12:00 noon to dusk. This date is fixed and the prize is not transferable. If the winners are unable to attend then the runners-up will be invited in their place. Ross will provide one-to-one tuition to the young photographers, with additional support being provided by Peter and Caroline Bland of Silverlake Photography. This will be a fantastic experience!

Please click on the respective names above to visit their websites for an idea of the level of tuition you will receive. If we are unable to run the 2020 workshop for any reason (eg, bad weather or incapacitation) then we will cancel the workshop and award cash prizes and a signed copy of one of Ross's books instead.
---
Latest Results

---
More information for Competitors

Young Photographer Information pack 2020/2021
Young Photographer Entry form 2020/2021
Click here to visit the Rotary GB&I Youth Competitions Webpage
---
Click here to see what happened in the
2019-20 Competition

Click here to see what happened in the
2018-19 Competition

Click here to see what happened in the
2017-18 Competition

Click here to see what happened in the
2016-17 Competition

---
More information for Competition Organisers
2019-20 District Guidance Notes
(district entry deadline 31st January 2020)

2019-20 Rotary GB&I Guidance Notes

pdf

2019-20 Competitors Information Pack

2019-20 Entry Form

2019-20 Competition Poster

pdf

2019-20 School/Youth Group Invitation

2019-20 District Scoring Template

2019-20 Competition Certificate

Advertising Photo (jpg)

Click here to visit the Rotary GB&I Young Photographer Competition Webpage
---
District 1175 Young Photographer Competition Prize Sponsor