The Rotary Club of Birstall Luddites
CLUB SPEAKERS 2016/17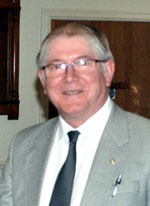 Club Secretary Paul Barnes Club Speaker Finder.

Club Speakers 2016/17
Mon 11th July Rotarian John Broadhead.- Battle of Somme visit".
Mon 8th Aug Sue Charlesworth - "Being Dementia Friendly".
Mon 5th Sept Rev Mark Umpleby "South Africa"
Mon 4th Oct John Clay - "Flock Felt and Wool"
Mon 7th Nov Graham Walker - "Life in the Big House"
Mon 16th Jan Robert Haigh - "ShelterBox"
Mon 13th Mar Gwen Law - FOBS
Mon 5th June Sara Hay - Dogs Trust
Mon 12th June Tineka Bentley- Water for Life.
Mon 26th June Kevin Metcalfe - Steps
---
Mon 11th July Rotarian John Broadhead.
"John Broadhead gave a short account of his attendance at the Battle of the Somme commemoration at Thiepval in France. John's father was a volunteer soldier with the Bradford Pals (18th West Yorks) and was present at the battle.
| | |
| --- | --- |
| | |
| Johns father | Thiepval Memorial |
As a direct descendant, John with his wife Jo were invited to attend the Vigil on the evening of 30 June and the main commemoration event on 1 July. John described how the events were organised, the people they met and his impressions of the day. He said "it was a moving and memorable occasion and praised the efforts of the Commonwealth War Graves Commission, the Department for Culture Media and Sport, the French authorities and the BBC who, working as a team, produced a dignified and lasting tribute to those who suffered and died in the battle."
John also gave the club their story of driving through security road blocks to reach

Albert

where they were to catch the official coach to

Thiepval

. The coach never arrived but John and Jo were invited to join a 5 star acting Army General in his staff car to

Thiepval

as VIPs. Also their long delay in their

depature

was due to the Royalty party's departure security.
Johns father kept a diary of the war which led to John being interviewed by the BBC and his fathers diary used in the Celebration videos being shown throughout the service of commemoration.

LINKS Somme centenary Thiepval

LINKS Somme Celebration

---------------------------------------------------------------------------------------------------------------------------------------
---
Rotary Club of Birstall Luddites.
Club Speaker Mon 8th Aug 2016.
Sue Charlesworth - "Being Dementia Friendly"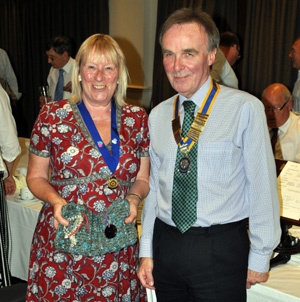 President Bill with Sue Charlesworth.

Rotarian Sue is a member of The Rotary Club of Mirfield and gave a talk to the club on
Being Dementia Friendly.
Sue explained how Mirfield became a Dementia Friendly Rotary Club.She told how her mother had dementia
Sue explained how they learnt how to live with dementia at home and be kitchen safe.
Sue talked of KDAA Kirklees Dementia Action Alliance. Their aim; to make Kirklees 'Dementia Friendly'. "We want to involve as many people as possible in order to help make a "Kinder Kirklees" and a more compassionate community and to improve the lives of people living with dementia. Our members come from a range of organisations within the Kirklees community including bus companies, taxi firms, police, fire and rescue services, retail outlets, the local authority, charities, care providers and health trusts, CCG's, faith groups, local associations, schools and the business sector".
Sue explained about Admiral Nurses and giving shops and businesses in Mirfield dementia packs and stickers to become a dementia friendly shop for "Safe Places" to help aid dementia affected shoppers.
Sue showed a twiddle woollen muff which helps dementia sufferers to relax (Sue has one in picture above),
she is asking people to knit these aids.
Sue talked about the Herbert protocol - a document giving info for the police in emergencies for vulnerable persons going missing.
President Bill thanked Sue who answered questions .
LINKS KDAA

LINK Admiral Nurses

LINK Dementia Friendly Communities

LINK the Herbert Protocol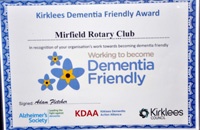 Rotary Club of Mirfield - Dementia Friendly Club
----------------------------------------------------------------------------------------------------------------------------------------
---
Rotary Club of Birstall Luddites.
Club Speaker Mon 5th Sept 2016.
Rev Mark Umpleby "South Africa"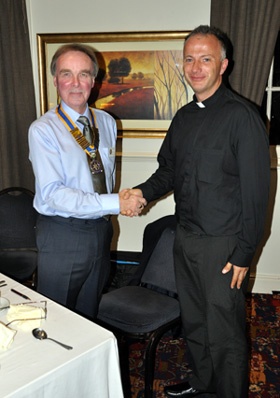 Mark visited Healds Hall and talked of his work in South Africa between Nov 1993 and July 1995 in the Diocese of St Mark the Evangelist Pietersburg in 4 churches.
Mark started off in Christ Church Ossett and worked at Leeds City Council as a planner.From their he went to live and work in South Africa, in Pietersburg which is the size of England with 33 congriations
He talked of Youth leadership skills and a chap called Honesty.
Mark talked of the first free elections in April 1994 where all people in SA voted for the first time. It took 4 and a half hours to vote over 3 days voting. Mark talked of the 11 languages in SA 4 where he worked.
Mark met Archbishop Desmond Tutu in July 1994.
Mark talked of the Rugby Word Cup in SA 95, the Boycott situation, and rafting on the Zambezi.
Mark left aged 25 years old.
President Bill thanked Mark for his talk.
-----------------------------------------------------------------------------------------------------------------------------------------
---
The Rotary Club of Birstall Luddites.
Club Speaker
John Clay "Flock Felt and Wool" Mon 4th Oct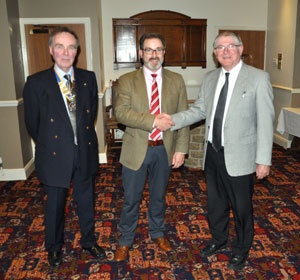 Above - President Bill (left) with speaker John Clay (centre) shaking hands with Club Sec
speaker finder Paul.


John addressed the club about his family business Edward Clay and Sons Ossett. The last mill in Ossett.

John talked of the founding of the business in 1870 in Ossett

by Edward Clay JP, first Mayor of the Borough of Ossett, and began life in premises off Prospect Road as Rag Merchants. In 1889 the firm had 50 women sorting

old unwashed bales of clothes. They sorted the rags into shades and qualities. In 1905




the firm was primarily trading as Rag Merchants at this stage but the manufacture of shoddy and mungo was an up and coming business and this was a natural follow through from rag sorting.




John talked of the differences between Shoddy and Mungo that was spun to yarn.


Edward Wilson Clay returned home from the First World War in Palestine to take over the running
of the mill with his grandfather. During the twenties and thirties the mill went through two slumps but managed to survive and during the Second World War it was made a Limited Company.
By this time the firm had four 24" rag machines.
Batley district was now being supplied with rags from every part of the civilized world -
and from some parts we regard as uncivilised."


At this stage there was still some rag sorting and manufacture of shoddy but a chance meeting with a representative of Slumberland changed the future of the mill.

the manufacture of flock was a similar process using the same machinery as for shoddy it was agreed to start making flock for Slumberland

bedding industry with which it is still connected today.
Subsidised materials from Turkey led to undercutting of their bedding business.
The centre of bed manufacture in Batley led to a 100 tons of material going to Batley for mattresses.
Far east undercutting as led John to find new markets. He found a lucrative market with felt for hanging baskets using cotton tea bags from Betttys.B&Q gave the far east the patterns and the trade stopped.
He now as a joint venture for a COOL BOX to keep fresh food cool for

Internet

suppliers. He hopes this will lead to NHS version to keep drugs cool to extend their life.
John presently employs 50 people at Ossett.
The Company has expanded into many different areas of non woven textile manufacture and now make thermal bonded as well as needle punch products with the most up to date and modern equipment. In addition to mattress and upholstery fillings the firm manufactures felts for the horticulture, packaging and insulation industries.
Rotarian Keith gave thanks for Johns talk.
LINKS Edward Clay and Sons

Heavy Woollen District
----------------------------------------------------------------------------------------------------------------------------------------
---
The Rotary Club of Birstall Luddites.
Club SpeakerEvening
Graham Walker - "Life in the Big House"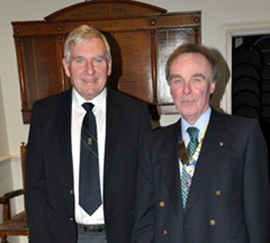 President Bill with Graham
Club speaker Graham gave a talk about his 40 year career in the Prison Service.
When Graham left school his first job was as a butchers boy riding his delivery bike with a basket at the front to hold the meat. He told amusing stories of the local dogs chasing him around attracted by the meat smell and blood dripping from the basket.
He started in the HMPS in 1969 at Stafford jail In Strangeways and Wakefield he had a spells Managing Training, he gave examples of the TV show Porridge characters to highlight what to do and not to do and talked of the manipulation of prisoner, staff and Governor relations.
Talking of the current news of prison escapes at Pentonville, Graham talked of infamous escapes in the past.
Spy George Blake escaped a 42 year sentence when he was sprung from Wormwood Scrubs jail to Moscow. He had been guilty of 5 counts of 14 years each giving the 42 year sentence.On his return to Moscow gave away 200 spies to the Russians.
He talked of the great train robbers Wilson and Biggs, Wilson managed to escape with a double key a very difficult thing to obtain. Biggs escaped Wandsworth over the wall onto a furniture waggon and fled to Brazil via Australia, later returned to Britain in his old age.
Frankie Fraiser escaped a Dartmoor working party never to be found again.
He talked about Wakefield prison and how in 1595 it started as a House of correction for 50 guineas. Now it holds sex offenders, its address 5 Love Lane being aptly named.
George highlighted the population of HMPS with 86000 prisoners being locked up today.
George gave a very interesting and funny talk enjoyed by all.
Steve gave a vote of thanks from the club.

LINK George Blake
LINK Wakefield Prison

-----------------------------------------------------------------------------------------------------------------------------------------
---
Rotary Club of Birstall Luddites
Club Speaker Robert Haigh RC of Holmfirth.16th Jan 2017
"ShelterBox "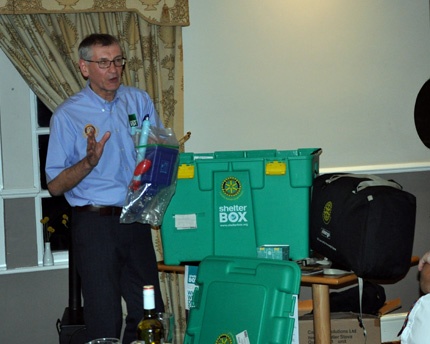 The ShelterBox Co-ordinator within District 1040 Robert Haigh of the RC of Holmfirth came to Healds Hall and gave his last talk on Shelterbox after 10 years. Robert said this was his last talk.
ShelterBox was founded in 2000 in the West Cornwall town of Helston, Cornwall, UK
this is the HQ of ShelterBox.
Robert talked about ShelterBox with the aid of a full ShelterBox, stove and tent that he had brought
along to the club. He explained the boxes are made in Belgium and the contents are all sourced
from China.
He talked of the very efficient production line at Helston filling the boxes and how they can respond very quickly to world disasters.
He said Helston continually monitor the Global Disaster Alert system GDACS and earthquake alert systems and International aid agencys,and Rotary clubs worldwide.for warning of disasters.
He said it cost £400 to make a box and £590 to buy a box.
Each box is designed to aid 10 people they contain a 55kg tent made by Vango one of the worlds leading tent manufacturers, and is designed to withstand extreme temperatures, high winds and heavy rainfall water filtration which can filter1800 litres. Blankets there are 10 in the box they can be either a ground sheet or a rug. Very well made Pots and Pans, mosquito nets and a tool kit this is mainly a saw spade and hammer..A wind up wireless so as in a disaster people can listen to broadcasts which may tell them of coming aid. Every Boc contains a childrens pack containing drawing books crayons and pens.


The contents of a ShelterBox are tailored to the nature and location of the disaster.


Robert spoke of the Haiti disaster where ShelterBox were mobilised in 12mins.Virgin were flying to Dominion Republic to bring holiday makers back and they flew out 32000 boxes to Haiti
ShelterBox has Response team members who go to a disaster to organise, they see what is required,move the boxes where needed and organise the site. The members are given tough training on the moors around Dartmoor.
Rotary clubs across Great Britain and Ireland raise around £1.5 million each year for the charity.
ShelterBox is a Charity independent of Rotary International and the Rotary Foundation but is a Rotary Project Partner.
Robert finished by showing a short video showing ShelterBox in action.
Robert took questions from Luddites and Luddite John Keen gave the thanks for the club.
Thanks to Paul for organising the speaker.

LINKS ShelterBox

LINKS ShelterBox and Rotary Partnership
LINKS Whats inside a ShelterBox RC of Lymm

------------------------------------------------------------------------------------------------------------------------------------
---
The Rotary Club of Birstall Luddites
Club Speaker - Gwen Laws - FOBS
"Friends of Batley Station"

On Mon 13th March Gwen and partner visited Healds Hall and gave a talk about the
Friends of Batley Station.
Gwen was inspired to form FOBS in Nov 2014 and started the big job of refurbishing the station . Gwen spoke of her dealings with Northern Rail and Network Rail and the station Manager.She spoke of her close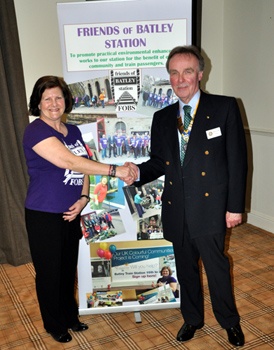 relationship with MP Jo Cox and how Jo was an enthusiastic volunteer working around the station.
She complained of the lack of a water supply which was a serious problem looking forward to plans for a cafe and toilets.
She spoke of her "nagging" that got results - repairs to the roof, removing Buddleia from eves, got 10 water buts for plants, the installation of electronic train times above the platforms, new platform seating,.
Pete Myres with Jo Cox looked into paint supplies and a big step resulted in PPG paints in Birstall coming in to help.
Under PPGs colourful communities projects, Pittsburgh the USA parent company said ok and the station refurb sped on.
A cafe was designed and installed along with the tunnel mural painted and on 27th May 2016 it was all finished.
In June 2016 Jo Cox died and planters were dedicated to Jo;s memory on the station platform.
The station has a meeting room and this was surprisingly used for politician Jeremy Corbyns visit meeting.
Gwen has two future projects on 2 pieces of adjacent grot spots.a length of ground behind a fence to become a Jo Cox garden and another slim piece of land to place a Wilton Park railway shed.
The Cafe is to be called "Jo Cox tea room".
YW were asked to look at the water supply - Northern Rail have said they will pay for the supply and water connections.
The Floral shop in Branch Lane sponsor flowers .
Gwen spoke very highly of the volunteers who tend the station each week. This includes our Luddite Secretary Paul and how she could not run FOBS without all their dedication.
She thanked the club for allowing her to speak about FOBS and look forward to welcoming us to
the station for an outside visit Monday 27th March.
John Broadhead thanked Gwen for her interesting talk on behalf of the club.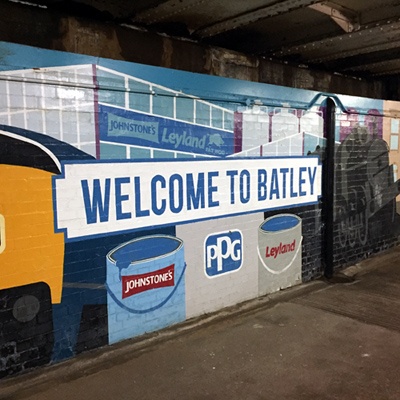 --------------------------------------------------------------------------------------------------------------------------------------
---
The Rotary Club of Birstall Luddites
Club Speaker - Tineka Bentley
Water for Life.
Mon 12th June club speaker Tineka visited the club and gave a talk about the Charity Water for Life.
The Diocese of Leeds links with Northern Tanzania in three Diocese Mara, Rorya and Tarime.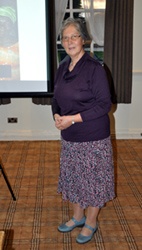 The links are church to church, school to school, diocese to diocese, and person to person in friendship and prayer. There have been many visits in both directions. 80 parishes within West Yorkshire and the
Dales pray for their link church every Sunday. Schools and parishes exchange letters and photos and learn about each other. Health, agricultural, educational, social and clergy training initiatives are supported
Tineka explained the three Dioceses had different problems and how they varied the water collection methods.
Launched in 2008, Water for Life has raised £119,000 so far (Spring 2016) to provide clean water and health education to thousands of people in the link dioceses. Two water technicians have been trained to install pumps in hand dug wells and six people trained to run health education workshops.They have worked together with 40 villages to establish community ownership and hold health education workshops. Together they have installed 15 shallow well pumps, plus 2 boreholes and 14 water harvesting systems.
Luddite Rotarian Jeremy Parkinson on behalf of the club thanked Tineka for her visit.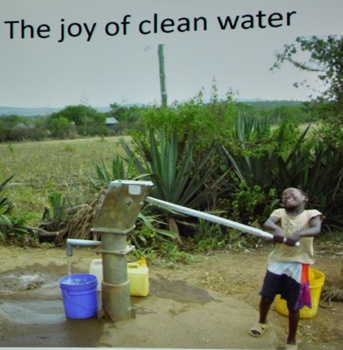 LINKS Talking Tanzania
LINKS Church of England
-------------------------------------------------------------------------------------------------------------------------------------
---
The Rotary Club of Birstall Luddites
Club Speaker - Kevin Metcalfe
Steps - Specialist Training and Employment Programme.
- Government Refugee Programme.

Kevin Mecalfe visited the club and gave a talk on STEPS
.Horton Housing was one of the first organisations in the UK to sign up to the Vulnerable Person's Relocation Scheme, helping Syrian refugees start a new life in the UK
STEP helps Syrian Refugees who have come to the UK under the Vulnerable Persons' Relocation Scheme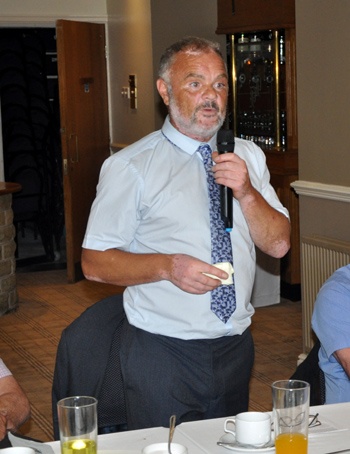 (VPRS) to gain employment. Kevin is a specialist training and employment worker and gives one-to-one
support and advice on courses, volunteering and work placement opportunities. Kevin also helps find paid employment vacancies with local and national employers. STEP continues to offer support when they have
found a work placement or paid employment. STEP helps to access English for Speakers of other Languages (ESOL) classes to improve language skills. The service helps to gain skills, qualifications and references needed to be ready for work. The programme is funded by and delivered in partnership with World Jewish Relief.
Kevin has found employment at an engineering firm in Sheffield for 10 people.
Many of the refugees are professionals ie dentists Doctors pharmacists and skilled engineering workers but in their travels have lost all their documents.
President Elect Helen thanked Kevin for his visit.

LINKS Horton Housing Refugees
LINKS BBC Syria conflict Are refugees prepared for life in the uk?
-------------------------------------------------------------------------------------------------------------------------------------
---